! This project has been cancelled.
Abbey Academy



"Abbey Academy" Official Logo.

Genre:
Teen sitcom
Family sitcom
Created by:
Nutter Butter
Starring:
CrystalandSydney
Ausllyrocks209
ArianaFan10
Mrs.Niallhoran13
Theme Music Composer
TBA
Opening Theme:
TBA
Country of origin:
United States
Original language(s):
English
No. of seasons:
1
Production
Executive producer(s):
Nutter Butter
NYCgleek
Camera setup:
Videotape (filmized); Multi-camera
Running time:
24 minutes, 46 for specials
Production company(s):
Wiki Channel Productions
Production Location(s):
Wiki Center Studios, Hollywood, California
Show Location(s):
Abbey Hills (Fictional Setting)
Broadcast
Original channel:
Wiki Channel
Picture format:
4801 (SDTV)
1080i (HDTV)
Original run:
2014
Abbey Academy is an upcoming half-hour Wiki Channel original comedy series that was supposed to come to Wiki Channel in 2014. The series starred a group of friends who are all transferred to a new school for ages 11 to 17 and have to deal with making new friends, and going to a new school- no matter how fun the school may be. It was created by James in Hollywood, NOT Another Happily Ever After, and Pete Around the Bush creator DatNuttyKid. Like The Aca-Girls, it is based off of a book series that can be read here. The series was officially picked up by Wiki Channel on December 17, 2013. However, due to issues with the books, the series was post-poned until 2015-16, when a new version of the books will have aired. The show was later confirmed to have been cancelled, and was replaced by a different pilot by the same producer, House of Heroes, which was also cancelled.
Abbey Academy follows the lives of 7 ordinary kids who are transferred from their schools to a new school. They all originally despise the idea of being transferred, but soon make friends and even romances, and find out that the school is more fun than any other school.
Main Cast
Edit
TBA as Lucas Dymond - Lucas is a 12 year-old previous homeschooler. He's very shy and often ends up left out or, if he tries to participate, he ends up embarrassing himself.
Crystal Diane as Candy Everdeen - Candy is a 15 year-old extremely hyper girl who was friends with Scarlet prior to the transfer. Her hyperness often gets her into odd situations and sometimes embarrassing ones.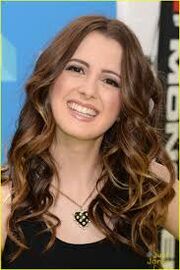 Oliver West
as
J Berman
- J is a 16 year-old, very quiet student. No one really knows much about him, including why he doesn't talk- most rumors are that he's shy or just thinks he's to good to talk to them.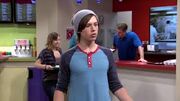 Gabriella Dawson as Serena Jennings - Serena is an 11 year-old student who was friends with Lucas prior to the transfer. She is known to be more mature than any of the older students, and is usually seen with Lucas or Amy.
Christine Ryan as Ruby Coleman - Ruby is a 14 year-old student of Abbey Academy. She was the most upset about being transferred and is actually left out a lot early in the series.
TBA as Brett Daniel - Brett is a 17 year-old student of Abbey Academy. He is the oldest student (by a couple months) and is on the football team. He is one of the most popular students and is also usually seen as attractive by the female students, especially Candy.
TBA as Scarlet Abbey - Scarlet is a 17 year-old student of Abbey Academy. She is the daughter of the founder/principal and is originally stuck-up, but eventually becomes a close acquaintance of everyone.
Marley Michele as Savannah Lloyd - Savannah is a 15 year-old student of Abbey Academy. She's the classic "mean girl" and doesn't get along well with any of the other students (besides her "loyal followers") except occasionally Scarlet. Unlike most other characters, Savannah did not appear until a few episodes into the series, making her the only main (besides Pixie) who is not one of the original ten students.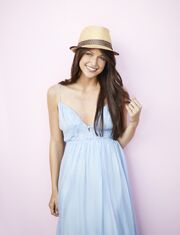 Pixie
 as 
Herself
- Pixie is the class pet. An adorable CavaPoo, Pixie is always around when any of the students need comforted. She is also the first canine star on Wiki Channel.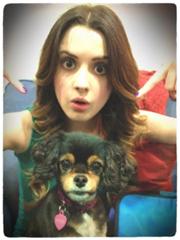 Recurring Characters
Edit
To see the list of recurring characters in Abbey Academy, click here.
Series Overview
Edit
Season 1 was ordered for 15 episodes, matching up with the fifteen original books of Auslly Academy.
Series
#
Season
#
Title
Written by
Directed by
Original air date
Prod.
code

U.S. Ratings (in Millions)

1
1
"A Brand New Start"
Nutter Butter
Shelley Jensen
October 2014 (Preview) November 2014
101
TBA

Eleven students are transferred to the all-new Abbey Academy, founded and owned by Mr. Abbey, who also founded Abbey Hills, where the school is. However, despite the school being said to be one of the most fun schools ever, problems are sure to come when one of the students, Ruby, shows up late and ends up left out, and fellow students Brett and Candy go on their first date.

Note: This is the pilot episode of Abbey Academy, taken almost entirely from the first (and only) Auslly Academy book from the original restart, with the only differences being character ages and names. However, the book was later removed from the official line-up when the books were restarted again.

Recurring Cast: TBA as Mary Sakura, TBA as Azalya Firebush, TBA as Amy Alexis Grande, TBA as Aidan White

Guest Stars:

Absent: Marley Michele as Savannah Lloyd

2
2
"A Slip Down Memory Lane"
Auslly Bobbie Music
TBA
TBA
102
TBA

Serena accidentally hits her head and gets amnesia, so the students try to help her get her memory back. Unfortunately, all of their attempts fail, so Lucas asks his and Serena's babysitter Carrie for advice. Meanwhile, Ruby, Scarlet, and Azalya deal with the new mean girl in class- Savannah Lloyd.

Note: This episode is based off of the second book in the original Auslly Academy book series. However, unlike the book, Amy/Claire does not hit her head, and the subplot of Savannah Lloyd is added, as well as Carrie's appearance. This is also the first appearance of main character Savannah Lloyd. The writing credit is given to Auslly~Bobbie~Music, writer of the book which it is based off of.

Recurring Cast: TBA as Azalya Firebush, Jasmine Byran as Carrie

Guest Stars:

Absent: 

3
3
"Dances and Disasters"
HelloKittyR5
TBA
TBA
103
TBA

Just before the first school dance, Ruby gets a huge zit which may ruin her chances with her crush, Brandon. Meanwhile, Aidan admits to Brett and J. that he has a crush on Azalya, and wonders if he should ask her to the dance.

Note: This episode is based off of the third book of the original Auslly Academy series. The only differences are the addition of Aidan and Azalya's romance, and that Ruby is the one with the zit, where Amy/Claire had the zit in the book. Also, Jecko (Claire's crush from the books) is replaced with Brandon, despite Brandon sharing more similarities with the book character Justice. The writing credit is given to HelloKittyR5, writer of the book it is based off of.

Recurring Cast: TBA as Azalya Firebush, TBA as Aidan White, TBA as Brandon Harper, TBA as Joseph Parks

Guest Stars:

Absent: 

4
4
"Sleepover!"
Nutter Butter
TBA
TBA
104
TBA

Savannah is having a sleepover, but only invites Scarlet. Scarlet just started being close to the other students, who are all mad about not being invited, and wonders if she should go or not.

Note: This episode is very loosely based off of the fourth book of the original Auslly Academy series. However, the only real similarity is the title and the fact that one of the girls has a sleepover.

Recurring Cast: Jasmine Byran as Carrie, TBA as Amy Alexis Grande, TBA as Mary Sakura, TBA as Makalya Jennings

Guest Stars:

Absent: 

5
5
"The Holid-a-Thon"
Nutter Butter
TBA
TBA
105
TBA

Since they want a day off, the gang decides to make their own holiday. However, they are unable to agree on an idea, and have a competition to decide which is better, and call it The Holid-a-Thon. Will Azalya be able to convince them not to fight?

Note: This episode is based off of the seventh book in the original Auslly Academy series. The main difference is that Azalya replaces Melissa, who does not appear in the TV series, and Carrie is added to give Azalya advice.

Recurring Cast: TBA as Azalya Firebush, Jasmine Byran as Carrie, TBA as Makalya Jennings

Guest Stars: 

Absent: 

6
6
"Battle of the Bands"
Nutter Butter
TBA
TBA
106
TBA

When Scarlet, Makalya, Ruby, and Azalya reveal that they're part of a famous band, Aidan gets jealous and starts his own band with J., Brett, Lucas, and Brandon, and challenges them to a battle of the bands (with Serena hosting). Meanwhile, Savannah gets jealous that she's not famous like the others, and does everything she can to try to become famous.

Note: This episode is based off of the sixth book in the original Auslly Academy series. The main difference is that Scarlet, Makalya, Ruby, and Azalya's band is kept unnamed, while in the book it was Marley/Savannah, Claire/Amy, and Ali's (who doesn't appear) band, and it was The Aca-Girls. Another difference is the addition of the Savannah subplot.

Recurring Cast: TBA as Makalya Jennings, TBA as Aidan White, TBA as Azalya Firebush, TBA as Brandon Harper

Songs Featured: Ready or Not (performed by Scarlet, Kaylee, Ruby, and Azalya), Don't Look Down (performed by Scarlet, Kaylee, Ruby, Azalya, Aidan, J., Brett, Marcus, and Brandon)

Guest Stars:

Absent: 

7
7
"Craziest Birthday EVER"
Mrs.NiallHoran13
TBA
TBA
107
TBA

It's Makalya's birthday, and Serena enlists the help of Scarlet, Ruby, Azalya, Lucas, and the rest of the gang to help plan it. However, things to awry when Aidan decides to pull a prank.

Note: This episode is based off of the fifth book of the original Auslly Academy series. The main difference is that it's Makalya's birthday and Serena's planning it, whereas in the book it was Taylor Lloyd's (who doesn't appear) birthday, and her siblings Marley, Brad, and ShayTree plan it, with help from Marcus/Lucas, and Chels and Jecko (who don't appear). The writing credit is given to Mrs.NiallHoran13, writer of the book.

Recurring Cast: TBA as Makalya Jennings, TBA as Azalya Firebush, TBA as Mary Sakura, TBA as Aidan White, TBA as Amy Alexis Grande

Guest Stars:

Absent: 

8
8
"The Dog Ate My Empty Homework"
HelloKittyR5
TBA
TBA
108
TBA

Brett forgets to do his homework when he hangs out with Candy, and in order to stay out of trouble ends up getting the entire school into a big lie that he can't seem to stop. Meanwhile, Ruby gets tired of Azalya and Aidan always fighting and handcuffs them together until they can get along, and Savannah and Scarlet have a showdown at the acadecathalon.

Note: This episode is based off of the tenth book of the original Auslly Academy series. The main difference is the characters- in the book, Joe (a book-only character) is hanging out with Claire/Amy and doesn't do his homework, and Melissa (a book-only character) handcuffs Claire/Amy and Kent (a book-only character, though Aidan shares several similarities with him) together. In addition, the plot of Savannah and Scarlet is added. The writing credit is given to HelloKittyR5, writer of the book.

Recurring Cast: TBA as Azalya Firebush, TBA as Aidan White, TBA as Amy Alexis Grande, TBA as Chelsea Dymond, TBA as Justin Dymond

Guest Stars:

Absent: 

9
9
"Trouble on the School Bus"
Fiolet4eva
TBA
TBA
109
TBA

Lucas, Brett, Candy, Azalya, Serena, Aidan, Ruby, and J. are trapped on the school bus together when it breaks down in the middle of nowhere, and things go downhill fast- Aidan and Brett start pranking everyone, Lucas and J. end up lost trying to find help, and the girls run off when the bus driver goes missing. Will they ever make it to school?

Note: This episode is based off of the ninth book of the original Auslly Academy series. The main difference is who ends up trapped on the school bus, where the cast is almost entirely different. Another difference is the addition of Lucas and J. getting lost trying to find help, as their equivalents in the plot (Brad [a book-only character] and Brett) go with the girls.

Recurring Cast: TBA as Azalya Firebush, TBA as Aidan White

Guest Stars: TBA as the Bus Driver

Absent: 

TBA
TBA
"Teachers & Troubles"
TBA
TBA
TBA
TBA
TBA

TBA

Note: This episode shares its name with the eighth book of the original Auslly Academy series. However, Nutter Butter has confirmed that the plot of the episode will not match up with the plot of the book, due to the book having too many references to Austin & Ally, which is not mentioned in the TV series, such as the title being changed from Auslly Academy to Abbey Academy.

Recurring Cast: 

Guest Stars:

Absent: 

11
11
"'Pixie's'Petsitting Perils"
Nutter Butter
TBA
TBA
111
TBA

It's Serena and Makalya's turn to take care of Pixie over the weekend, and Lucas and Candy show up to help. Unfortunately, Pixie runs off, and they can't find her- will they be able to get her back before they get in trouble, or is Pixie gone forever? Meanwhile, Aidan and Azalya showdown in a boys vs. girls football match when they can't agree on which gender is better.

Note: This episode is based off of the eleventh book of the original Auslly Academy series. The main difference is the addition of the Aidan and Azalya plot, though other differences are mainly because of character differences.

Recurring Cast: TBA as Azalya Firebush, TBA as Aidan White, TBA as Mary Sakura, TBA as Amy Alexis Grande, Jasmine Byran as Carrie, TBA as Makalya Jennings

Guest Stars:

Absent: 

12
12
"Record Lies"
Nutter Butter
TBA
TBA
112
TBA

After the guys' prank ruins Maylene Hayes' concert, Scarlet, Makalya, Ruby, and Azalya step in to perform in her place, and get a record deal from Savannah's mom. The catch? They have to act like total jerks to all of their friends- not only that, but Ms. Lloyd has a secret grudge against Mr. Abbey, and only Serena knows, since no one will believe her. Will Serena and Lucas be able to set everything right? Or will Savannah and her mom stop them?

Note: 

Recurring Cast: TBA as Makayla Jennings, TBA as Azalya Firebush, TBA as Joseph Parks

Guest Stars:

Absent: 

TBA
TBA
"TBA"
TBA
TBA
TBA
TBA
TBA

TBA

Note: 

Recurring Cast: 

Guest Stars:

Absent: 

14
14
"Prom Night (Part 1)"
Nutter Butter
TBA
TBA
114
TBA

Prom is coming up, and everyone's really excited! With help from Aidan and J., Brett tries to impress Candy; Serena tries to matchmake; Makalya and Ruby try to help Candy impress Brett; Lucas and Azalya try to plan the prom; and Scarlet and Joe prepare for the big night!

Note: This is a two-part episode and is the season finale. It is also based off of the planned "finale" book in the original Auslly Academy series with the only differences being which characters take which role.

Recurring Cast: TBA as Aidan White, TBA as Makalya Jennings, TBA as Mary Sakura, TBA as Azalya Firebush, TBA as Joseph Parks, TBA as Justin Dymond, TBA as Chelsea Dymond

Guest Stars:

Absent: 

15
15
"Prom Night (Part 2)"
Nutter Butter
TBA
TBA
115
TBA

It's finally prom night, but things might not go as planned! Brett and Candy's plans collide and backfire; Serena accidentally causes Lucas and Mary to become enemies; Scarlet gets a big surprise- and not a good one; and Lucas and Azalya make a big mistake that might ruin everything!!! Will this literally be a prom they will never forget?

Note: This is a two-part episode and is the season finale. It is also based off of the planned "finale" book in the original Auslly Academy series with the only differences being which characters take which role.

Recurring Cast: TBA as Aidan White, TBA as Makalya Jennings, TBA as Mary Sakura, TBA as Azalya Firebush, TBA as Joseph Parks, TBA as Justin Dymond, TBA as Chelsea Dymond, Jasmine Byran as Carrie

Guest Stars:

Absent: