!
The manager of this actor is inactive.
Abby Williams

Biographical information

Full Name

Abigail Laura Williams

Nickname(s)

Abby

Gender

Female

Birthday

October 26,1998

Age

16

Hometown

Franklin, Tennessee

Nationality

American

Professional Information

Occupation(s)

Actress
Singer

Manager

Years Active

2005-present

Fan Group Name

Abby-Gators

Wiki Channel Credentials

Shows

Movies

Roles

Taylor Clark
Megan Sycamore
Lulu and Ann Connor
Lia Denali

Signature
   Abby Williams (born October 26, 1998) is an American actress and she is best known for her role in Life with Twins as Taylor Clark, and for her dual roles as Lulu and Ann Connor in Too Little Too Late. She is set to star as Lia Denali in Everlasting.
​Early life
Edit
Abby Williams was born on October 26th, 1998 to Destiny and Jake Williams. She has a best friend named Anthony who she acts with. They would perform for their parents. Abby would come up with acting ideas for their performances. One day, she said she wanted to be on TV, and managed to convince Anthony to do it with her. Both families moved to California in 2005 and went to audition. 
2005-2010: New CareersEdit
​She first role in Hollywood was filming a show called Now You See Me , alongside her best friend, Karli. In between,she did a commercial alongside her brother in 2005. In 2006,she started a band with her 2 friends, Lilly called Lilly & Abby. She was the pianist of the group and has two songs on their album called Just Me and Leave It. By 2007, the band was more popular and was known for her band. Abby made a cameo in 2007 as Kate in a web show, Pretty Great Stuff. By 2008, she was in a TV show called Magic Star, playing the lead Mandy. In 2010, the show reached its finale and she also was in a movie called Sky's the Limit as Sky, one of the main cast.
2011-Present: Future With Wiki ChannelEdit
​In 2011, her band released their new EP called You'll Never Know (EP) , which sold millions of copies. Abby's band, Rockers, went on a tour through 2012 called Painting the World tour. In 2013, Abby auditioned for the role of Taylor Clark in Life With Twins. She got the part and signed her band to Wiki Records. She has more up ahead in the future with her band and her show. In mid 2014, she landed dual roles of Lulu and Ann Connor in the Wiki Channel original movie, Too Little Too Late. It is expected to release early 2015. She was later casted as Lia Denali in the WCOM, Everlasting. She is set to be a special guest star on Genie! as Gloria Glitter.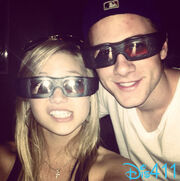 ​Filmography
Edit
​Discography
Edit
Community content is available under
CC-BY-SA
unless otherwise noted.