Production
Executive producer(s):
Austin9393
Camera setup:
Single-camera
Running time:
22 minutes
Production company(s):
Wiki Channel
Production Location(s):
Wiki Center Studios
Hollywood, California
Show Location(s):
Washington, D.C.
Broadcast
Original channel:
Wiki Channel
Picture format:
480i (SDTV)
1080i (HDTV)
Audio format:
Stereo
Original run:
October 25, 2014 - present
Ackerman Agent is a half hour Wiki Channel Original series that follows a newly teenage spy, Troy Jeff. The pilot was ordered by Wiki Channel on February 18, 2014, created by Austin9393. The pilot was publicy announced on February 27, 2014.[1] The show was picked up on May 25, 2014. It was announced on June 20, 2014 that the series will premiere after original movie ZAYN on October 25, 2014.[2] On October 1, 2014 NYCgleek released the official poster for the show. On August 1, 2015 Austin9393 released the official poster for the second season of the show. On June 2, 2016 Austin9393 released the official poster for the third season of the show.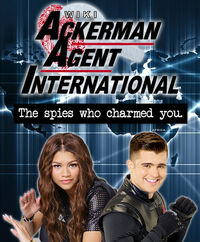 Troy Jeff was just an ordinary boy, very intelligent, extremely mature, and talented, attending Ackerman High School, a very normal high school in a quiet but comfy town. But, one fateful night, Troy finds out the school isn't so normal when he accidentally goes through a secret door, discovering the school is really a spy agency base disguised as a high school. After recently going through a major scandal, the agency plans to use the high school as a cover to keep their reforming agency a secret. And suddenly, Troy finds himself pulled into the madness when he is recruited to become one of the first high school spy agents. Now Troy must adjust to his spy-high life. Accompanying him is his best friend, Landon, his gym teacher who is a spy, Coach Solomon, and his new spy partner, Myra Jade, who doesn't exactly take working with him too well. But as time goes on, Troy and Myra become an unbreakable team that always gets the job done.
Main Cast
Edit
Reccuring Cast
Edit
Jesse Raynes as Max (Season 1-2) - Max is the best agent at the CONTROL agency. He acts like a professional agent and focuses very on his job. He's not the kind of dude you want to take a joke with, he's pretty serious.
Max Turner as KAOS agent (Season 1-2)
Anna Pond as Charlotte (Season 3)
TBA as Cafeteria Lady (Season 3)
Series overview
Edit
Season
Episodes
Originally aired (U.S. dates)
Season premiere
Season finale
 
1
20
October 25, 2014
June 24, 2015

Special

July 22, 2015

 
2
26
August 19, 2015
May 25, 2016

Special

June 22, 2016

 
3
26
July 20, 2016
2017
Season 1 of "Ackerman Agent" was picked up by Wiki Channel for a total of 14 episodes. On October 18, 2014, Wiki Channel increased the episode order to 23. In March 2015, Wiki Channel decided they would move 3 episodes from the first season over to the second season.
No.
Ep.
Title
Written by
Original air date
Prod.
code
U.S. viewers (millions)
1
1
"Pilot"
Austin9393, NYCgleek & Jessie1010
October 25, 2014
101
5.29
Troy Jeff, an ordinary, intelligent, and extremely mature boy attending Ackerman High School, finds out that the high school is not so normal when he finds a secret basement, discovering the school is really a spy agency base disguised as a high school. Troy is then recruited to be one of the first ever high school spies by his gym teacher, Coach Solomon. Now a new spy, Troy must begin training where he meets his new partner, Myra Jade. But the two have a little trouble connecting at first when Troy starts in Myra's class.

Note: This is the pilot episode.

2
2
"Closely Watched Planes"
Austin9393
November 5, 2014
102
4.73
After CONTROL couriers disappear from airplanes during mid-flight, Coach Solomon becomes the courier for the next flight, backed up by Troy and Myra posing as flight attendants. Troy and Myra have to figure out which of 3 suspect passengers on their flight are behind this KAOS scheme.

Note: This is the first episode to air on it's original time slot.

3
3
"The Wax Max"
Austin9393
November 12, 2014
103
4.12
An amusement park attendant inadvertently gives Max and Myra a kewpie doll at a shooting gallery game. The doll is really a way for KAOS to smuggle plutonium out of the country. Shortly after, KAOS finds out and hunts down Max and Myra at the park, ultimately leading them to Leadside, an evil Waxman who turns his victims into wax statues. Will Max and Myra become permanent wax statues?

Note: This is the first appearance of Max.

Guest star: Jesse Raynes as Max

4
4
"The Reluctant Redhead"
Austin9393
November 19,  2014
104
3.45
CONTROL has discovered that a writer of children's books named Mimsi Sage strongly resembles the deceased wife of a man named Kinsey Krispin with a list of KAOS informers that CONTROL would very much like to have. Troy trains Mimsi to pretend to be the deceased wife; no easy task, as this requires the mousy writer to act like the jet-setting Mrs. Amanda Krispin.
5
5
"Santa's Midnight Run"
Austin9393
December 3, 2014
105
3.26
After several buildings are inexplicably blown up, CONTROL follows the trail to a christmas party where a former chemist, debonair Rex Savage, has teamed up with painter Mondo to produce a series of explosive christmas wreaths. Troy disguises himself as santa with Myra as his driver/waitress as they try to get Savage's fingerprints and photograph, something that turns out to be more than complicated than expected.
6
6
"Polly Dolly's Department Store"
Austin9393
January 7, 2014
106
3.02
KAOS is secretly smuggling secrets out of the country. Myra discovers they are using a department store as a front and Polly Dollys to smuggle out the secrets. When one pulls the doll's string, Polly reveals top secrets. Troy and Myra are trapped by KAOS. Using children's toys, Troy and Myra attempt to fight their way to safety and stop KAOS' smuggling ring.
7
7
"The Clue on Max's Desk"
Austin9393
January 14, 2015
107
3.39
Troy and Myra are going to meet Max (a CONTROL agent and violin player) after his performance. When he bows at the end of his show, he gives Troy and Myra a signal that means he is in trouble. When they go backstage to meet with Max, they find him disappeared. The only clue as to who took him is written in a piece of music on Max's desk.

Guest star: Jesse Raynes as Max

8
8
"I Am Curiously Yellow"
Austin9393
January 21, 2015
108
3.62
While investigating a villain known as the Whip, Troy is hypnotized by his special gong to obey his every command at specific times. Troy is eventually instructed to steal the NARCO 5–12, a powerful prototype weapon, from the Chief's safe. When the Chief confronts Troy about the theft, he has no recollection of it.
9
9
"The Lazer Blazer"
Austin9393
January 28, 2015
109
3.52
Troy's assignment in Hong Kong with the help of Max is to get a new secret weapon from a tailor. The new weapon, as it turns out, is a man's blazer with a button on it that activates a laser beam of great strength — a "laser blazer". However, Troy doesn't know that the blazer is the weapon... in his view, he's left the tailor's shop merely with a sportscoat he didn't want. Confusion ensues afterward as various people activate the laser by mistake.

Note: This episode is located in Hong Kong.

Guest star: Jesse Raynes as Max

10
10
"Guess Who's Coming to Dinner"
Austin9393
February 11, 2015
110
3.47
On Valentine's Day, a girl asks Troy out on a date, but he got a last minute mission where Troy must find the secret diary of a retired agent who lives at a rest home for retired spies.

Note: This is a special 'Valentine's Day' episode.

Guest star: Sloane Belicion as Emily

11
11
"Second Time Around"
Austin9393
February 18, 2015
111
3.71
A horde of KAOS agents are taking flights to Washington. Each one carries a piece of a bomb which is meant to explode near an American base. Myra is declined to go on the mission because of the governemnt's racism. With the help of Max (disguised as a piece of luggage), Troy and Myra capture one of KAOS's agents and force confidential information out of him, but when the government finds out Myra went on the mission, she is not allowed to go on any missions anymore.

Note: This is a special 'Black History Month' episode.

Guest star: Jesse Raynes as Max, Max Turner as KAOS agent

12
12
"The Show Must Go On"
Austin9393
March 4, 2015
112
3.11
KAOS is interested in capturing Dr. Shotwire, a brilliant scientist whose work has been set back six months thanks to his bodyguard's helping hands (none other than those of Agent 86 (Troy). The KAOS agent in charge of the kidnapping, Natz, also has a vendetta with Troy.

Note: In this episode, Troy fails his mission because of Myra not being there and helping him. He talks to the government about letting her go on missions again, but they said she can go on missions again, but not right away. She has to take some tests and earn her spot on the Ackerman Agency back before it's too late (this will happen in another episode.)

Guest star: Max Turner as KAOS agent

13
13
"Bronzefinger"
Austin9393
March 11, 2015
113
2.88
Troy and Connor, a temporary replacement for Myra, has to learn about art in order to try to capture Bronzefinger, a thief and smuggler of valuable bronze statues. Will Troy and Connor end up as Bronze statues?

Guest star: Chad Cotten as Connor

14
14
"All in the Mind"
Austin9393
March 25, 2015
114
3.04
Troy and Connor poses as an insane colonel in order to prove that a KAOS psychiatrist is stealing confidential information revealed by his patients. This episode is notable for its use of a secret KAOS weapon: a phone booth that fills with water.

Guest star: Chad Cotten as Connor

15
15
"The Whole Tooth and..."
Austin9393
April 15, 2015
115
3.36
While carrying plans for a nuclear reactor, Troy and Connor run into KAOS agents. Quickly, they hide the plans on an unsuspecting stranger, who turns out to be a convict headed for Joliet Penitentiary. Troy and Connor later have to pretend to be a convict and go to jail to get them back.

Guest star: Chad Cotten as Connor, Max Turner as KAOS agent

16
16
"Remote Control"
Austin9393
April 22, 2015
116
3.92
Troy is out on a mission where he has to defect and become an informant. Although this is good news, Coach Solomon is still concerned, seeing that no KAOS defector has ever lived long enough to testify. Meanwhile, Myra has to take some tests and earn her spot on the Ackerman Agency team back. But will she make it?
17
17
"Dial E for Emergency"
Austin9393
May 16, 2015
117
4.27
In London to help the British section of CONTROL, Troy assumes the identity of a safecracker named Scar in order to infiltrate a group of thieves known as the Scorpion Gang who plan to steal the Crown Jewels from the Tower of London.

Guest star: Liberty Dillon as Scar
Note: This episode is a part of "Guess Star Weekend".
Note 2: This episode airs on a Saturday instead of a Wednesday.

18
18
"Perils in a Pet Shop"
Austin9393
June 3, 2015
118
3.40
After Myra is back, she and Troy is following a KAOS Agent who is smuggling a parrot. While questioning the parrot, it is freed by his lawyer. Troy, Myra and Connor trail him to a pet shop, where Troy learns that the pet shop is a cover for Melnick, the Smiling Killer. While trying to break into the pet shop after hours, Troy, Myra, and Connor are captured. They learn that the parrots are being used to memorize secret information and then smuggled out of the country.

Guest stars: Chad Cotten as Connor and Max Turner as KAOS agent

19
19
"Down the Road"
Austin9393
June 10, 2015
119
3.64
Claire, a master impersonator, attempts to kidnap someone who was about to reveal the secret of the KAOS coding system. Claire disguises herself as the Chief to confuse the situation even more.

Guest star: Crystal Diane as Claire

20
20
"Cool Like a Fool In a Swimming Pool"
Austin9393
June 24, 2015
120
4.28
Coach Solomon is contacted by a member of the Russian swim team who has a list of KAOS agents and wants to use the list to defect. Unfortunately, Coach Solomon can't remember her name, so Troy and Myra have to go undercover as swimming trainers to discover the defector. Coach Solomon joins them as they attempt to ferret out the potential defector.
No.
Title
Written by
Original air date
Prod.
code
U.S. viewers (millions)
21
"It Takes a Model to Know a Mannequin"
Austin9393
July 22, 2015
121
4.03
KAOS is using clothes designer Richelieu to smuggle plans and one of the models tries to sell information to Troy. When Troy shows up at the boutique, somehow the model has become a mannequin. Furious that Troy spent a ton of money and didn't get any information, Coach Solomon takes Troy off the case. Myra then goes undercover as a model (against Coach Solomon's orders) and Troy disguises himself as a mannequin in order to break the case.

Guest star: Katy Young as Richelieu
Season 2 was announced by Wiki Channel on March 15, 2015.
No.
Ep.
Title
Written by
Original air date
Prod.
code
U.S. viewers (millions)
22
1
"Run, Troy, Run"
Austin9393
August 19, 2015
201
4.50
KAOS puts up a reward to get Troy and announces that their annual party will be canceled if they don't get him, causing only more trouble for Troy.
23
2
"Winner of a Losing Game"
Austin9393
August 26, 2015
202
3.79
Troy is poisoned by a KAOS agent and has until 1 PM the following day to find the antidote.
24
3
"Rebecca of Funny-Folk Farm"
Austin9393
September 2, 2015
203
4.12
Troy drops a courier package from a plane and it lands on the roof of a mansion. In an effort to retrieve the package, Troy and Myra have to infiltrate the house and deal with the kooky inhabitants. The matriarch of the household, Mrs. Van Hooten, thinks that Myra is Rebecca's long-lost sister.

Guest star: Chesney Ramirez as Rebecca

25
4
"Valerie of the Dolls"
Austin9393
September 9, 2015
204
3.54
CONTROL finds out that KAOS is planning to destroy California by using a very powerful bomb whose formula is being delivered in 3 parts. Troy and Myra track down one of the parts to the Valerie High School then enroll as students to find out the method used to deliver the formula.
26-27
5-6
"The Little Black Book"
Austin9393
September 23, 2015
205-206
4.02
Troy's buddy Landon wants to hang out, but Troy is involved in a case. Landon discovers a "black book" full of women's names, and assumes it is a list of women Max knows socially. It is in fact a list of KAOS code names, and when Landon uses the black book to make a phone call, he inadvertently involves both of them in a web of intrigue. After having found out that Troy is a spy, Landon joins him in his search for the black book and the infamous Maestro, a top KAOS assassin.
28
7
"The 400 Building"
Austin9393
October 7, 2015
207
3.23
Troy's informer turns out to be a woman who died before Troy could have met her, suggesting that supernatural forces are at work. In order to get enough evidence, Troy must attend a séance.
29
8
"Walking After Midnight"
Austin9393
October 28, 2015
208
4.08
Troy, Myra and Landon travel to Spring Lake to camp. Shortly after their arrival, Myra finds a creepy doll nearby. However, the group is captured by Jason Koornees. A few days later, Coach Solomon is seeking out his spies in Spring Lake, after not getting in contact with them. In a gas station, he stumbles into the arrogant George that has invited his friends Alan, Phoebe, Justin, Amanda, Clay and Jessica to spend the weekend in the cottage of his wealthy family. Amanda teams up with Coach Solomon in his quest and they discover that Jason has captured Troy, Myra and Landon. Can they save them?

Note: This is a 'Halloween-themed' episode.

Guest star: TBA as Jason Koornees, TBA as George

30
9
"Let's Go to Prison"
Austin9393
November 4, 2015
209
3.77
When Troy's revenge plans goes down the drain, he must resort to Plan B. First, he puts his victim in prison, and so he makes sure of ending up in the same cell.
31
10
"Hurray for Hollywood"
Austin9393
November 18, 2015
210
3.41
Troy and Myra go undercover as stage actors to find out how KAOS is smuggling scientific information out of the country. But KAOS learns the new actors (if one indeed can call Troy an "actor") are CONTROL agents and therefore plots to capture Troy. Will this cause a new twist in the plot?
32
11
"The A-Team"
Austin9393
November 25, 2015
211
3.26
Troy and Myra move downward into mystery as they try to stop an unknown organization from eliminating the country's most valuable resource.
33-34
12-13
"Emma & Johnny in the Ackerman Agency"
Austin9393
December 11, 2015
212-213
5.00
Troy and Myra are sent to Wheeling, West Virginia investigate mysterious readings coming from Neal's time machine and find out what it is. However, during their investigation, Landon and Emma are sent to the prehistoric ages! Can Neal, Johnny, Nina, Troy, and Myra save their friends, or will they become dinosaur food?

A special crossover with Emma & Johnny in the 21st Century.

Notes: The cast of Emma & Johnny in the 21st Century are credited as main cast for this episode.

35
14
"Kill Em With Kindness"
Austin9393
January 13, 2016
214
2.98
36
15
"Stick Around"
Austin9393
January 27, 2016
215
3.43
37
16
"Be Prepared"
Austin9393
February 10, 2016
216
3.60
38
17
"Open Your Eyes"
Austin9393
February 24, 2016
217
3.54
39
18
"Crossing the Line"
Austin9393
March 2, 2016
218
3.87
40
19
"Out in the Cold"
Austin9393
March 16, 2016
219
3.10
41
20
"Safe as Houses"
Austin9393
March 30, 2016
220
2.93
42
21
"Into the Unknown"
Austin9393
April 6, 2016
221
3.22
43
22
"Quiet Water"
Austin9393
April 13, 2016
222
3.99
44
23
"From Paris to Berlin"
Austin9393
April 20, 2016
223
3.58
45
24
"Wrapped Up"
Austin9393
May 11, 2016
224
3.31
46
25
"When the Day Comes"
Austin9393
May 18, 2016
225
3.74
47
26
"The Inevitable End"
Austin9393
May 25, 2016
226
3.99
No.
Title
Written by
Original air date
Prod.
code
U.S. viewers (millions)
48
"End Game"
Austin9393
June 22, 2016
227
4.21
They've been tested beyond their limits in order to join the professional spying game. Now that their training is complete, the trio must undertake their final mission abroad and only two of them will move on to the very final mission in order to be recruited to Ackerman Agent International.

Guest cast: TBA as Zac, the third competitor
Season 3 was announced by Wiki Channel on May 30, 2016.
No.
Ep.
Title
Written by
Original air date
Prod.
code
U.S. viewers (millions)
49
1
"The Trial"
Austin9393
July 20, 2016
301
4.13
Troy and Myra are now standing in front of their biggest mission yet. If they complete it, they will become fullworthy members of Ackerman Agent International. They fly to Egypt where they are left alone outside a pyramid. As they walk inside, they hear many weird noises and can't see very well because the torches don't give much light. After getting in the middle of the pyramid, they discover a room with a coffin it, but once they open it, the episode ends.
50
2
"The Dark Secret of a Pyramid"
Austin9393
July 27, 2016
302
3.77
Troy and Myra discover what's inside the coffin, but once they find out an alarm starts ringing which tells them that all mummies in the pyramid will awake in 5 minutes and at the same time, all entries will be closed. After looking for a way out, they can't find the exit and therefore have to find another way. Eventually they find an opening, but only Troy gets out before the alarm goes off and all entries are closed. Myra is stuck inside with Troy being on the outside and they now don't have any contact with each other.
51
3
"Run Like A Mummy"
Austin9393
August 3, 2016
303
3.74
Myra goes further into the pyramid and finds a door with a code. She struggles and struggles, but eventually she finds out the code and goes inside. Inside she finds a room with food and water where she supplies well. She also uses the room as her hideout so the mummies won't take her. Eventually it begins to knock on the door and she hears that the mummies are coming. When she is looking for a way out she takes aside a shelf where she finds a staircase leading to an output. Meanwhile, Troy is trying to find a way into the pyramid to find and help Myra which he succeeds with, but when Troy is inside the pyramid, Myra has found a way out.
52
4
"This Is What You Came For"
Austin9393
August 10, 2016
304
3.81
After a while, the doors into the pyramid is now open again and Myra goes inside. Inside, she meets up with Troy who has been waiting for Myra's arrival. They both decide to discover what this is and goes further into the pyramid. Once they are in the middle of the pyramid, they hear human noices. Someone is talking and they can hear it coming from behind the wall. Myra breaks the wall and they find a girl named Zara Warren. She has been trapped by HNLP and tells Troy and Myra that they have to leave the pyramid right now. She joins them on the outside where they sit down to relax. At the same place, a strange man is sitting on a rock a little away. They go over and hear what he has to say and when they do, they know they passed the test.

Guest star: Ethan Levitan as man walking and talking with the gang

Notes: This is the first appearance of the new main character, Zara Warren, portrayed by Elaina London.

53
5
"Welcome to the Internationals"
Austin9393
August 24, 2016
305
4.02
After many years of training, sweat, missions and fights, Troy, Myra and Zara are now real Ackerman International spy members. Firstly, they meet their new spy trainer, Justin Williams, who shows them around and tells them what they need to know. Shortly after, they have a mission to look at.

Notes: This is the first appearance of the gang's new coach, Justin Williams, portrayed by Michael Bridges.

54
6
"Lucky Strike"
Austin9393
August 31, 2016
306
3.46
When Justin selects Troy to star in a recruitment video, his disguised identity goes to his head. Meanwhile, Myra and Zara find a secret basement at the Ackerman International base.
55
7
"Crazy Double"
Austin9393
September 14, 2016
307
3.19
A Myra look-a-like has been seen through the streets doing weird things. It is up to the team to go out and get her.
56
8
"Home Sweet Home"
Austin9393
September 21, 2016
308
3.12
Coach Solomon vivits Troy and Myra to see how things are going.

Guest cast: Bruno Amato as Coach Solomon

57
9
"TBA"
Austin9393
September 28, 2016
309
TBA
58
10
"TBA"
Austin9393
October 12, 2016
310
TBA
59
11
"Every Breath You Take"
Austin9393
October 31, 2016
311
Notes: This is a special 'Halloween' themed episode.

Guest star: Crystal Diane as TBA
Ackerman Agent Season 2 Contract
---
Original number of episodes: 20
Season extension amount: 6
Total episodes: 26
Specials: Two hour long specials
If the series creator goes inactive DatNuttyKid will take over.
If the back up users go inactive, the show will end.
Filming Dates: May 4 to June 26 filming 8 episodes, July 13 to August 21 filming 6 episodes, September 7 to October 12 filming 6 episodes and November 2 to December 11 filming 6 episodes
Notes: None.


Threads
:
1
2
References
Edit
Community content is available under
CC-BY-SA
unless otherwise noted.