LEFT THE CHANNEL
This actor has left the Wiki Channel and Company.
This is an adopted actor.
Bailey Wes

Biographical information

Full Name

Bailey Leona Wes

Gender

Female

Birthday

February 14,1999

Age

15

Hometown

Dallas, Texas

Nationality

America

Professional Information

Occupation(s)

Actress, Writer, Retired Model

Manager

Years Active

2005-present

Wiki Channel Credentials

Shows

Movies

Roles

Selena Swenson
Chloe
Melissa

Signature
   Bailey Wes (born on February 14,1999) is an American actress who is known for her role as Selena Swenson on Leslie Wireless.
​Early life
Edit
Bailey Wes was born in Dallas, Texas to Chad and Georgia Bay. At age three, her parents divorced. Her dad won custody, and the two of them moved to Los Angeles, California, so he can pursue his dream and maybe get her a job here and there.
2005-2007: Rough BeginningsEdit
Early in her career, Bailey wasn't very successful. The market wasn't looking for roles with actors as young as her, so she didn't really land roles in many tv shows or movies, but definitely had a commercial from here and there. Getting a job was so hard that her and her father almost quit.
2008-2012: @YeaCelesteEdit
In 2008 around the time twitter and facebook were getting popular, Bailey landed a role in a television series called @YeaCeleste. @YeaCeleste focused on a girl who was completely obsessed with social media and it was completely controlling her life. Bailey played Ariel, Celeste's younger sister who wanted to know what it was like to use social media. The series was very popular, and lasted four seasons. The series had its proper ending and everyone went their own separate ways. This got her career very far.
2013: Lets B Blonde, Wiki ChannelEdit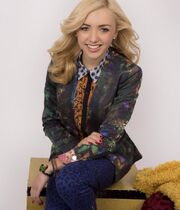 In 2013, Bailey landed a role on the adult comedy movie, Lets B Blonde. The movie focused on two blondes who flunked every year of school but used their charm to move up a grade. But when the authorities find out, they must re-complete every year of school or they will be arrested. Bailey plays DeeDee, a girl who makes fun of the other two when they repeat High School.
Later that year she was noticed by Wiki Channel. She was asked b them to be a part of her channel, and she said yes. She will be working with them in the future.
She recently landed the role of Selena Swenson on Leslie Wireless. Not much is known about the role.
She was cast in Finding Prince Charming in early 2015.
Personal Life
Edit
Bailey lives in Los Angeles, California, with her dad and his girlfriend. In her free time she helps out as a volunteer acting coach at the local theatre.
Filmography
Edit
Community content is available under
CC-BY-SA
unless otherwise noted.