Production
Executive producer(s):
Heatherblast9
Camera setup:
Videotape (filmized) Single Camera
Running time:
30 min.
Production company(s):
Wiki Channel Productions
Production Location(s):
San Francisco
Show Location(s):
Chicago
Broadcast
Original channel:
Wiki Channel
Original run:
March 16, 2015 - present
Becoming a Sendy is a former series coming to the Wiki Channel. It was picked up to a series on December 22, 2014. It premiered March 16, 2015. The theme song is Where You Belong, sung by the star of the show, Hayley Woodworth. The show was cancelled after season 1 due to low ratings.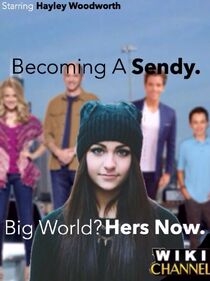 Brianna, a rebellious and tough teenage girl, has been bounced from one family to another all her life, making herself disliked by everyone she comes across. Being a foster kid is not easy. But, now being a new 18 year old, Brianna is able to finally be free from foster care and go off on her own. She feels like she should be happy about it but the thing is, she has nowhere to go, no money, not much belongings, not even a last name, and she was never properly educated about this kind of stuff. But soon, Brianna is found by Abigail Sendy, a cheerful mother who instantly feels a motherly instinct towards Brianna. After inviting her over and Brianna reluctantly agreeing to, Mrs. Sendy learns Brianna's story. She feels compelled to help her and decides to take her in and Brianna, having no choice, ends up agreeing. She is forced to attend community college with Aaron, the oldest Sendy son, to build her education. Now, Brianna has a loving family and she must learn to adjust to a new life with the Sendys, leaving behind her independence and putting one foot forward to make it work. Has Brianna finally found the family right for her?
Main Characters
Edit
Hayley Woodworth as Brianna Sendy: Brianna is a tough eighteen year old girl who always drives people away with her bad and rebellious attitude. She is witty, but not exactly book smart. When she turns 18, she is finally released from the foster care system. She feels like she should feel happy because she's on her own but the thing is, she has no where to go, no money or anything and she was never properly educated about this kind of stuff. Mrs. Sendy, who has dealt with foster care before, somehow finds Brianna and the Sendies take her in. They give her a place to stay for the night and then later on they ask her to stay with them. At first she says she's not going to stay with them but then she ends up staying. From there, she grows with the family and she learns a lot about life and adulthood.


Justin Skyes as Aaron Sendy: Aaron Sendy is an 18 year old freshman in college. He is very well known at his school, but because of the new arrival and his 12 year old brother, he seems to get the least attention in the house. He always tries to outdo Brianna, but deep inside, he sees Brianna as a sister.


Josh Andrews Jr. as Daniel (Danny) Sendy: Daniel is the youngest, 12 years old, and is just like his mother. He is very kind, and always wants to help others. He is the first one to get Brianna to warm up to them. He is a bit of a crybaby, as he is very sensitive. He has a close bond with his mother.


Shamila Lutzford as Ashley Ulras: Ashley Ulras is an 18 year old girl in college. She eventually becomes Brianna's best friend, even though they are polar opposites. She is very preppy, and always follows the rules. She is average book-wise, but makes up for it in heart and hard work. She'd rather not stand out, but becoming a friend of Brianna Sendy is basically a free ticket to standing out.


Allison Munn as Abigail Sendy: Abigail is a cheerful and positive mother, and loves Brianna as if she's her own. She sees Brianna as a younger version of herself, as she went through a lot of the same things when she was that age. She is very stubborn, and doesn't take no for an answer. She has a really close bond with her son, Daniel.
Brian Stepanek as Marcus Sendy: Marcus is Abigail's husband. He doesn't deal with Brianna's attitude quite as well and reminds Abigail that Brianna needs to be disciplined. He loves Brianna as a daughter, and wants her to do well in life. He is strict with all of his kids, but is still a pretty cool dad.
Episode Guide
Edit
Season OneEdit
Wiki Channel picked up a season one for Becoming a Sendy with a total of 18 episodes. Filming for the first season started mid-January 2015.
No.
Ep.
Title
Written by
Original air date
Prod.
code
U.S. viewers (millions)
1
1
"Becoming a Sendy"
Heatherblast9, Jessie1010, Tatertat, Silly1!, NYCgleek
March 16, 2015
101
4.7

Brianna has just been released from foster care since she had just turned 18. She quickly realizes that she has nowhere to go and nothing to do with her life. Mrs. Sendy, a mom, decides to take her in and let her live with her family. The Sendies tell Brianna that she will have to go to community college, and once she gets on her feet, she is free to leave, but still has to stay in touch somehow. Brianna now has to cope with her new family and get used to the attention, care, and discipline.

Absent: Shamila Lutzford as Ashley Ulras.

Note: In this episode, Brianna and the Sendy family meet for the first time.

Songs featured: How Did I Get There From Here  by Nicole Martin. It plays during Brianna's montage of happiness to depression.

2
2
"Becoming a College Student"
Heatherblast9
March 26, 2015
102
3.0

The paperwork has been filled out, and Brianna officially is enrolled at Community College of Chicago. Brianna has a terrible time there, and feels college isn't right for her. Mrs. Sendy tries to convince her to stay, and enlists the help of Aaron to try to help Brianna have a good time.

Note: This episode marks the first appearance of Shamila Lutzford as Ashley Ulras. Ashley appears in three scenes, when she greets Brianna a few times at the college. Danny (Josh Andrews Jr.) and Mr. Sendy (Brian Stepanek) also have minor roles in this episode.

3
3
"Becoming a Sister"
Heatherblast9
April 2, 2015
103
2.5

When Danny is having a hard time at school, he seeks the aide of Brianna. The problem is that Danny does not feel accepted with his classmates, which is the same problem Brianna is facing at the college. Brianna convinces Danny to be more friendly and outgoing with the other students, advice that she also takes for herself. The advice works, as Danny becoes more popular with the kids in his grade, and Brianna becomes better acquaintance with Ashley.

Note: Brianna and Danny notably become closer in this episode, and the same for Brianna and Ashley.

4
4
"Becoming Jealous"
Heatherblast9
April 9, 2015
104
2.6

Aaron feels that with both Danny and Brianna around, no one really notices him anymore. He begins to act up and become very disrespectful for attention, but realizes he doesn't need a ton of attention to know that he is loved.

Note: This episode was originally titled "Who's Aaron?" and is still listed as that on some T.V. programs.

5
5
"Working With Ashley"
Heatherblast9
April 16, 2015
105
3.1

Brianna has to do a science project with Ashley, and since this is her first group projects, she is worried. She doesn't know if she should do less work so she won't mess up the project, or if she should take over to not look lazy. Meanwhile, Danny and Aaron suddenly have to find an expensive (though they didn't know it at the time) item they lost years ago.

Note: This is the first episode of the series without Becoming in the name, excluding the former title for Becoming Jealous.

6
6
"My Friend, Freend"
Heatherblast9
April 23, 2015
106
3.5

Amy Freend, class representative and cheerleader, suddenly decides to become Brianna's mentor and best friend. The thing is, Amy is way too cheerful and bubbly for Brianna's taste, but cannot seem to take a hint to tone it down. Ashley feels Amy will be a better friend for Brianna, being so perfect, and decides to avoid her a little. Danny and Mrs. Sendy try to clean up the house and make it spotless, but finds it very hard to do with Mr. Sendy, Aaron, and Brianna always leaving a mess behind them.

Guest Stars: Karoline Matthews as Amy Freend.

7
7
"Becoming Detectives"
Heatherblast9
May 17, 2015
107
4.6

Aaron is suspected to have put graffiti all over the school's freshly painted walls, an offense that he did not commit. Aaron convinces Brianna that he did not do it, but at first she doesn't believe him until she realizes he had a strong alibi. When Brianna tries to talk to the principal, he is convinced that Brianna was in on the act. He still gives them three days to prove it wasn't them and find out the culprit.

Note: It is revealed that it was Johnny, the new kid in school. When he is caught, he admits that at his old school stuff like that was okay. Even though he has an excuse, it was still in the school policy and he had tried to hide it, so he gets a two day suspension. (A softer punishment than what Aaron would have gotten.)

This episode aired as part of Guess Star Weekend.

Guest Stars: Stephen Johnson  as Johnny

8
8
"Facing the Truth"
Heatherblast9
May 28, 2015
109
3.3

People at the college find out that Brianna is a foster kid who is just staying with the Sendies because she had no where else to go, and a group of people decide to taunt her for it. Ashley, Danny, Aaron, and Mr. and Mrs. Sendy show Brianna that they have her back when they all stick up for her and lets her know that there's nothing wrong with her and her situation, and that she can't control it.

Note: They also teach the guys a lesson on how it could have easily had happened to them, too, and that they shouldn't make fun of others. Only one of them takes it to heart, though, and the rest just pick on someone else.

9
9
"Partyin' Partyin' Yeah!"
Heatherblast9
June 4, 2015
108
4.2
Mr. and Mrs. Sendy get upset with Brianna when she goes to a party that she knows that she shouldn't have attended. Not being used to having attention, Brianna gets mad at them too. Aaron talks to her and tells her that they do that because they care and that she shouldn't set examples like that for Danny. Brianna finally comes to terms with it and when she is invited to another wild party, she declines and decides to hang out with Ashley instead.
10
10
"Baby Brother Blues"
Heatherblast9
June 11, 2015
110
3.9

With Ashley spending more time at the Sendy house, Danny starts to have a crush on her due to her being so nice to him all of the time. Brianna notices, but Ashley sees him as a little brother because she has a bunch of little siblings at home. When Danny finds out, he tries to be more mature for her.

Aaron gets the responsibility to do all of his mom's usual housework since she has to cover extra hours for her work, but he can't seem to manage his schoolwork and housework at the same time.

11
11
"We Got Mikaela"
Heatherblast9
June 18, 2015
111
3.6
Brianna encounters a childhood friend at college who used to be a foster kid until she got adopted back when they were kids, but Mikaela seems not to remember her.
12
12
"Dumb Dog"
Heatherblast9
June 25, 2015
112
2.1
The Sendies are thinking of getting a dog, but due to a past memory, Brianna is terrified of them. She doesn't want to let them know of her fear and ruin their dream, but if she doesn't, she may embarrass herself in front of everyone. When Ashley finds out about her secret accidentally, she tries to get Brianna to tell them.
13
13
"Becoming Concerned"
Heatherblast9
July 2, 2015
113
4.5
Brianna has been struggling with depression, but feels like she must cope with it alone. People try to explain the importance of mental health to her and how to open up to others about it.
14
14
"Watch What You Say"
Heatherblast9
July 9, 2015
114
3.9
After a reckless comment is made by a jerky classmate, Ashley starts an unhealthy diet plan. Brianna and Aaron notice and try to figure out what to do to help Ashley.
15
15
"Becoming a Hernandez"
Heatherblast9
July 23, 2015
115
4.7

Brianna's biological mom is found, but the Sendies are not sure if it would be a wise idea to meet her or not. Brianna also finds out that Mrs. Sendy also used to be a foster kid.

Note: Brianna's birth mom is mentioned, but does not appear. At the end of the episode, Brianna is still conflicted but the Sendies seem to be supportive of whatever choice she makes.
Becoming a Sendy Season 1 Contract
---
Original number of episodes: N/A
Season extension amount: N/A
Total episodes: N/A
Specials: N/A
If the series creator goes inactive N/A will take over.
If the back up users go inactive, the show undecided.
Filming Dates: N/A
Notes: N/A


Threads
:
On the social network, Chatter, Liberty Dillon posted "IM SO PROUD OF YOU HAY. Your new series is going to rock, and I cannot wait.#BecomingaSendy" along with a picture of her and Hayley Woodworth revealing that Hayley Woodworth possibly has a starring role. *It was later confirmed that she had gotten the lead role of Brianna Sendy.
Karoline Matthews is rumored to have a part on the show.
Justin Skyes is rumored to have a part of the show. *It was later confirmed that he would be portraying Aaron Sendy.
Community content is available under
CC-BY-SA
unless otherwise noted.