!
The manager of this actor is inactive.
Dane Wilkins

Biographical information

Full Name

Daniel Steven Wilkins

Nickname(s)

Dane

Gender

Female

Birthday

March 9, 1998

Age

16

Hometown

Oakland, California

Nationality

African-American

Professional Information

Occupation(s)

Manager

Years Active

2007-present

Wiki Channel Credentials

Shows

Movies

Signature
   Daniel "Dane" Steven Wikins (born March 9, 1998) is an American actor, dancer and singer. He is as the big brother to Dani Wilkins. Like her, he prefers his nickname Dane for his acting credits.  He is most known for his upcoming roles in Trapped: The Escape Challenge and East Meets West.
Biography
Edit
Early Life
Edit
Dane was born in Oakland, California to Billy and Julie Wilkins. He lived there for 5 years his family moved out to L.A. He was put into a performing arts school as soon as he arrived and he loved it.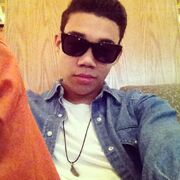 Dane quickly fell in love with acting, dancing and singing. He started off during commericals. In 2008, he was featured in Kidz Bop Rulez! along with Wiki Channel actress, Jasmine Byran who he is close friends with. He also was in the movie, School Gyrls with her, but he was just a regular student/nerd in the film. In 2010, he was casted as a main character is Disney's Dance Dance Chicago, where he worked with for three years before the show was cancelled due to some budget cuts. Now he is between acting jobs but has started writing music and performing in dance shows for his school.
In early 2014, he got a supporting role in East Meets West as asprising thespian, Kendall. Soon after completing his scenes for the movie, he got the call that he gotten a part in the new WCOM, Trapped:The Escape Challenge as Devon Campell, a jock with an attitude. 
He also been aproached by Wiki Channel Music Group to sing the upcoming series, G.I. Jennings theme song. It is rumored that he is going to be on the show as a older sibling of some sort.
Personal Life
Edit
Dane is currently living out in L.A. with his parents and younger sister, Dani. He is very outgoing and talented. He believes that he is the "love doctor" and loves to give out relationship advice. He is also a hopeless romantic. 
Filmography
Edit
Year
Show/Movie
Role
2009
School Gyrls
Regular Student/Nerd
2010-2013
Dance Dance Chicago
Tyler Blue
2014
East Meets West
Kendall
Trapped: The Escape Challenge
Devon Campell
Discography
Edit
TBA
Community content is available under
CC-BY-SA
unless otherwise noted.