Production
Executive producer(s):
StarfireButterfly
Camera setup:
Single-camera
Running time:
22 minutes
Production company(s):
Wiki Channel
Production Location(s):
Wiki Channel Center Studios, Hollywood, California
Show Location(s):
Los Angeles, California
Broadcast
Original channel:
Wiki Channel
Picture format:
480i (SDTV)
1080i (HDTV)

Audio format:
Stereo
Original run:
November 9, 2015 - Present
Destiny Calls is a half hour Wiki Channel original series that follows a popular cheerleader girly-girl named Destiny, who has a secret: She is an alien from another dimension. The series was picked up for a pilot September 3, 2015,[1] and a contract for the series was made and approved September 4, 2015[2]. The series premiered November 9, 2015. In 2015, the show was nominated for the Wiki Channel Awards, under the category Total Hype.
The show follows a high school sophomore named Destiny Lyn, a popular girly-girl, head cheerleader who could be "perfect", except for one thing: she's not. She's actually an magical alien teenage girl from another dimension who can shoot pink but deadly lasers from her eyeballs and hands. Destiny hates that being an alien gets in the way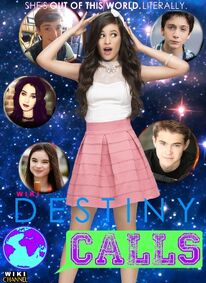 of her social life. When she could be out there, at parties, taking selfies all the time, she's stuck in there, at home, training to be normal and blend in yet save lives when needed. Destiny has lot's of friends, but her best friend, Shelby, is the most special. She is the only one who suspects something weird of Destiny. Destiny struggles to keep her true identity and before life a secret from her friends, while saving them from evil, but staying up-to-date on Chatter.
Characters
Edit
Main Characters
Edit
Season 1
Cecelia Kristine
as
Destiny Lyn
- Destiny is a girly sophmore who struggles with life as an alien superhero and a popular girl. She loves to party, and play around, so she doesn't take training very seriously. She loves her friends and family. She is head cheerleader of her school, and is kind of annoyed by the fact that Shelby never wants to do any girly things with her, like shopping, or talking about boys. She has a talent for singing, and she loves to do it. She believes in everything, so she gets slightly made fun of for being a 16-year-old who still believes in Santa Claus and The Tooth Fairy, although she gets upset her teeth don't fall off anymore. She also believes everyone is different, and they all have a special talent. Destiny knows that Shelby, her best friend, has a special talent, and she thinks it might be trying to pry secrets out of people, because she does that to Destiny all the time. She hates the word "average", and she hates it when people say "aliens aren't real", because she is an alien.
---
Eleanor Nesbitt
as
Shelby McPheerson
- A tomboyish girl who sees something suspicious in Destiny and in the way she acts when people question alien life. She's tried to get Destiny to tell her everything, but she can't. Unlike Destiny, Shelby takes life very seriously, and doesn't party around. When Destiny tried to convince Shelby to try out for the cheer leading team with her so they could be "cheer twins", Shelby said she'd rather be on the field playing than screaming out for the team to win, when she could just help them win. She thinks that the whole Lyn family is weird. She thinks Destiny is kind of crazy, because she believes in everything. Although Shelby has a girly side too, she almost never shows it. Destiny keeps trying to convince her too, though, but she says it'll be better if she doesn't, because their friendship has a lot to do with them being different. She is very obsessive and would "make a great detective", Destiny says.
---
Gabriel Roth
as
Dilan Lyn
- Destiny's annoying, nosy younger brother who's massive crush on Shelby could lead Destiny's secret to being revealed. He's easily tricked and fooled, and he would tell Shelby anything. He is not an alien like his sister, because his family had moved to Earth before he was born, so he was born on Earth. Which is why any time Destiny annoys Dilan, he threatens to tell her secret, because it wouldn't affect him at all. He has a special relationship with his younger sister Dawn, and they both seem to hate the fact that their mom pays most of her attention to Destiny. He likes to make fun of Dawn and Destiny's names, although he doesn't realize that his parents made a mistake when they were writing his name when he was born, and wrote it with an "i" instead of a "y". His sisters think it's better if he just doesn't know that. Dilan is very energetic, he's dimwitted, but he's a happy, cheerful, and a sweet-natured kid.
---
John Brenton
as
Jonah Parker
-Another one of Destiny's friends. He is sporty and athletic, but sometimes he just likes to chill out and play video games. He doesn't notice anything weird in Destiny, unlike Shelby, and it is thought he may even have a crush on her. He thinks Destiny is just being herself, and he says that defending her whenever Shelby says Destiny is weird. Shelby just answers with a simple "you just like her, that's all".
---
Tyler Campbell
as
Joseph Dawson
- Shelby's boyfriend. He is also an alien, like Destiny, but Shelby doesn't know or suspect anything. He likes to hang out with the rest of the crew. He is Jonah's best friend. He doesn't really take life seriously, but he is determined to finish high school and graduate college. But after that, he says he doesn't really think much about the future. He cares very much for his girlfriend Shelby, and he'll do whatever she wants. He seems to like Destiny, and thinks she's very sweet, but he has to agree with Shelby about the Lyns being weird thing. He literally has to, or Shelby will go all violent on him. He gives Shelby and Destiny some space, because he lives with all girls and understands that girls need space for some "girl drama". Shelby and Destiny are offended by that, but not much, because they don't really care. Joseph is really caring, and sweet. He is also very smart, and is kind of nerdy.
---
Laura Bailey
as
Dawn Lyn
- Dawn is the 13-year-old sister of Destiny and Dilan, and is the youngest of the Lyn family. She is a total tomboy, and she almost has no girly side. She is very athletic, and is always "in it to win it". She loves to play basketball, and even though she's a little young, she has driven her middle school towards three championships, ever since fifth grade. Now in seventh grade, Dawn has trouble making friends. It's mostly because she is very tough, is a total tomboy, can get aggressive at times, er, always, and she loves to eat. She shares a special relationship with her older brother Dilan, and he's the only thing Dawn really cares about (she literally calls him a thing), even if she doesn't show it. Dilan and Dawn bond over a lot of things, even if they are both extremely different. Dawn thinks Destiny is annoying, and she is often misbehaving at home. She doesn't go out much, because she's usually grounded.
Recurring Characters
Edit
Kali Rocha as Dahlia Lyn Dahlia is Destiny, Dilan, and Dawn's mother. She is (as described by Destiny) "Way to overprotective to let me live an actual life". Dahlia cares very much about her kids, especially Destiny, because of her secret. But Dilan and Dawn seem to be annoyed that they don't get as much attention as Destiny, despite how much Dahlia tries to prove them wrong. When Dahlia was younger, she had a friend who dreamed of having kids and having their names all start with a "p". Dahlia later stopped being her friend because she became snottier, and she decided to marry someone who's name started with a "d" and have her kids' names all start with a "d" too, just to show off to her ex-friend.
Benjamin King as Danny Lyn Danny is Destiny's father. He is a fireman, and he loves his job. He loves to play basketball, and he is good at it. He wants to train Dilan to play basketball like him, but Dilan is more of a "couch guy". His daughter Dawn seems to be more of into basketball than Dilan, but Danny doesn't even want to try teaching her. He wants all his kids to be "fit and active". Danny loves to interfere with the lives of the kids, and he is very overprotective of Destiny, especially when it comes to boys. He is very smart, and has answers to almost everything. He cares a lot about his kids, especially Destiny, which again, Dawn and Dilan are annoyed by, but he denies that Destiny is his favorite.
Liza McDonald as Phoebe Hazlewood Phoebe was the best friend of Shelby, before Destiny moved to Earth. Shelby and Phoebe still seem to hang out a lot, and Destiny is a little bit jealous, but she remains cheerful. Phoebe and Destiny have a lot in common, so Shelby thinks they shouldn't fight, although she understands why they aren't friends. Phoebe is a rich girl, and she loves fashion. She is bubbly, sometimes snooty, and is very social, just not as popular as Destiny. She is on the cheer leading squad, but Destiny tries to avoid her as much as possible. Ever since Destiny moved and Shelby started hanging with her, she feels like a third wheel. But she's okay with it on the outside, but on the inside all she wants to do is get rid of Destiny and get Shelby back.
Series Overview
Edit
Series
#
Season
#
Title
Written by
Directed by
Original air date
Prod.
code

U.S. Ratings (in Millions)

1
1
"Her Destiny Calls"
Star
Star
November 9, 2015
101
TBA
When an alien teen named Destiny Lyn convinces her parents to let her go out into the world and explore after years of hiding, in fear she will reveal her secret, she must try to keep herself from posting everything and to just fit in. Will she be able to keep her alien secret from her new friends and still have fun and be succesful in high school without anyone suspecting anything? Meanwhile, Destiny's siblings Dawn and Dilan try to pull a prank on their sister, but with their mother roaming the halls of the Lyn house ever since their last prank, can they pull of a decent prank without their mother getting in the way of things?

Note(s): This is the first episode of the series. It was originally going to air November 13 before Welcome To New York, but the air date was changed to November 9.
2
2
"So Many Questions!"
Star
Star
November 16, 2015
103
TBA
Destiny gets detention after shooting a spitball at a teacher, so she is told to stay after school in the upstairs science room. Joseph is there to work on an experiment he's been working on for the past years after school. Destiny walks in right when Joseph is eye-blasting his experiment, and sees it all happen. Destiny wonders if she should tell Joseph what she saw, and she asks herself, "Did I really see what I saw?", "Could Joseph be an alien?", and mostly, "Can I keep a secret?". Meanwhile, Jonah and Shelby are taken into a counseling session after arguing, and are forced to hang out and talk alone together for three hours, but all Shelby will talk about is Joseph. Jonah notices that Shelby mostly says the words "Joseph", "homework", and "smart", so he starts to wonder if Shelby is only dating Joseph so he will help her with his homework. Meanwhile, Dilan and Dawn pull a prank on a girl, but they don't realize that the girl is the mayor's daughter.

Guest star(s): Mailee Flanagan as Principal, Lucy Perry as Camille

Note(s):This was originally going to be the third episode, until the pilot air date was changed, and She Got The Beat was changed to the third episode.
3
3
"She Got The Beat"
Star
Star
November 23, 2015
102
TBA
Dilan and Dawn Lyn are mostly known to be the trouble makers of the Lyn family. But this time, they've gone too far, but maybe, it wasn't them. Mrs. Lyn is in the middle of very important business when suddenly Mrs. Lyn notices that she thought she was calling her boss but it was a prank call from somebody. Of course, assuming Dilan and Dawn did it, they get grounded a day before a party they where invited to of the coolest girl in school. But Dilan and Dawn know they didn't do it, and there is only one person in the Lyn house who could have done it, Destiny. So when they set up spy cameras around Destiny's room to get some dirt on her, they get a video of her singing and post it for revenge, because they know Destiny is terrified of anyone hearing her sing. But when the video goes viral and gets noticed by a famous music producer who wants to sign her to his label, the same label as Kristin Madison, can they stop their sister from becoming an overnight sensation and ruin their revenge, and still, they believe, get away with the prank? Meanwhile, Jonah and Joseph try and help Dilan and Dawn find out who prank called Mrs. Lyn to help them prove it wasn't them, and Shelby helps Destiny get ready for her big demo for the music producer.

Guest Stars: Richard Whiten as Music Producer, Kristin Madison as herself

Note(s): This episode was a part of November's Got The Beat on the Wiki Channel. Destiny got to preform with Kristin Madison at the end of the episode during her big demo to get signed to the record label. At the end of the episode it is also revealed who prank called Mrs. Lyn.

Songs Featured: My Savior preformed by Kristin Madison and Cecelia Kristine, "Skyscraper" preformed by Cecelia Kristine
4
4
"Posting Problems"
Star
Star
November 30, 2015
104
TBA
Everyone at East Los Angeles High School is talking about the new uPhone 7. The only problem is, Destiny has no idea what a phone is. Shelby shows her what a phone is, and Destiny goes through crazy things to get her parents to buy her one. Dahlia and Danny know the dangers of Destiny getting a phone, especially those new modern phones. But the buy her one anyway.

The next day, Destiny is showing off her new phone, when everyone is talking about something else, the new update to the Chatter Social Media website. With the help of Jonah and Shelby, Destiny makes a Chatter account. But things go awry when Dilan and Dawn get hold of Destiny's phone and accidentally post her alien secret to the world, by Chiting about her eye blasting a turkey on Thanksgiving to cook it. Everyone at school sees the post, and Dilan, Destiny, and Dawn must figure out a way to delete it, while making sure nobody sees and believes it, but there are problems when it is revealed that the new update adds in a feature where you cannot delete any posts.

Meanwhile, Joseph sees the post, and hopes that Destiny really is an alien, so that he will not be the only alien on Earth.

Note(s): In this episode, it is confirmed that Joseph is an alien. Chatter is a parody of Twitter.

5
5
"Queen of New York"
Star
Star
December 7, 2015
105
TBA
New York is under attack, and it's up to Destiny to save it. But the first school dance of they year is the same day, so Destiny must figure out a way to save New York, while still showing up at school somehow, or school rules state that Destiny won't be able to go to the dance if she doesn't go to school that day. But with distractions in her head, and thoughts about who to ask to the dance, Destiny fails her mission, and the Empire State Building is destroyed by a monster. So now it's up to Destiny to fix the mess she's made, and get over the fact that she can't go to the dance, or Destiny will no longer be able to fight crime and will be fired from the Teenage League of Alien Heroes.

Meanwhile, Joseph helps Jonah ask Kayla Madison, the most popular girl in school, to the dance. Dilan is crushing on a mysterious new girl named Morgan, and Dawn suspects something of her, so she goes undercover only to find out that this mysterious girl is Joseph's sister.

Song Featured: "Shut Up And Dance" preformed by WALK THE MOON during the scene at the dance.

Guest Star(s): Shayna Blake as Kayla Madison, TBA as president of Teenage League of Alien Heroes, Daniela Harper as Morgan Dawson

6
6
"Elections"
Star
Star
December 14, 2015
106
TBA
It's election day at East Los Angeles High, where they elect school president. Destiny decides she wants to run, but things get complicated when Joseph decides to run against her. Things go out of hand when they set up their campaigns, and Shelby and Jonah take separate sides. Who will win the election, and will the group get back together if one loses?

Note: Destiny ends up loosing the election, and dropping out because she has no plans and is a horrible leader, and fears her being school president will destroy her friendship with Joseph, which makes Joseph the new school president because the only ones running this year were Destiny and Joseph.

7
7
"Ho Ho H--Oh No"
Star
Star
December 21, 2015
107
TBA
Destiny wants to give presents to her friends, but when she accidentally breaks Shelby's fragile present, she must find a way to get the money to replace it before Christmas by getting a job. Unfortunately, the only available job was a Santa Claus poser at the mall that would take pictures with the kids. Destiny accepts the job, so now she has to pretend to be Santa Claus and get paid only $8 an hour.

Note(s): This is the Christmas special.

8
8
"Retreat!"
Star
Star
December 28, 2015
108
TBA
At the annual Forest Nature Retreat, Destiny tells a scary story about a monster that she once fought, pretending it's just a legend and that she never encountered it in real life. But when the monster shows up at the retreat, Destiny has a choice between fighting off the monster in secret, well, trying to fight it in secret, or fleeing from the monster in danger of leaving someone behind.

Note(s): This episode shows the first move Joseph made as school president, which is organizing a nature retreat.

9
9
"The Pet"
Star
Star
January 4, 2016
109
TBA
Destiny is left with the class pet to take care of for the week, but when she gets a last minute battle and has to go to the other side of the country to fight off a monster, she leaves Dilan and Dawn in charge of the hamster. But after playing around with it, they accidentally kill it, leaving them to have to hide the dead pet from Destiny when she returns, and try to get a new one as soon as possible without her knowing they killed and replaced the hamster.
10
10
"Two Many Best Friends"
Star
Star
January 11, 2016
110
TBA
Destiny notices Shelby and Phoebe hanging out more, so she arranges a night for all three of the girls to bond and hang out. That is when she finds out Phoebe's plan to get rid of Destiny and become Shelby's best friend once again. Destiny tries to tell Shelby what Phoebe told her, but Shelby won't believe her. Meanwhile, Destiny is off at a girl's night, so Dilan and Dawn poke around her room and find a lot of interesting things in there.

Song Featured: "Me & My Girls" preformed by Cecelia Kristine, Eleanor Nesbitt, and Liza McDonald.

Note(s): Destiny finds out Shelby's talent for singing in this episode when they do karaoke at the end of the episode. She also finds out Phoebe can sing. This is the second episode where Destiny sings on the show.

11
11
"Dr. Doalot"
Star
Star
January 18, 2016
111
TBA
Destiny gets the rare "Alienitis" virus after fighting an evil alien, and every time she sneezes, it rains, every time she coughs, there's thunder, when she gets a fever the temperature rises, when she gets a cold it lower. It is getting really bad, and she has to go see a doctor, but she gets an alert that a monster is attacking Mars.

Note(s): The title is a reference to the 1967 movie "Dr. Dolittle".

12
12
"Cheater, Cheater"
Star
Star
January 25, 2016
112
TBA
Destiny's first boyfriend Harry seems like a nice guy and all, but like always, Shelby suspects something of him. So she goes undercover only to find out that Harry is dating another girl. Shelby tells Destiny this and dumps him, but this can be a problem because Harry and Destiny are supposed to be preforming a duet at the school talent show.

Song Featured: "I Know What You Did Last Summer" preformed by Cecelia Kristine and Harry Styles

Guest Stars: Harry Styles as Harry, Valerie Tovar as Emily

Note(s): This is the third episode where Destiny sings.

13
13
"Love Monster"
Star
Star
February 1, 2016
113
TBA
Destiny travels to another planet to fight off an unknown alien, but when she unmasks him, she falls in love with him, so she can't bring herself to destroying him.

Song Featured: "I'm In Love With A Monster" preformed by Cecelia Kristine

Guest Stars: Niall Horan as Kevin

Note(s): This is the fourth time Destiny sings on the show, the others being "She Got The Beat", "Me & My Girls", and "Cheater, Cheater". It is also the second time a One Direction member appears on the show.

14
14
"Responsibility"
Star
Star
February 8, 2016
114
TBA
Destiny is trusted to stay home alone with Dilan and Dawn while her parents travel to Erifrats, but she throws a party. Dilan and Dawn are witnesses, and force Destiny to do crazy stupid things for them so that they won't tell her parents about the party.
15
15
"Fight Fright"
Star
Star
February 15, 2016
115
TBA
Destiny accidentally messes with the toughest girl in school, Brenda, and now she wants to fight her. Destiny can't really fight without her powers, so she makes Shelby dress up as her and fight Brenda herself.
16
16
"Games"
Star
Star
February 22, 2016
116
TBA
Dilan and Dawn become obsessed with a video game, and now it's up to Destiny to snap them out of it.
17
17
"Shopping Spree"
Star
Star
February 29, 2016
117
TBA
Destiny wins a shopping spree at the mall after winning a clothes designing contest. Destiny draws several versions of the winning outfit, and Shelby likes them all. Shelby thinks she can make money by selling it, so she teams up with Dawn to help her make and sell the outfits online behind Destiny's back.
18
18
"Revelations"
Star
Star
March 7, 2016
118
TBA
Destiny finds out that Joseph really is an alien, and that they come from the same planet. They promise to keep each other's secrets, but they act weird around Jonah and Shelby. Shelby and Jonah begin to suspect that Joseph and Destiny are dating, since Joseph and Shelby broke up and the two are acting really weird.
19
19
"Breakups"
Star
Star
March 7, 2016
119
TBA
Destiny and Shelby argue about something through Chatter, and their conversation goes viral.
20
20
"Concert"
Star
Star
March 21, 2016
120
TBA
Destiny goes to her first concert with her friends, a part of Chantelle's What Is Love tour, but the tickets she won from a radio contest are invalid so she, Shelby, Jonah, and Joseph end up sneaking in instead.

Guest Stars: Chantelle as herself

Song(s) Featured: Pretty Girl Rock preformed by Chantelle and Cecelia Kristine
Season 1 Contract
Edit
Destiny Calls Season 1 Contract
---
Original number of episodes: 21
Season extension amount:
Total episodes: 21
Specials: One hour long specials
If the series creator goes inactive N/A will take over.
If the back up users go inactive, the show will end where it left off..
Filming Dates: September 15 - October 24 (11 Episodes), December 13 - February 24 (11 Episodes)
Notes: None


Threads
:
1
2
The series was originally going to air November 13, but was later changed to November 9.
Jonah was originally going to be played by Keith Hernandez, but Keith was cast in RockDaly so the role was given to John Brenton.
References
Edit
Community content is available under
CC-BY-SA
unless otherwise noted.