G.I. Jennings
Genre:
Family comedy
Created by:
Jessie1010
Starring:
TBA
Theme Music Composer
TBA
Opening Theme:
"Good Life" by Dane Wilkins
Country of origin:
United States
Original language(s):
English
No. of seasons:
2
No. of episodes:
58
Production
Executive producer(s):
Jessie1010
Camera setup:
Multi-camera
Running time:
22 minutes
Production company(s):
Wiki Channel
Production Location(s):
Wiki Center Studios.
Hollywood, California
Show Location(s):
Fort Hood, Texas
Broadcast
Original channel:
Wiki Channel
Picture format:
480i (SDTV)
1080i (HDTV)
Audio format:
Stereo
Original run:
September 7, 2014
G.I. Jennings is a brand new half hour Wiki Channel Original family-comedy pilot that will follow a newly re-formed military base family. The pilot was ordered by Wiki Channel on January 24, 2014, created by Jessie1010. Casting currently took place and the pilot was shot in late February 2014 for consideration for a series premiere on Wiki Channel in fall 2014. [1] The series was picked up for a full series in March 2014. The series preview aired on August 10, 2014 as part of Summer So Hot Weekend. The series premiered on September 7, 2014 at 8:30 PM ET, which will be it's regular time.
In "G.I. Jennings," Casey Jennings is just your average teenage girl who lives with her single mother and her younger brother, Frankie Jennings, in a small town in Boston. But, when her mother and father suddenly announce their remarriage, as an attempt to rekindle their family, the Jennings find themselves moving back to Texas where they will live on th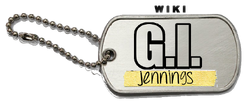 eir father's military base again, just like they did when they were infants. Not having lived on the military base in a very long time, Casey and Frankie find it hard to adjust to their new military lifestyle. With the addition of going to a new school, dealing with social life, and getting used to having two parents on the watch for them, this pair of siblings is in for a bumpy ride. Accompanying them is Kendra, their new kid military friend, Uncle Joey, their father's long time best friend and close family friend who they consider family, and Pistachio, their family dog who seems to enjoy the military life better than the suburban.
"G.I. Jennings" is executive produced and written by Jessie1010. About the series, Jessie1010 says, "Wiki Channel strives to bring a variety of shows to our viewers. G.I. Jennings will be a family-teen sitcom that will focus on life on the military base as well as family dynamics. There are a lot of families who live on a military base and it's never been seen in a series before so we are very excited to be the first to do this." [1]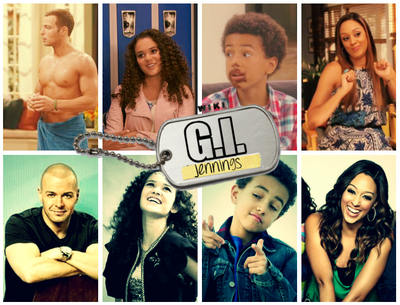 Mikayla Totten as Casey Jennings -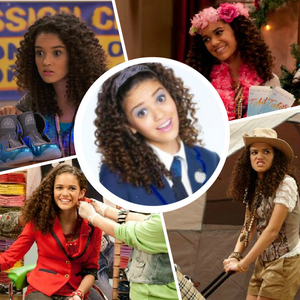 Casey is a smart, funny and witty fourteen year old girl. She can be a huge girly girl and when she wants to, a diva. Casey is not too fond of living on the military base at all and prefers to be in Boston where all of her old friends are. But, she knows her parents really want their family to work again, so she tries to pull through it as much as possible and even though her attempts may fail sometimes, she always has good intentions. Once she's on the base, Casey becomes good friends with Kendra Fox, one of the only kids her age on the base. And all in all, even though they can embarrass her sometimes, Casey loves her family and would do anything for them.
Railyn Chandler as Frankie Jennings -
Frankie is the cutie of the family and is known for his adorable looks. But behind his whole innocent act is a mischievous ten year old boy who loves playing around with others. He is a huge jokester and enjoys spending his time on the base playing jokes on people. And even though he makes Casey mad with his over the top pranks here and there, they always come through for each other and love each other very much. Frankie is also known for always running off, getting into trouble, and being hard to find.
Tia Mowry as Shannon Jennings -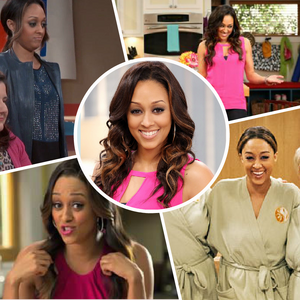 Shannon is the mother of Casey and Frankie and the new wife for the second time of Greg who is a military soldier. A year prior to the second engagement, Shannon met up with Greg again so he could help her with a project she was working on for work. During this time, Shannon and Greg fell in love all over again and within a few months, the two were announcing their remarriage to their children. Shannon finds it very hard to adjust back to the military life and struggles living with it but for the sake of the family, she tries to get used to it. Shannon also enjoys helping organize events on the base for the kids and families. Shannon has been called a "cool mom" various times by some of Casey's friends but Casey and Frankie don't see it that way at all. However, Shannon is a great person to go to for fashion and girl advice and Casey loves talking with her when she doesn't have a friend to go to.
Joey Lawrence as Greg Jennings -
Greg is the father of Casey and Frankie and the new husband for the second time of Shannon. Greg is so excited to have the family back together on the base. The last time they lived there together was when Casey was four and Frankie was only a few months old. He tries to make their new life as comfortable and family loving as possible but it may be hard for him when his military mode kicks into gear. Greg is typically a pretty flirtatious and charming guy, especially towards his wife. But when Greg is training, he gets very serious like a military solider should. Greg also has trouble with patience and usually needs the help of his wife to hold his temper, especially when the kids get attitudes.
Elfie Turner as Kendra Fox -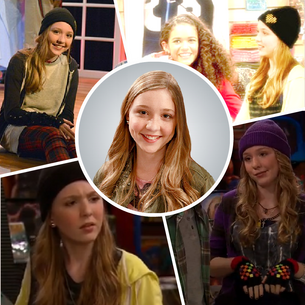 Kendra is a fourteen year old girl and a new friend of Casey Jennings. She's lived on the base for years and knows everything about the place from top to bottom. She helps Casey and Frankie navigate their new life in Texas. Kendra is also very excited to have Casey and Frankie on the base since she does not have many friends there. Personality wise, Kendra is pretty calm and very sarcastic. Kendra is more of a tomboy and loves boyish things such as video games. At school, Kendra was always an outcast and didn't have much friends. Only a boy named Leo ever really talked to her but she never really considered him her friend. It's not until Casey shows up that Kendra really begins to open herself to friends and starts making close relationships with other kids.
Wilmer Valderrama as Joey Dianzo -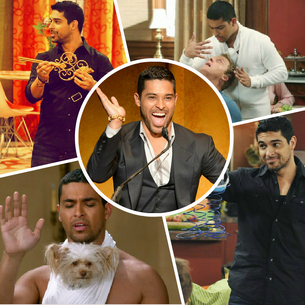 Joey is the funny "uncle" of Casey and Frankie. Joey is Greg's best friend and they've been best friends ever since they were kids. They went on to join the military together. Joey is like family to the Jennings family. Casey and Frankie call him Uncle Joey. When Joey finds out the news of the family coming back, he is ecstatic to see his favorite kids again. He plans on helping them have the time of their life on the base, but Greg never approves of his ideas of "fun" for the kids.
James Stewart as Tucker Underwood (known as Tanned Sand Boy) - Tanned Sand Boy is a teenage boy who appears in the pilot. He is noticed by Casey and Kendra who immediately develop a crush on him. Since he is tan and carries sand bags around the base as part of his job, they call him "Tanned Sand Boy." He is only a year older than the two. Tanned Sand Boy will be a recurring character in the series and his name will be revealed later on. In the episode "Sella on the Base," his name is revealed to be Tucker Underwood.
Chad Cotten as Justin Fox - Justin is Kendra's too cool for school older brother. Justin tries to act super cool and actually is pretty popular. He doesn't show it but he's actually pretty smart.
Drew Clarkson as Leo - Leo was always one of the only people in school who actually talked to Kendra. In all honesty, Kendra isn't too fond of him because he's really annoying and she doesn't consider herself his friend just because he's the one of the very few who talks to her. But Leo considers himself Kendra's friend. The two were usually always stuck together until Casey came along. Leo becomes friends with Casey but she is very weirded out by him. Leo is generally really sweet and a little inappropriate at times.
Jessica Willows as Sella - Sella is Casey's best friend from Boston. She is a fashionista and a girly girl like Casey. She becomes Casey's phone friend who she talks to everyday to keep herself sane while on the base. She does not appear in too many episodes and is mostly seen a few times while Casey is on the phone. Sella appears in 3 episodes in season two.
Season
Episodes
Originally aired (U.S. dates)
Season premiere
Season finale
1
25
September 7, 2014
June 14, 2015

Special

July 4, 2015

2
28
September 6, 2015
TBA
G.I. Jennings was officially picked up for a first season by Wiki Channel that consisted of 21 episodes and officially premiered September 7, 2014.
Series
#
Season
#
Title
Written by
Directed by
Original air date
Prod.
code

U.S. Ratings (in Millions)

1
1
"Back at the Base"
Matt
Peter Deluise
September 7, 2014
101
4.7

Casey and Frankie Jennings are two siblings living with their single mother in Boston, Massachusetts. But, when their parents announce they are getting remarried, the two are shocked and learn they will have to move back to Texas and live on their father's military base again, just like they did when they were infants. Their parents want to move as soon as possible so Casey and Frankie can attend their new school right when it starts in September. Now, the two are tasked with adjusting to the new military lifestyle. And as much as Casey wants to go home, she understands her parents really want this to work so she decides to do all she can to enjoy her new life and look on the bright side, but she finds it hard to do so. Casey and Frankie are let loose to explore the base, with Casey left in charge of Frankie. She first meets Kendra, a girl who has lived on the base for most of her life. She shows Casey and Frankie around. Frankie is excited to spend some time at the kid's gymnasium while Casey only wants to spend her time at the spa. But when Casey loses track of Frankie and can't find him anywhere, she must rally up Kendra and her Uncle Joey to help find him before her parents find out. Meanwhile, Shannon is engulfed in signing up the family for fun activities on the base and meeting everyone, blinding her to the fact that Greg only wants to spend more alone time with her. And throughout the episode, Casey and Kendra faun over another new face on the base who is a very attractive tanned boy who carries sand around the base.

Note(s): This is the premiere episode and is slightly longer than a normal episode (28 minutes long, 6 minutes extra than usual).

Recurring Cast: James Stewart as Tanned Sand Boy, Jessica Willows as Sella

2
2
"Are You Smarter Than a Clerk?"
Matt
Peter Deluise
September 14, 2014
102
3.7

Casey and Kendra go shopping for the first day of school and Casey gets a shirt that she absolutely loves. But when there's a mishap putting on the shirt, it accidentally rips. Casey and Kendra go back to return it but have trouble getting through to the rude store clerk. Meanwhile, Shannon plans a dinner inviting families on the base so they can get to know each other but she gets frustrated when her own family seems to have their own agendas that day, Casey and Kendra spending their time at the mall and Greg working on some new training techniques with Joey, Frankie excitedly tagging along with them to learn some moves himself.

Recurring Cast: Chad Cotten as Justin Fox, Jessica Willows as Sella

3
3
"The Relay Base"
Matt
Peter Deluise

August 10, 2014 (series preview)

September 21, 2014 (episode premiere)

103

4.4 (series preview)

3.5 (episode premiere)

There's a relay race taking place on the base and both Greg and Joey are taking part in it. But when Frankie, who is aspiring to be just like his Uncle Joey, only supports him, Greg gets jealous. Meanwhile, Casey and Kendra struggle over what to do when they find out Tanned Sand Boy's cell phone number.

Recurring Cast: James Stewart as Tanned Sand Boy

Note(s): This episode premiered on August 10, 2014 as the series preview of G.I. Jennings, also as part of Summer So Hot Weekend. It premiered to 4.4 million viewers. The series preview had 6 minutes of the actual episode cut out that were later seen in the episode premiere. It premiered as a regularly airing episode on September 21, 2014.

4
4
"Cake Busters"
Matt
Mina McCarthy
September 28, 2014
104
3.8

The family takes a trip to the Ryland Inn to plan for Shannon and Greg's wedding but things don't go too well when Frankie goes a little berserk while the family is cake tasting. The family is soon kicked out after Frankie creates a huge mess. Shannon and Greg are very disappointed in Frankie which makes him sad, more sad than usual. Casey takes this as a sign of Frankie growing up so she decides to teach him how to accept that he did something wrong and apologize. Once Frankie apologizes, Shannon and Greg are very proud of him and they convince the owners of the inn to let them have another tasting session. But, when Frankie sees a huge delicious looking birthday cake and he gets an urge to sneak a taste, Casey must help him restrain himself so he won't make the same mistake again.

5
5
"To Be Seen or Not to Be Seen"
Matt
Paul Wesley
October 5, 2014
105
3.9

It's the first day of school at Phan Academy and Casey and Frankie are ready to go. But, when Casey discovers that Kendra is actually a social outcast to their fellow classmates and she is asked to hang out with the cheerleading squad, she must choose between who she wants to hang out with. Meanwhile, Frankie starts off the year by pulling pranks on his fifth grade teacher and Shannon and Greg spend some fun alone time with the kids gone.

Recurring Cast: Chad Cotten as Justin Fox, Drew Clarkson as Leo

Absent: Wilmer Valderrama as Joey Dianzo

6
6
"How to Not Be a Freshman"
Matt
Peter Deluise
October 12, 2014
112
3.7

When Casey and Kendra discover that Tanned Sand Boy is actually a sophomore, they try not to look like freshmen and attempt to act like upperclassmen. Meanwhile, Frankie is teased for the "I love you" notes that he gets from his mom every morning in his lunchbox.

Recurring Cast: James Stewart as Tanned Sand Boy, Chad Cotten as Justin Fox, Drew Clarkson as Leo

7
7
"Night of the Merry Babysitter"
Matt
Don Greenly
October 26, 2014
111
4.0

When Shannon and Greg begin to get pretty busy with wedding planning and it becomes a hassle taking Casey and Frankie with them everywhere they go, they decide to search for a new babysitter for them. Casey feels that she should be able to take care of Frankie and herself but Shannon and Greg have trouble trusting her. They soon find one who lives on the base, Merry. Merry at first seems super nice and Shannon and Greg think she is the perfect fit. But the more time Casey and Frankie spend with her, her true colors show. Merry begins to be extremely mean, abusive, and kind of crazy. The two do some research about Merry and they learn she doesn't even live on the base and isn't even a teenager, but she's a twenty six year old woman who's escaped from a mental asylum. As Merry's craziness gets over the top, Casey decides she must take some responsibility to keep her and her brother safe.

Guest Stars: TBA as Merry

Recurring Cast: Drew Clarkson as Leo

8
8
"The Church at the House"
Matt
Peter Deluise
November 9, 2014
107
3.8

The Jennings family realizes that they haven't been to church in a while so they decided to go the next Sunday. But when the Sunday comes, they find out church can't open because the air conditioner broke and it will get too hot for everyone. Instead of just giving up on going, Casey and Frankie decide to hold their own church service at the house and invite all of the families on the base.

Recurring Cast: James Stewart as Tanned Sand Boy, Chad Cotten as Justin Fox

9
9
"First Let Me Take a Selfie"
Matt
Sarah Hughes
November 16, 2014
108
3.6

When Casey gets obsessed with taking selfies, Kendra and Frankie decide to hold an intervention with her. They decide to take her phone away for a week but Casey doesn't do too well with this.

10
10
"Senioritis"
Matt
Sarah Hughes
November 30, 2014
109
3.4
The Jennings family decides to volunteer at the Senior Citizens Center on the base but when Casey notices how boring everything is, she decides to help all the seniors have more fun. Meanwhile, Greg is kept to be watchdog over Frankie so he won't cause any disruptions with senior citizens.

Absent: Elfie Turner as Kendra Fox, Wilmer Valderrama as Joey Dianzo

11
11
"Casey Claus Is Coming to Town"
Matt
Peter Deluise
December 14, 2014
110
3.8

When Casey accidentally receives her military base pen pal's letter to Santa, she learns something very personal about her family that will prevent them from having a good Christmas. Casey then decides to put on the Santa suit herself and with her elves, Frankie and Kendra, tries to put together a special Christmas present to help her pen pal have a good Christmas. Meanwhile, when Shannon and Greg get jealous because the neighbors' Christmas decorations are better than theirs, they do some extra decorating to make the Jennings house more decorative but two end up going a little overboard. And Joey decides to help parents out and take their kids Christmas shopping while they shop but the kids turn out to be a handful.

Guest Star(s): TBA as Lily

12
12
"Sella on the Base"
Matt
Sarah Conover
January 11, 2015
113
3.7

Sella is coming to visit Casey on the base and spend a weekend with her but Casey is worried that Sella won't be able to adjust to the hyper military life style so she does a lot of preparing and makes a lot of changes so it'll be easier for Sella. But when Sella arrives, she realizes that the military life is the least of her problems when Sella begins flirting and spending a lot of time with Tanned Sand Boy.

Recurring Cast: Jessica Willows as Sella and James Stewart as Tanned Sand Boy

Trivia: In this episode, Tanned Sand Boy's name is revealed to be Tucker Underwood. This is the last appearance of Tanned Sand Boy for the season.

13
13
"Not So Happy Campers"
Matt
Peter Deluise
January 25, 2015
106
3.3

The family gets invited to go on a camping trip with Kendra and her family. Shannon wants Casey to do the best she can to cope with her fear of bugs but Shannon turns out to even have trouble dealing with the outdoors herself. When the trip turns out to be much for them, Shannon and Casey plan to escape to a hotel while everyone is asleep but when Kendra finds out she is very hurt. Meanwhile, Frankie plans to get back at Justin after he scared him while sleeping in the tent and Greg and Mr. Fox get competitive over who can be the manliest man and take care of the families' best while camping. Joey sits by getting a good laugh at the things the two do.

Guest Stars: Chip Esten as Marco Fox, Rebecca Creskoff as Samantha Fox

Recurring Cast: Chad Cotten as Justin Fox

14
14
"Scared Psycho"
Matt
Kath Nicks
February 1, 2015
114
3.5

Busy-body Frankie decides to sneak into a "scared straight" session on the base, an intervention for troubled kids where they watch a presentational video exposing them to the dangers of the world so they'll choose a better path. But, when Frankie gets severely scarred by all that he saw in the video, he decides to locks himself in the basement where he'll be safe, refusing to ever go out into the open world again.

Guest Star: TBA as Billy, a troubled kid who watches the video but is not frightened by it

15
15
"One Big Colorful Family"
Matt
TBA
February 8. 2015
115
3.4

A new family arrives on the base, the Pfeifers, and as always, the families on the base are very welcoming and nurturing but to the Jennings' surprise, the Pfeifers shy away from them specifically and keep a far distance. Aside from this, Casey struggles over what topic she should pick for her speech in History class. In school, the youngest Pfeifer son, Carlin, is put in Frankie's class. Frankie does all he can to make him laugh and warm up to him but all Carlin does is ignore him. Soon, Frankie learns from Carlin that his family believes African-American and Caucasian relationships are wrong and tells him that his parents say blacks should not "mix their kind" with whites. Therefore, Carlin is not allowed to talk to or associate with Frankie. Frankie goes back and tells his parents this which then prompts Shannon and Greg to have a serious talk with Casey and Frankie about racism. After learning about Frankie's encounter and having the talk, this makes Casey think about how years ago racism would have stopped her from being born, her parents wouldn't even be planning their wedding now. So as result, Casey decides to do her speech on racism, how it's still very prevalent today and how the color of your skin should not be a criterion in relationships. Meanwhile, Uncle Joey investigates the Pfeifers, suspecting that they're really strange aliens set to bring the chaos from segregation back into the world and ultimately lead humans to self destruction.

Guest Star: TBA as Carlin

16
16
"Ain't My Call of Duty"
Matt
Peter Deluise
February 22, 2015
116
3.5

Since they are growing up on the base, Greg wants Frankie and Casey to get the feeling of what being in the military is like so he starts a new thing where every Saturday morning, he gives the two private military training for a few hours. Casey absolutely hates this and likes to spend her Saturday mornings sleeping in so she fakes an injury during a training session and pretends to have sprained her ankle. Now, Casey must use crutches for two weeks. But, when the girls indoor track tryouts are within a few days at school, something Casey has been waiting for, she must find a way to tryout without her dad knowing and without anyone finding out her ankle was never really hurt.

Guest Star: TBA as Tina, the student captain of the track team

17
17
"Who Wouldn't You Invite?"
Matt
Peter Deluise
March 8, 2015
117
3.2

When Kendra surprisingly ends up on a hidden camera comedy show "What Wouldn't You Do," – a show where people are unknowingly put in crazy situations and the audience watches which person does the most unlikely thing- she gains a lot of fame on the base. But Kendra's base fame begins to become a little too much for Casey's liking. Meanwhile, Greg and Shannon are close to making the final decisions for their wedding but end up having a little disagreement over the guest list.

18
18
"Mission Impossible: The Wedding Wear"
Matt
TBA
March 22, 2015
118
3.5
When Greg forgets to pick up Casey and Frankie's wedding dress and tuxedo for the third time, the clothing is given away. Now to get the dress and tuxedo, he is forced to have to go to the next best formal wear store which is 35 miles away. Greg knows that Shannon of course will be angry because they're so busy doing wedding planning that they probably won't have time to get the clothes. So, Greg recruits Joey to take Casey and Frankie to the store, get the wedding wear and get back, doing it all without Shannon finding out they never got it. But, Casey, Frankie, and Joey run into some trouble when the store clerk at the store ends up being the same store clerk from when Casey and Kendra went back to school shopping. Meanwhile, Shannon secretly questions whether or not the marriage is the right choice and talks with her best friend from home Tanya about it on the phone throughout the episode.

Guest Star: Dania Ramirez as Tanya

19
19
"Monster-in-Laws"
Matt
TBA
April 5, 2015
119
3.6
The wedding is nearing closer and closer but Shannon and Greg soon find themselves with a major dilemma when they learn that Shannon's parents are refusing to go to the wedding out of anger that she is getting back with Greg, who they never liked ever since the divorce. Greg's parents are also set ablaze when they learn that Greg's fiancée is actually his previous ex-wife, after mistaking her for a "new Shannon." To set everything straight before the wedding, Shannon and Greg invite both of their parents over to their house to let them know their feelings but things take a turn for the worse when Shannon's parents get into a major feud with Greg's parents over who was wrong for the divorce. Meanwhile, Casey, Frankie, and Joey sit by and enjoy watching "Grandparents Smack Down." But, when they learn that the feud could actually break up the wedding, they try to figure out a way to bring their two sets of grandparents together.

Notes: The title is a reference to the movie "Monster-in-Law."

20
20
"G.I. Wedding"
Matt
TBA
April 26, 2015
120
4.25

The big day is here and everyone is in town for it including Bobbi, Shannon's close twin sister, Shane, Shannon's hip younger brother, Kaley, Greg's older sister, and both of Shannon and Greg's parents. Tanya, Shannon's best friend, is her maid of honor while Bobbi, Kaley, and Casey are some of her bridesmaids. Joey is Greg's best man and Shane is one of Greg's groomsmen with Frankie being the ring bearer. Casey however is feeling stressed since she took the responsibility upon herself to make sure everything involving the wedding goes smoothly. As much as her parents tell her she doesn't need to worry about so much, Casey wants her parents' second wedding to be perfect so she does anyway. But, when a storm alert threatens the day, Casey needs some help from Shane and Kendra to help "storm proof" the place before the wedding begins. Ultimately, the three soon find themselves in a very sticky situation when they accidentally get themselves trapped in a tornado shelter. Meanwhile, Bobbi, Tanya, and Kaley try to keep Shannon from seeing Greg and Joey tries to keep Greg from seeing Shannon, following the superstition that the bride and groom cannot see each other on their wedding day. However, Shannon and Greg don't believe in superstition and all they want to do is see each other before they walk down the aisle.

Special Guest Star(s): Tamera Mowry as Bobbi, Dane Wilkins as Shane, Melissa Joan-Hart as Kaley

Guest Star(s): Chad Cotten as Justin Fox, Dania Ramirez as Tanya

Note: This is an hour long episode.

21
21
"Honey for My Lemonade"
Matt
TBA
May 17, 2015
121
3.7

Shannon and Greg go on their honeymoon in Tahiti and have a fantastic first day on the island. The two come back late at midnight to their hotel room but run into a problem when they can't find the room key anywhere, thus locking them out. They go to the front desk to get another key but find themselves in another situation when they can't communicate with the Tahitian speaking employee at the front desk. While in the lobby, they meet a singing guitarist Mitchell, who plays his guitar for money. After listening to his song, they learn that he speaks Tahitian and he can help them. Only thing is, he charges a hefty price. Meanwhile, Casey and Frankie start a lemonade stand at their house to help people on the base cope with the rising temperatures and make a little extra money while their parents are gone.

Special Guest Star: Marcus McCloud as Mitchell

Note: Marcus performs his new single "Count On Me" in this episode.

22
22
"Tutoring the Enemy"
Matt
TBA
May 24, 2015
122
2.7

Casey volunteers to tutor young kids at the education center on the base. But, she runs into a bit of a problem when the boy she's tutoring, who's also Frankie's arch nemesis, develops a crush on her. Meanwhile, Shannon and Greg return from their honeymoon to a clingy Joey who direly missed them when they were away, but all they want to do is try and relive their honeymoon which they felt was much too short.

Guest Star: Axel Day as Damiano

23
23
"Hibachi Fever"
Matt
TBA
May 31, 2015
123
3.2

The family goes to a hibachi restaurant, Chibibi, for dinner, which they really like, but the next day they all wake up sick. Now it's up to Joey to go down to Chibibi to complain for them and get their money back but, he finds trouble when the employees distract him with free food. When he ends up taking too long, Casey sends Kendra and Justin to help him out.

Recurring Cast: Chad Cotten as Justin Fox

24
24
"Secret Deskages"
Matt
TBA
May 31, 2015
124
3.1

Kendra begins to have desk conversations with a boy in her grade named Rafi- his history class is in the same classroom that her economics class is in and they sit at the same desk, so they write each other short messages on the desk for each other to see and reply each day. Every day, Kendra is on cloud 9 after reading a message from him. But, when Kendra refuses to tell Casey what they're talking about on the desk, a curious Casey, with the help of mischievous Frankie, attempts to sneak into the school after hours to read their messages on the desk. Meanwhile, Shannon and Greg can't find a certain secret item that they got from their honeymoon and they try to find it before anyone else does.

Note: The certain item Shannon and Greg lost is never revealed.

Guest Star: TBA as Rafi

25
25
"Mo Money, Mo Gossip"
Matt
TBA
June 14, 2015
125
3.5

Shannon tells Casey she has to stop gossiping with her friends because it spreads rumors. But when Casey catches Shannon gossiping herself with the base moms, Casey is appalled and annoyed that she told her to stop when she does it herself. As result, Casey decides to get back in on the gossiping, this time to show Shannon that she should practice what she preaches. And when Greg realizes that Joey still owes him a lot of money from the times he borrowed money when they were in high school, he decides to have him work for him as his personal assistant as a way to pay it off. Meanwhile, Frankie and Damiano try to see who can get the most amount of signatures on their "Rescue the Pups" petitions, part of a campaign on the base run by Joey.

Note(s): This is the season finale. The title references the song "Mo Money, Mo Problems."

Guest Star: Axel Day as Damiano
Series
#
Season
#
Title
Written by
Directed by
Original air date
Prod.
code

U.S. Ratings (in Millions)

26
26
"4th of G.I. July"
Matt
David Deluise
July 4, 2015
201
3.9

It's Fourth of July and the base is having a grand celebration! The Jennings family is in charge of the big fireworks showing but Greg is freaking out as he has a fear of fireworks, ever since he was a kid and got burned by one he's never liked to be around them. When fireworks are used, he covers his ears and hides in a corner. Shannon and Casey agree that it's time for Greg to man up and so they put him through a series of obstacles to help him get over his fear of fireworks. Meanwhile, Joey and Frankie try to sneak in the Fourth of July parade that's being done on the base but when Kendra, who is assistant managing the parade, hears about their plan, she tries to stop them at all costs.

Note(s): This episode is a special episode that was not shot with season one but was shot with season two of G.I. Jennings. The episode did not air as a season two episode and is considered a special extension of season one. This episode is also a Fourth of July special and aired on a special night.
A second season of G.I. Jennings was picked up in March 2014 and filming began in April. The season will continue to focus on the family's life on the base and viewers will see growth in each character.
Series
#
Season
#
Title
Written by
Directed by
Original air date
Prod.
code

U.S. Ratings (in Millions)

27
1
"Texan Champion Warrior"
Matt
Peter Deluise
September 6, 2015
202
4.07
Casey, Frankie, and Joey start watching the popular local competition show Texan Champion Warrior where competitors try to complete a series of tough obstacle courses of increasing difficulty. When Greg learns they've been watching the show, he starts watching it with them and he gets really into it. Casey soon learns that it was always Greg's dream to compete on the show but gave up on the dream because he had to focus on the military. Wanting to do something nice for her dad, Casey goes to Shannon about getting him in a competition. They send in a video to the producers of Greg doing exercises on the base and within a few days, they surprise Greg with a spot on the show! Greg is so excited and ready to win. If he wins his competition, he'll be able to compete for a spot on the nationwide Champion Warrior. But when Greg gets there, he is intimidated by his competitor, Alani Bobawitz, a very aggressive woman who has been known to win all of her gymnastics competitions. Alani almost made the U.S.A. Olympics team when she was a teenager but lost out to another girl and since then has promised she would never loose a battle. Now, if Greg wants to win the obstacle, he'll have to focus himself and summon all of his strength. Meanwhile, Casey, Frankie, Kendra, Joey, and Shannon try to give him as much support as possible and make huge support signs but they clash with Alani's support group which consists of her younger sister Charlie and her boyfriend Tomlinson.

Note(s): This is the season 2 premiere. "Texan Champion Warrior" is a parody of the show "American Ninja Warrior."

28
2
"It's Time to Clean House"
Matt

Peter Deluise

September 13, 2015
203
3.92

After Casey and Frankie chase away the family's cleaning lady for the fourth time, Shannon and Greg decide that Casey and Frankie are going to have to start doing the house cleaning themselves twice a week. But after just one day, Casey and Frankie absolutely hate it. To get their parents to get the cleaning lady back, they agree to clean the house so well that their parents will forgive them and get the cleaning lady back. But, Casey and Frankie have a really hard time keeping it together when they realize how frustrating it really is to clean up their mess. And when Joey starts spending nights over at the house and leaves messes, things only get worse.

Absent: Elfie Turner as Kendra

29
3
"Casey in the Middle"
Matt

Peter Deluise

September 20, 2015
204
3.34

Damiano, Frankie's arch nemesis, tries to hang out with Casey as he has a crush on her. Casey, not wanting to be mean, lets him chill with her while she tries to get done her school summer work before school starts. But, when Frankie finds out Damiano has been fraternizing with his sister, he gets very angry and tries to hog Casey away from him. Damiano however doesn't hesitate to hog Casey back. Back and forth, Frankie and Damiano fight over Casey's attention. Casey meanwhile, just wants to be left alone so she can finish her work and doesn't like the fact that two 11 year old boys are fighting over her. Meanwhile, Kendra and Justin's dad forces them to join Greg in his military training for the day as punishment for their constant fighting.

Guest Star: TBA as Damiano, Chad Cotten as Justin Fox

30
4
"School NOT in Session"
Matt

Peter Deluise

September 27, 2015
205
3.41

School is back in session but Casey isn't ready for summer to be over and asks her parents to let her stay home for the first week. Her parents make her go but all throughout the school day, Casey still tries to convince herself that it's still summer and school hasn't started yet. She talks to everyone as if summer is still going on to make herself believe it is. But, she soon finds herself in trouble with a new teacher after she gets herself into too much of a daze and accidentally back talks her. Meanwhile, Frankie tries to sneak into the high school section of the school with his new friends Derek and Lulu and Shannon gets a call from her old boss in Boston asking her to come back to work.

Guest Star(s): TBA as Derek, TBA as Lulu, Drew Clarkson as Leo, Chad Cotten as Justin Fox

31
5
"You're So Mom"
Matt
TBA
October 11, 2015
207
3.62

Shannon tells the family that her old boss, Chuck, from Boston asked her to come back to work at his company as a web designer, the job that she had before she moved to Texas. But while the company is based in Boston, Shannon won't have to go into the office as Chuck offered her a promotion where she'll be able to work from home and Shannon accepted. Now with Shannon working again, she'll have to turn less attention to the kids and more to her work. Because they don't want to hire another babysitter after what happened with their last babysitter experience, Greg and Shannon tell Casey that she'll have to have more responsibility around the house and care for Frankie more. Casey is tasked with responsibilities like waking Frankie up on time, making Frankie's lunch, and helping Frankie with his homework. Casey however thinks that just because she's a "few" years older than Frankie doesn't mean she should have so much extra responsibility and she has trouble getting used to everything. Meanwhile, Frankie's new friends meet Casey for the first time and when they see all that she does for him, they start calling her "mom."

Recurring Cast: TBA as Derek, TBA as Lulu

32
6
"All is Fair in Trick or Treat"
Matt
TBA
October 18, 2015
206
3.63

Halloween is coming and Kendra and Casey decide to be grown-ups this year. Rather than trick or treating, they will help out with the Halloween Freak Fort Festival on the base and give out candy to the kids who come around. On the night of the Freak Fort, Frankie invites his friends to come trick or treat with him. Casey and Kendra however have trouble holding their composure when they see all the kids having fun getting candy and they really want to join in. Frankie and his friends think it's funny that Casey and Kendra can't trick or treat and they tease them about it. Because, they think it's so funny, Casey and Kendra decide to trick them into going into the feared Niko Reaper Haunted House as part of the festival but their plan to give them a good scare them is foiled when they get caught up in the house with them and must face the horrors of the house as well. Meanwhile, Joey and Greg dress up as twin goblins and scare children as part of the festival but their scaring gets them in trouble with parents. And Shannon, who was not able to sign up for the festival committee this year, has trouble keeping her hands out the festival organizing, especially when she sees a lot of issues with it that she would never allow if she were on the committee.

Recurring Cast: TBA as Derek, TBA as Lulu

33
7
"Shannon In Charge"
Matt

Peter Deluise

November 15, 2015
208
3.21
Shannon has really been enjoying her work and likes what she does a lot. However, Greg notices that Shannon is way too soft on the employees she manages over and she has trouble reprimanding them when they slack. To help Shannon gain some more authority over them, Greg decides to introduce her to his military training tactics and teaches her a few techniques. Meanwhile, Casey, Frankie, Kendra, and Joey go horseback riding and while Frankie, Kendra, and Joey get horses that love and care for them, Casey is convinced that her horse hates her and is out to get her.
34
8
"Family Portrait"
Matt

Peter Deluise

November 22, 2015
209
3.39
The Jennings family goes to take a new family portrait, something they can have up in the house before Thanksgiving the next week for all of their coming family members to see. However, the family runs into trouble getting the picture taken when Casey constantly does not like how she looks, Frankie keeps causing technical malfunctions as he keeps playing with stuff, and Greg gets temperamental with the photographer.
35
9
"The Family That Feuds Together Stays Together"
Matt

Peter Deluise

January 8, 2016
212
TBA

When Greg catches Damiano bullying Frankie, he realizes he's the son of his arch nemesis Guglielmo de Santis, also known as, "G." He learns that G is now permanently on the military base with his wife Valentina, daughter Aria, and of course son Damiano, along with his mother Roma. Infuriated, Greg approaches G and tells him to tell his kid to stop bothering Frankie but instead of handling the issue like a normal person, Guglielmo books his family on the hit family game show "Family Feud" to go against the Jennings. Greg doesn't see any reason why the Jennings should partake in his silly games but when he's pressured by Guglielmo, he agrees for the family and since the De Santis family has five members and the amount has to be equal, he asks Joey to be on their team. At first everyone except Frankie and Greg are uninterested in doing it but when they meet the rest of their competition, they become just as competitive. The families go on the show with celebrity judge Steve Harvey but from the start the Jennings family doesn't do too well. When all hope is almost lost, the Jennings family is allowed to trade one family member for one secret weapon and Casey knows exactly who to call.

Special Guest Star(s): Steve Harvey as Himself, Dane Wilkins as Shane, Shannon's hip younger brother

Guest Star(s): TBA as Guglielmo de Santis, TBA as Valentina de Santis, Taylor Miles as Aria de Santis, Axel Day as Damiano, TBA as Roma de Santis

Note(s): This is a special episode.

36
10
"Big Dad on Campus"
Matt

Peter Deluise

January 24, 2016
210
TBA

Greg comes in for career day at Casey's school to speak about working for the military and everyone ends up liking him, the girls swooning over his looks and the guys thinking he's super cool. But when he's called in to speak again the next day, his school popularity goes a bit too far and Casey can't help but get annoyed. Meanwhile, Shannon notices Frankie is eating too fast, not only giving him stomach pains but also causing irritations to the people around him with his constant gas. To slow him down, Shannon makes him start eating with chopsticks.

Recurring Cast: Drew Clarkson as Leo, TBA as Derek, TBA as Lulu

37
11
"Beware of Beckendorff"
Matt

Peter Deluise

January 31, 2016
211
TBA

The base is getting a brand new base commander coming in from up north, Colonel Beckendorff, and all of the military men are scared of what might be coming as they heard harsh things about this new guy. All of Beckendorff's stuff is shipped to the base a whole day prior to his arrival. So they can learn more about the new colonel, Greg and Joey, with the help of Frankie, devise a mission to break into the base's holding room and search through his stuff. Meanwhile, Casey and Justin pretend to date at school, so Casey can prove to Kendra that people treat you better when you're in a relationship and so Justin can have an excuse to not have to play card games after school with his friends. 

Note: At the end of the episode, Greg, Joey, and Frankie learn that the Colonel Beckendorff they heard about retired years ago. The Colonel Beckendorff who is the new base commander is actually a middle-aged woman named Orion who is very beautiful and has all of the men on the base smitten.

Guest Star: TBA as Colonel Orion Beckendorff

38
12
"Love and Order"
Matt

Peter Deluise

February 14, 2016
213
TBA

With Orion now as the new colonel, the whole environment on the base has changed- everyone is a lot more easygoing. Everyone loves her, for her charming personality and her beautiful looks. A lot of the guys in fact are distracted by her. When Casey and Frankie catch Joey being one of those guys, they try to get him to ask her out on a date. But Joey tells them he hasn't dated in a long time and doesn't think he'd be right for someone like Orion. However, Casey and Frankie refuse to give up and they continue to push for them to get together. Meanwhile, with many soldiers distracted by Orion, work is slacking, making Greg annoyed. He begins an effort to keep order instilled on the base and keep people from getting too comfortable.

Recurring Cast: TBA as Orion Beckendorff

39
13
"Frankie Control"
Matt
TBA
March 27, 2016
214
TBA

Frankie hears kids at school talking about gun control. After hearing from them that guns are bad and so are those who use them, Frankie decides to turn his back on the military base, since arms are used in the military, and even his family. Casey notices Frankie's strange behavior and addresses it with him. When she learns what he heard at school, she and Kendra decide to give Frankie a proper lesson on what gun control really is and what it really means for humanity. Meanwhile, Shannon and Greg make like Casey and Frankie and do a little snooping on the base to find out if the budget cut rumor that is going around for the soldiers is really true. Joey helps Orion move into her house.

Recurring Cast: TBA as Orion Beckendorff

40
14
"Orion's Boy"
Matt
TBA
April 24, 2016
215
TBA

Joey and Orion finally agree to go on a date and it is a success. However, Joey begins to experience some heat from other men on the base who wanted Orion for themselves. Meanwhile, Casey, Frankie, and Shannon go with Greg to a military convention, something no one except Greg wanted to go to.

Note: At the end of this episode, Joey and Orion officially become a couple.

Recurring Cast: TBA as Orion Beckendorff

41
15
"Playground Business"
Matt

Peter Deluise

July 10, 2016
216
TBA

When school bullies hit the playground and start bugging Frankie's friends, he begins telling them that his dad is in the military and if they keep bugging them, his dad will beat them up. The bullies stop and it gives Frankie a lot of playground cred. But when Frankie's teacher hears about his threats, Shannon and Greg are called into the classroom for a meeting. Meanwhile, Casey and Kendra help Aria de Santis cope when her father is deployed to Europe.

Recurring Cast: Taylor Miles as Aria de Santis

42
16
"Casey from Work"
Matt
TBA
July 18, 2016
217
TBA

Casey is forced to get a job at the kids' lounge after she breaks her cell phone and has to pay to get it fixed. Because Casey is working there, Frankie takes his friends there more often so he can show off his cool sister. However, when Casey notices his increased presence at the kids' lounge since she started working there, she suspects that he's only going so he can have her waiting on him and his friends. So, Casey purposely acts harsh and clumsy while waiting on them to give them a bad service, embarrassing Frankie. Meanwhile, Greg and Joey are taught new training techniques by Orion. Orion and Greg begin to get competitive about who knows more. And Shannon secretly uses a lost free spa pass to get some relaxation.

Note: At the end of this episode, Casey and Frankie have a heart to heart. Casey tells Frankie she didn't know he thought so highly of her and apologizes for automatically assuming his actions were meant to be against her. The two are both touched.

This episode is a part of the G.I. Jennings Summer Week of Premieres event.

Recurring Cast: TBA as Orion Beckendorff

Absent: Tia Mowry as Shannon, Elfie Turner as Kendra Fox

43
17
"High School Over Heels"
Matt

Peter Deluise

July 19, 2016
218
TBA

Casey is diagnosed with a foot condition that if not corrected can ruin the structure of her foot. She will have to be on medication for the next six months. In addition to the medication, Shannon tells Casey she can only wear flats for the next six months to help the healing process. However, according to Casey, all of the girls at school who are "fashionable" or "hot" wear heels or wedges. Despite what she is told, Casey decides to sneak heels to school and wear them anyway, going against her mom's orders. While Casey struts the school halls in her heels, Frankie and his friends create their own lingo which becomes quite popular in their fifth grade class and soon makes it's way to the upper levels.

Note: This episode is a part of the G.I. Jennings Summer Week of Premieres event.

Guest Star: Drew Clarkson as Leo

44
18
"This Land is Not Your Land, This Land is My Land "
Matt
TBA
July 20, 2016
219
TBA

Frankie and Damiano fight over a space in the kids lounge. While the two battle it out, Casey tries to hide from Frankie and the rest of her family that she's starting to become friends with Aria. Shannon deals with a hacker who messed with a website she built and Joey and Orion try to figure out how to separate base work from their love life.

Note: This episode is a part of the G.I. Jennings Summer Week of Premieres event.

Recurring Cast: TBA as Orion Beckendorff, Axel Day as Damiano de Santis, Taylor Miles as Aria de Santis

45
19
"Bad Luck for Everyone"
Matt

Peter Deluise

July 21, 2016
220
TBA

Casey joins the tennis team at school as a last minute addition. But when the team starts losing games after she joins, everyone starts calling her a bad luck charm. To make people stop thinking she's bad luck, she determines herself to heighten her tennis skills so she can win for the team. Frankie, meanwhile, is feeling weird after he has "the talk" with Greg and Shannon starts worrying that she might be pregnant.

Note: This episode is a part of the G.I. Jennings Summer Week of Premieres event.

Absent: Wilmer Valderrama as Joey

46
20
"You Better Work!"
Matt
TBA
July 22, 2016
221
TBA

A beauty show is taking place on the base where teenage girls are given the chance to style themselves in their favorite looks and showcase them. Shannon and Sam (Kendra's mom) always wanted to do something like that in their youth so they sign Casey and Kendra up. Casey is so excited to participate as she loves fashion and beautifying herself. However, Kendra isn't too thrilled about it- she has no interest in make up, fashion, or modeling. Nevertheless, Kendra doesn't want to let her mom down. To help Casey and Kendra with their modeling and styling, Sam brings in her close friend Shangela LaQuifa, a drag queen. With her eccentric and boisterous personality, Shangela ends up not only helping Casey and Kendra get their fierce out but also teaches them how to tap into their inner confidence and truly stay true to themselves, something that especially speaks to Kendra. Meantime, Greg takes Frankie to the eye doctor. Frankie knows he's probably going to need to get glasses but he doesn't want them so he does all he can to stop his appointment from happening.

Special Guest Star: Shangela LaQuifa as herself

Guest Star: Rebecca Creskoff as Samantha Fox

Song Featured: "Call Me LaQuifa" by Shangela

Note: At the end of the episode, after talking to and getting inspired by Shangela, Kendra tells her mom she doesn't want to do the show because it's not who she is. Kendra and her mother have a moment.

This episode is a part of the G.I. Jennings Summer Week of Premieres event.

47
21
"Driving Gal"
Matt

Peter Deluise

July 31, 2016
222
TBA

After a lot of begging and pushing, Casey finally takes her driving test and passes. She gets her license but her parents won't let her drive alone until she gets more practice with them. Casey however never can practice with her parents because they're so busy. So she can finally get herself out on the road, Casey enlists various adults to help her practice, including Joey, Orion, and a cooky soldier named Louie, but she struggles adjusting to each of their different teaching ways. Meanwhile, Kendra and Frankie conduct a social experiment to see how many people will take money they see a person drop.

Recurring Cast: TBA as Orion Beckendorff

48
22
"Mall Madness"
Matt
TBA
August 7, 2016
223
TBA

Now that she can drive, Casey must take Frankie clothes shopping at the mall, moving him from the basic children's clothing store on the base to some older clothing. Shannon used to always buy Frankie's clothing but now Greg and Shannon think it's time for Frankie to develop his own style. However, Frankie doesn't want to have to go clothes shopping and Casey doesn't want to spend her time shopping with Frankie. Nonetheless, Casey and Frankie go to the mall together but they find themselves getting into a little more than just clothes shopping and they have some fun.

49
23
"Turn the Light...Off"
Matt
TBA
August 14, 2016
224
TBA

A new hangout, Breeze, opens in town and a lot of students at Phan are all making it their new after school hangout. Unbeknownst to everyone, Kendra writes her own songs. She tells Casey, who is shocked she sings, she is considering performing one of them at an open mic night at Breeze. Casey urges Kendra to perform a song. However, the sound and style of Kendra's music is very artsy and unique. Casey secretly worries that Kendra, already being the social outcast she is, will be judged harshly for her music but she tells her to perform anyway. However, when Kendra performs, exactly what Casey worried happens and everyone makes fun of her. When Kendra then decides to give up music, Casey must encourage her to get back up and believe in her work. Meanwhile, Shannon and Greg compete in a cookout on the base.

Song Featured: "Turn the Light On" by Elfie Turner

Guest Stars: TBA as Sander, TBA as Rochelle, TBA as Rafi

50
24
"TBA"
Matt
TBA
August 21, 2016
225
TBA

Shannon and Greg go on a double date with Joey and Orion.

51
25
"Big Jo, Mid Jo, Lil' Jo"
Matt
TBA
August 28, 2016
226
TBA

After meeting Orion's parents, Joey starts feeling down because he hasn't talked to his parents in years. Once he grew into an adult, his relationship with them hit rock bottom- they just never mixed. Orion doesn't ask Joey to meet his parents for this reason but Joey doesn't feel good about running away from the issue. He decides to invite his parents down. Casey, Frankie, and Kendra agree to host and serve a dinner for Joey, Orion, and his parents. Joey is excited to rekindle his relationship with them. However, the night takes a turn for the worst as Joey and his parents remember the reason they stopped talking in the first place. Meanwhile, Greg and Shannon take a trip up to Boston to clear an unresolved financial issue with Shannon's old house.

Note: Joey's dad's name is Joseph and his mom's name is Jo, which is how he got the name Joey.

Guest Stars: TBA as Joseph Dianzo Sr., TBA Jo Dianzo

52
26
"Anniversary Accidents"
Matt
TBA
September 3, 2016
227
TBA

It's the anniversary of Shannon and Greg's second wedding and everyone is in good spirit- that is until Frankie asks at dinnertime why the two split up in the first place. Frankie was only two when it happened so he never understood why. Shannon and Greg tell Frankie it's nothing important and refuse to tell him. But, when Shannon accidentally slips to Casey that Frankie's birth was one of disagreements the two had that led to their split, Frankie overhears and is sent into a state of devastation. Shannon, Greg, and Casey must then work together to show Frankie that he is in fact loved and matters just as much as anyone else in the family.

Note:

53
27
"The List: Part 1"
Matt
TBA
September 10, 2016
228
TBA

A list of soldiers being moved to a different base begins to circle around the families. No one knows where the list came from and no one knows how accurate it is. However, the list claims that almost every soldier is being moved and the Jennings, along with their friends, worry that they'll have to leave the base, which has become their home. To settle everyone down and get everyone to simmer down, Casey, Frankie, and Kendra try to get word from Orion but when they have trouble getting through her busy schedule, they decide to find a way to break into a military meeting with all of the soldiers on the base. Meanwhile, Kendra secretly knows that her family is being moved to a base in Colorado but doesn't know how to break it to Casey. However, her family isn't on the list so she thinks it must be fake. Meanwhile, Shannon suspects that Greg has bad news to tell her because he is avoiding her.

Note: At the end of the episode, after breaking into the meeting, Casey and Frankie learn that not only is Kendra's family being moved to a base on Colorado...but the Jennings are also being moved to a base, only in Washington D.C.

54
28
"The List: Part 2"
Matt
TBA
September 24, 2016
229
TBA

The true list of soldiers being moved is sent to all of the base families and sure enough, the Jennings and Fox families are listed. A depressed Casey doesn't want to leave the base she's come to love and has trouble saying goodbye to all of the friends she's made. She, along with Kendra, decide to go on a tour around the base and town to say goodbye in person to everyone they will miss. Kendra, in particular, wants to tell Rafi, who she has had a crush on, how she feels. Meanwhile, Frankie and Damiano decide to have one last competition. Shannon and Sam, Kendra's mom, put together a farewell party for all of the families moving away but no one is in the mood to go.

Note: This episode is the season finale.

Guest Stars: TBA as Rafi, Axel Day as Damiano de Santis, Taylor Miles as Aria de Santis

Song Featured: "We Are Family" cover by Elfie Turner
G.I. Jennings Season 2 Contract
---
Original number of episodes: 14
Season extension amount: 14
Total episodes: 28
Specials: N/A
If the series creator goes inactive NYCgleek will take over.
If the back up users go inactive, the show will be ended where she/I left off..
Filming Dates: TBA
Notes: N/A


Threads
:
1
2
G.I. Jennings Season 1 Contract
---
Original number of episodes: 25
Season extension amount: N/A
Total episodes: 25
Specials: 1
If the series creator goes inactive NYCgleek will take over.
If the back up users go inactive, the show will be ended where she/I left off..
Filming Dates: N/A
Notes: N/A


Threads
:
1
Community content is available under
CC-BY-SA
unless otherwise noted.