Gary and Gerry has ended its run.
Gary and Gerry



"Gary and Gerry" Logo.

Genre:
Animated
Science fiction
Created by:
Jessie1010
Starring:
Jessie1010
Theme Music Composer
Toby Gad
Opening Theme:
"Tru Blu" performed by DJ Chase and ILY.
Country of origin:
United States
Original language(s):
English
No. of seasons:
3
Production
Executive producer(s):
Jessie1010
Camera setup:
Animated
Running time:
13 minutes
Production company(s):
Wiki Channel Productions

Wiki Animation Company

Production Location(s):
Wiki Center Studios.

Hollywood, California

Show Location(s):
Boom La Dome, Montana
Broadcast
Original channel:
Wiki Channel
Picture format:
480i (SDTV)

1080i (HDTV)

Audio format:
Stereo
Original run:
August 5th, 2013 - present
Gary and Gerry is a brand new Wiki Channel Original science fiction animated comedy series. This is Wiki Channel's first ever animated series. The series premiered August 5th, 2013. The series was officially renewed for a second season which will being airing January 4th, 2014. New episodes premiere on Satuday nights at 9:30. Each episode is 13 minutes long.
Overview
The series follows Gary Dugan, an ordinary pre-teen boy with an aloof attitude and disinterest in anything but playing video games and being Gary. Gary only cares about what involves him and likes to keep it that way. But, when his science obsessed best friend, Scottie, creates a chemical potion that Gary accidentally drinks, a strange overnight happening occurs and Gary finds a clone of himself! A clone who just happens to be the complete opposite of Gary. As Scottie struggles to find the solution to combine the two back together, Gary must figure out a way to navigate life with his new friend, who he names Gerry. As Gary goes through life with Gerry, he realizes there is so much more to it than video games. The two grow a close bond, closer than Gary thought he'd ever would. All the while, Gary must manage to keep his double identity a secret from his parents, family, friends, and his strange next door neighbor who knows more than others and is determined to reveal Gary and Gerry. Executive producer says NYCgleek spoke about the series at the u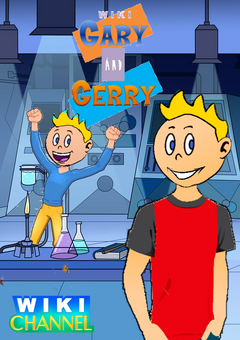 pfront event. She said "
I think the series is both fun and new. It's our first sort of animated series and I've worked with Jessie1010 who creatd the show on past projects. He's seriously a genius and I know his show will be a success
".
Characters
Gary Dugan- Gary is a laid back, aloof 12 year old boy who has one of the smallest cares in the world. Gary likes to revolve around Gary and his own interests, which consist of videogames, food, and sleeping. Gary is also a very sma

rt guy, though he never uses his brain to his full potential. But when Gary's clone, Gerry, pops into his life, he must learn to put it into full speed so he can keep his double identity a secret. Gary is voiced by Trey Cameron.
Gerry Dugan- Gerry is Gary's enthusiastic, social, but also flaky twin who pops into his life after a science experiment gone wrong. Gerry likes to have fun and is very out there but lacks the intelligence that Gary holds. Gary and Gerry are complete opposites and even though they may not have much in

common, they have a strong connection. Gerry also serves as Gary's stand in whenever he is too "tired" which either ends in triumph or disaster. Gerry is voiced by Trey Cameron.
Scottie Hunter- Scottie is an aspiring scientist who hopes to make the world's biggest achievement in science yet – but he still has some work to do. With amiss expectations, Scottie's science experiments usually end up in smokes, one which caused Gary's clone. Planning to combine the two together, Scottie struggles to find the right way to do it. Aside from this, Scottie is very confident and seems to like Gerry from the minute he meets him, much to Gary's disdain. Gary is Scottie's best friend and also his tester for science experiments. Scottie is voiced by Chad Cotten.
Mr. Pickahorn- Mr. Pickahorn is Gary's berserk neighbor who is suspicious of Gary and Scottie. Mr. P is not very fond of the two and knows that something is weird about Gary. But as much as he tries to expose the two, he always ends up in failure. When he's not spying, Mr. P likes to watch soap operas in the comfort of his house. Also, Gary and Scottie often make fun of his name. Mr. Pickahorn has oftenly been compared to Mr. Crocker from The Fairly Odd Parents.
Recurring Characters
Mr. Dugan- Mr. Dugan is a businessman and is often never home. He is the father of Gary Dugan. He is always off on business trips, doing marketing and other things. And when he is home, he often goes out with his wife and/or friends. When he can, he likes to hang out with Gary as father and son but it doesn't seem to happen often. Mr. Dugan has no idea about Gary's clone, Gerry.
Mrs. Dugan- Mrs. Dugan is a lawyer and like her husband, is often never home. She is the mother of Gary Dugan. She is home more often than her husband and when she is, she often goes out shopping. She loves her son Gary but never spends time with him and doesn't seem to realize it either. She has no idea about Gary's clone, Gerry.
Pepper- Pepper is Gary's babysitter. Often when she babysits him, she just makes him sit on the living room floor and watch TV while she texts and calls her friends on her phone. Pepper is voiced by Olivia Staton.
Sally- Sally, often goes by Sal, is Pepper's younger 12 year old sister. She goes to the same school as

Gary and Scottie. She oftens hangs out with them and enjoys their company. Even though she often butts heads with Gary, she still can't help but be attracted to his spiky hair, blue eyes, and his intresting way with people. Sally is voiced by Amy Kettle.
Harvey - Harvey is a new character introduced in season 2 in the episode, "Harvey From Tennessee." Harvey, as the title says, is from Tennessee and met Gerry in the online chatroom he always goes on. They became very close friends and when Harvey comes to Montana to help his uncle out on his farm, he meets Gerry in person. Harvey becomes Gerry's first real friend and they become very close. Gary on the otherhand can't stand him and thinks it's too dangerous to allow Gerry to have friends in person (even though he himself has told him to find real friends numerous times). In reality, Gary is just jealous that Gerry doesn't spend as much time with him anymore.
Series Overview
Season
Episodes
Originally aired (U.S. dates)
Season premiere
Season finale
1
9
August 4, 2013

November 9, 2013

2

43

January 4, 2014

October 18, 2014

3
22

January 10, 2015

TBA
Episodes
Season 1
The first season of Gary and Gerry was order for a total of 9 episodes which will began airing August 5th, 2013. There are two episodes in one thirty minute time slot. The series is expected to air new episodes Saturday mornings and nights on Wiki Channel.
Series
#
Season
#
Title
Written by
Directed by
Original air date
Prod.
code

U.S. Ratings (in Millions)

1-2
1-2
"Gary Meets Gerry (Part 1 and 2)"
Jessie1010
Phil Lewis
August 3, 2013
101-102
3.0

When Scottie attempts to make a drink that has the ability to multiply the human brain so humans can become smarter, he ends up failing and puts his mixed chemicals in a bottle to work on later. Gary accidentally drinks it, thinking it's soda, but it causes him to throw up that night. And the next day, he wakes up to find a clone of himself who just happens to be the exact opposite! Now, Gary must keep his clone, who he names Gerry, away from the outside world until Scottie finds a solution.

Note: This episode is two parts (30 minutes).

3
3
"Oh No, Not You Again"
Jessie1010
David Deluise
August 10, 2013
103
2.9

Gerry decides to wander off and meets a friend of Gary's, Jaweena. Jaweena asks Gerry, thinking he is Gary, out on a date. Gerry accepts only to soon find out that Gary hates Jaweena and she is an insane little girl who has always had a massive obessive crush on him ever since kindergarten. Now, Gary and Scottie must find the best way to break up with Jaweena without getting on her bad side.

Note:

4
4
"Soccer Heads"
Jessie1010
Shelley Jensen
August 17, 2013
104
4.1

When Gary wants to skip school to go to a food convention, he makes Gerry go to school in his place. But when he comes back, he finds out that not only is he better liked by his teachers but he is also now on the soccer team, all which is to his disapproval.

Note:

5
5
"Table for Twins, Please"
Jessie1010
Amira Mirlan
August 24, 2013
105
3.3

Gary has a crush on the new girl, Katherina Yanes. When he finds out she has a twin, Katrina Yanes, he asks her out on a double date, telling her he has a "twin", Gerry. Gary makes Gerry come with him on the date and Gerry gladly comes, but things don't go as planned.

Note:

6
6
"Spot the Difference"
Jessie1010
August 31, 2013
106
2.6

When Mr. Pickahorn notices Gary and Gerry sneaking outside their bedroom window together, he questions Gary about why there is someone who looks just like him, as Mr. Pickahorn has lived there for years and has never seen a twin. To try and make him believe what he saw was wrong Gary and Scottie must convince Mr. Pickahorn that he is going crazy.

Note: It is revealed that Mr. Pickahorn is in his forty's.

7
7
"I Barely Knew Ya"
Jessie1010
September 14, 2013
107
3.4
When Gary is grounded after his parents catch him staying up too late playing video games, he is stuck in his room all weekend. Gary and Gerry take this as an opportunity to bond and get to know each other.
8-9
8-9
"Stuck On You"
Jessie1010
November 9, 2013
108-109
5.2

In an attempt to merge them back together, Scottie makes Gary and Gerry cling together with his special merging paste. Instead of merging them overnight like it was supposed to, it instead just harshly sticks the two together. Now, they must hide from everyone around them so no one will notice them together.

Note: This is the season finale.
Season 2
The series was officially renewed for a second season in November 2013. Season 2 will begin airing in January 2014. On the social network, Chatter, show creator Jessie1010 said, "I hope you guys are ready for season 2 of Gary and Gerry! Season 1 was like a test run where we were just testing the waters and seeing what our characters were capable of. Now that we've done that, season 2 is going to be bigger and better!"
Unlike season one, the season two episodes, 13 minutes long each, air in pairs in 30 minute time blocks, like most animated shows.
In February 2014, Gary and Gerry was ordered 30 more episodes to season 2. [1]
Series
#
Season
#
Title
Written by
Directed by
Original air date
Prod.
code

U.S. Ratings (in Millions)

10
1
"Fry-Day Night Live"
Jessie1010
Phil Lewis
January 4, 2014
201
3.9

Gary's father buys two tickets for Gary and him to "Fry-Day Night Live," a live show where people from the audience fry crazy food and eat it, that airs every Friday night. Instead of staying home and playing videos games like he usually does every Friday night, Gary decides to go, especially since he loves food. But when Gary and his father are called to fry and eat the food, things don't go exactly as planned.

Notes: This is the first episode of season 2.

Fry-Day Night Live is a parody of Saturday Night Live.

11
2
"Gerry Chats"
Jessie1010
Phil Lewis
January 4, 2014
202
3.9

When Gary tells Gerry to try finding some new friends (under the condition that he can't make friends with anyone Gary knows), Gerry starts talking in a chatroom online. But when Gerry soon gets addicted, Gary becomes jealous and tries to get rid of the chatrooom.

Notes: This is apart of the premiere episode of season 2.

12
3

"Pranks Pulling Pepper"

Jessie1010
TBA
January 11, 2014
203
3.02

When Pepper has to babysit Gary, she is forced to bring along Sal as she needs to babysit her too. With Pepper distracted on her phone, Gary, Scottie, and Sal play a series of pranks on her. Meanwhile, Gerry struggles with occupying himself while stuck in the basement since Sal is there.

13
4
"Never Pick-a-Gary"
Jessie1010
TBA
January 11, 2014
204
3.02

Mr. Pickahorn creates an account with Gary's online video gaming group, secretly pretending to be a kid, so he can learn more about Gary's strangeness. When Scottie and Gary find this out, they decide to have some fun with it and they tell Mr. Pickahorn crazy things to confuse him.

14
5
"Gary Gone Good"
Jessie1010
TBA
January 18, 2014
205
2.7
Scottie accidentally hits Gary with his nice ray which causes him to turn into a nice kid. When people, especially Mr. Pickahorn, suspect something is wrong with Gary, Gerry must step in and pretend to be Gary, acting like the old Gary, so no one will think anything changed.
15
6
"Lenny and Benny"
Jessie1010
TBA
January 18, 2014
206
2.7

After hearing that twins, Lenny and Benny, won a radio contest to participate in a video game competition, Gary and Gerry pretend to be the twins and go through a series of obstacles to keep their true identities a secret.

16
7
"Letters Tell Lies"
Jessie1010
TBA
January 25, 2014
207
2.71

When Gary recieves a love/hate letter from someone, with Garry's help, he tries to figure out who it was from. Unbeknownst to him, it was Sal, and as much as she doesn't want him to find out, throughout the episode she still gets offended that he can't figure out it was her.

Note(s): In the end, Sal reveals it was her who wrote it but tells him it wasn't for him but for a monologue for her drama class.

17
8
"Sank-Bag"
Jessie1010
TBA
January 25, 2014
208
2.71

Gary and Sal find out that the school janitor, Mr. Sanks, has been stealing candy from the vending machine. Instead of turning him in, they make a deal with him saying that he will give them candy, too, as long as they don't say anything. Sanks agrees and Gary and Sal end up getting candy everyday. When Gerry finds out, he thinks it's wrong, so, he pretends to be Gary so he can report Mr. Sanks to Principal Kyler.

Note(s): The title is a reference to the phrase "skunkbag."

18
9
"Can't Blame Me"
Jessie1010
February 22, 2014
209
2.3

Gerry accidentally breaks the refrigerator but Gary is blamed for it by his parents. Now, with Gary being grounded, Gary tries to think up a harsh punishment for Gerry that will make him just as unhappy.

19
10
"Harvey from Tennesee"
Jessie1010
February 22, 2014
210
2.3

One of Gerry's online friends, Harvey from Tennesee, unexpectedly visits and Gary and Gerry are quickly thrown into a state of panic. Now the two must work together to make sure Harvey doesn't find out about Gary and Gerry.

20
11
"Making Over Gerry"
Jessie1010
March 8, 2014
211
2.5

Gary comes up with the idea of giving Gerry a complete makeover so he can finally go out in the real world as himself. But, the only person they know who can do makeovers like this is Pepper. As result, Scottie and Garry must have Pepper give the makeover without finding out the secret that Gerry is Gary's clone, but things don't go as planned.

21
12
"Dr. Love"
Jessie1010
March 8, 2014
212
2.5

Gerry starts giving girls in his chatroom online love advice. Gary decides to go to him when he needs advice after Dani from his English class askes him to the school dance.

Guest Star: TBA as Dani

22
13
"Love and War"
Jessie1010
March 15, 2014
213
2.1

Sal tries to convince herself that her liking Gary was only a phase. Meanwhile, Gary needs help hiding from Dani and her friends from the wrestling team who want to hurt him after he turned down Dani's dance proposal.

Note(s): This episode premiered by itself.

Absent:

Guest Star:

23
14
"The Carnival of Boom La Dome"
March 22, 2014
214
2.2

Gary and Scottie are excited to go to Boom La Dome's annual town carnival together. But, their plans are ravaged when Gerry tells them he already made plans to attend the carnival with his new friend, Harvey. Since Gary and Gerry cannot be seen together, only one can go. Gary tells Gerry he can go instead but on the night of, Gary locks Gerry in his room and leaves with Scottie. Once Gerry breaks out, he ragefully decides to go to the carnival with Harvey and have the time of his life, despite the risk.

Note(s):

Absent:

Guest Star:

24
15
"Pick-a-Harvey"
March 22, 2014
215
2.2

When Mr. Pickahorn discovers "Gary" has a new friend, Harvey, he decides to invite him over so he can see if he has noticed anything peculiar about Gary. But Harvey is not very cooperative and begins to frustrate Mr. Pickahorn.

Note(s):

Absent:

Guest Star:

25
16
"That Sal Gal"
March 29, 2014
216
2.6

Sal is forced to take on the job as the school's new news anchor. Sal doesn't want to at all and speaking on a TV screen is so not her thing, however, when she begins the job, she starts to really like it. The job even begins to change her into a more outgoing person. Her personality and appearance starts to change from brutally honest punk girl to peppy, cute news anchor. And when Gary and Scottie notice this, they decide they need to get her to quit the job so they can have the old Sal back.

Note(s):

Absent:

Guest Star:

26
17
"Through the Cloning Glass (Part 1)"
April 5, 2014
217
2.83

Scottie uses the chemicals he used to make the mixture that cloned Gary to instead make a cloning machine. He plans to reverse the machine so he can combine Gary and Gerry. But, the next day, Gary and Scottie discover that the machine had been used overnight before Scottie could work on reversing it. Gary, Gerry, and Scottie start worrying that someone had cloned themselves! Now the three must find out who was cloned before they are exposed.

Note(s): It is confirmed that Gerry was formed from Gary's throw up of the mixture.

Absent:

Guest Star:

27
18
"Through the Cloning Glass (Part 2)"
April 5, 2014
218
2.83

In part two, Gary, Gerry, and Scottie realize it was Pepper who, while babysitting Gary, went through the machine out of curiosity. However, she is unaware that she procuded a twin of herself. Gary and Scottie find her twin, who is very anti-social (the opposite of Pepper). They decide to name her Piper and keep her in Scottie's room, away from Pepper and everyone else.

Note(s):

Absent:

Guest Star:

28
19
"Piper and Gerry"
April 19, 2014
219
2.44

With another clone to accompany him, Gerry is very excited and starts to spend time with Piper but the two don't mix too well since Gerry is so talkative and Piper is very quiet and reserved.

Note(s):

29
20
"Lawn-scaping"
April 19, 2014
220
2.44

Gary and Scottie are hired by Mr. Pickahorn to do landscaping work on his lawn.

Note(s): This is the first episode that Mr. Pickahorn gets along with Gary.

30
21
"Deported"
April 26, 2014
221
2.16

Gary and Scottie win a month long trip to India but decide to give it to Pepper so they can get her away from town while they try to figure out how to get the cloning machine to reverse itself. When Gerry realizes this mean he might loose his clone buddy, Piper, he tries to stop them.

Note(s): Pepper ends up going to India.

31
22
"Swag It Out"
April 26, 2014
222
2.16
When Gerry discovers "swag", he develops a whole new personality. He goes out in public, pretending to be Gary using his swag. Gary becomes very popular for his new "swag" reputation and he makes Gerry continue to be him so he can keep the reputation. But when Gerry gets sick of swag, things start crumbling down for Gary.
32
23
"Video Game Central"
May 10, 2014
223
2.4
Gary realizes he hasn't played video games in so long so he decides to go back to it. But Gerry, who has gotten very good at video games being home all day, has caused the difficulty to get higher on Gary's account. Gary finds it hard to play at the level that Gerry has raised it to.
33
24
"I'm Feeling 22"
May 10, 2014
224
2.4
Scottie makes an invention that can age people up and age people down. Since the invention ends up actually working, Scottie and Gary decide to age themselves to 22 and see how it feels.
34
25
"I Got an Older Woman"
May 17, 2014
225
1.9
Scottie and Gary are surprised to find out that Gerry and Piper have become a couple.
35
26
"Trustworthy Guys"
May 17, 2014
226
1.9
Mr. Pickahorn has grown to trust Gary and Scottie and begins to like them. Now, Gary and Scottie fear they're going to loose his trust when he leaves them in charge of babysitting his cat and they loose him. Meanwhile, Piper and Gerry go on their first date.
36
27
"Barn, Darn"
May 31, 2014
227
1.45

When Sal looses her job at her uncle's barn, Gary and Scottie decide to give her uncle a piece of their mind but they only regret it when he ends up being a good friend of Mr. Sanks, the janitor they got fired.

Note(s): Mr. Sanks returns.

37
28
"Double the Gary"
May 31, 2014
228
1.45
When the school bully, Thoms, begins to go too far with bullying kids, Gary decides to have a little fun and with Gerry's help, he freaks out Thoms by having him believe he is seeing two Garys.
38
29
"Twinvention"
June 28, 2014
229
1.7
Gary and Gerry go to a Twin convention far from their town, a place where they can finally be seen together out in public. There they meet the famous Platinski brothers, twin daredevils famous for their TV show. Gary wants to impress the two by doing a few dangerous tricks with Gerry but Gerry is scared they're going to push their luck.
39
30
"Let's Sit Down"
June 28, 2014
230
1.7

Gerry sits down in the living room while no one is home and answers random questions about what it's like being a clone to the viewers.

Note: This episode somewhat breaks the fourth wall since Gerry talks to the audience however the episode still stays within it's regular world.

40
31
"The Gentlemans"
July 5, 2014
231
2.5

Sal finally gets the guts to ask Gary to the end of the year dance. Gary accepts the offer and enlists his parents' help to be more like a gentleman. But when Gary doesn't think he can do it, he sends Gerry to the dance with Sal.

Note(s): At the end of the episode, Gary shows up to the dance and takes Sal out to get hamburgers.

41
32
"The Pros and the Cons of Dating"
July 5, 2014
232
2.5
Gary and Sal can't decide if they really want to get into a relationship or not so they enlist the help of Scottie and some other friends to list the pros and cons of dating. But things get a little out of hand when the "pro dating" and "anti dating" groups clash.
42
33
"You Call That a Date?"
July 19, 2014
233
2.7

Gerry thinks that Gary and Sal's ideas of dates are bad so he decides to plan a romantic evening for them. But he ends up getting very irritated when they turn it into an evening of fun with food.

43
34
"The Leftovers"
July 19, 2014
234
2.7
Scottie feels left out now that Gary is dating Sal and Gerry is dating Piper so he sets out to find himself a new friend. He finds himself ending up with Harvey but he struggles to deal with Harvey's talkative and energetic personality.
44
35
"Should I Say or Should I No?"
August 9, 2014
235
3.2

After Gary and Sal make a no secrets deal, Gary struggles with if he should tell Sal about Gerry or not. Meanwhile, Piper and Gerry have "relationship problems".

At the end of the episode, Gary is about to tell Sal about Gerry but he is interrupted by a coconut knocking him out which he takes as a sign not to tell her.

Note(s): The title is a reference to the song "Should I Stay or Should I Go?". This episode is a part of Summer So Hot Weekend.

45
36
"Messy Breaks Up and Machine Make Ups"
August 9, 2014
236
3.2

After Piper and Gerry break up, he starts getting major attitudes. Gary and Scottie decide they need to work on getting the machine to reverse faster so they can get rid of Piper for Gerry.

Note(s): This episode is a part of Summer So Hot Weekend.

46
37
"Livin' Large in a Lab"
August 23, 2014
237
2.2

Scottie finally renovates his lab and turns it into a lab/hang out. Gary decides that it'd probably be better for Gerry to live in the lab with Piper. Gerry unwillingly does but the first few nights don't go too well.

Note(s): This episode will air by itself and it also marks the first episode that Gerry will live in the lab.

47
38
"Slumber Lab"
August 23, 2014
238
2.2
Scottie, Gary, Gerry, and Piper have a sleepover in the lab. But when Sal asks if she can come, Scottie and Gary must say no and tell her it's a boys party only because Gerry and Pepper are there. This makes Sal wonder what they're doing so she tries in every way possible to sneak in. Meanwhile, Scottie, Gary, Gerry, and Piper have fun putting together their own sleepover party games playing with lab equipment.
48
39
"Chill Pickahorn, Chill"
August 30, 2014
239
.94

Now that Mr. Pickahorn has returned from his long vacation in Hawaii, Gary and Scottie try to avoid him because of last time when they lost his cat but the two realize that Mr. Pickahorn has come back more relaxed than ever. They decide to engulf in his relaxed mode as much as possible and chill with him in his backyard. But, when Mr. Pickahorn spots a glimpse of the back of Gerry in Gary's bedroom window when Gary is in the backyard, Mr. Pickahorn is set back into his normal crazy mode and he ties Gary and Scottie to their chairs, keeping them captive in the backyard to interrogate them.

Note(s): This episode will air by itself.

49
40
"Killing Me Softly with His Space"
September 6, 2014
240
1.8

Gary feels like he needs some space from Sal since he feels like all they do is hang out just because they're a couple. He tells Sal how he feels and she understands, just slightly offended by it. But, Gary ends up taking the "need space" situation a little too far when he begins deliberately igorning Sal everytime he sees her, everywhere he goes. And soon after, when he tells her he's ready to start hanging out again, Sal feels like she's just Gary's puppet that he can pick up and put down whenever he wants. To teach Gary that she has feelings and he can't toy with them, Sal puts together a "date" that will teach him a lesson but things go a little awry.

Note(s): After a huge fight, Sal and Gary decide to break up.

This episode will air by itself.

50
41
"Drinky Thinky Winky"
September 13, 2014
241
2.8

Gary and Scottie enter in the Carbonated Drinky Thinky Contest, a contest where two kids must work together to create a special and tasty carbonated drink. But, when Gary doesn't want to participate in the contest anymore, he allows Gerry to take his place. However, Gerry doesn't have the same wits that Gary has, causing Gerry and Scottie to run into major trouble during the contest. When Gerry really begins to screw things up, Gary must swoop in and help out, without anyone noticing him.

Note(s): This episode will air by itself.

51
42
"Harvey Finds Out"
September 20, 2014
242
3.34

Harvey discovers Gary and Gerry's secret after he catches the two bickering together. Gary, Gerry, and Scottie are forced to explain everything to him. Harvey, who is amazed, begins to ask various questions but the more questions he asks, the more time that passes, and the more annoyed Gary, Gerry, and Scottie get.

Note(s): This episode will air by itself. It is also the major episode leading up to the finale. The episode was vastily promoted to build hype for the finale.

52
43
"Finale Like No Other"
October 18, 2014
243
3.9

Scottie finally figures out how to reverse the cloning machine, just in time for Pepper to return from India. Gary brings Pepper to the lab blindfolded and Piper and Pepper are successfully combined back together. But as soon as that's done, trouble ensues. Gary and Scottie discover that Gerry has run off because he doesn't want to have to leave the world. While the boys go off to find him, Sal meets Harvey and she gets jealous because he seems to know so much more about "Gary" and Scottie than she does, he even knows the password to Scottie's lab, a place Sal was never allowed. Harvey lets her in the lab and shows her around. Mr. Pickahorn follows them and sneaks into the lab while it's open. Harvey accidentally releases a mysterious gas that spreads throughout the lab. Harvey and Sal escape but Mr. Pickahorn gets stuck in there after they unknowingly lock him in. The police come to evaluate the situation and soon declare that Mr. Pickahorn must be quarantined in the lab until they can figure out how to stop the gas. Gary and Scottie return with no sign of Gerry but they are both set abalze when they hear that Mr. Pickahorn is stuck in the lab. Sal then approaches Gary and tells him that she never knew he kept so much from her and decides she doesn't want to be his friend anymore. Putting the Sal situation aside, the two decide to split up, Scottie to keep looking for Gerry, and Gary to sneak into the lab and save their secret from being revealed.

The episode ends with Mr. Pickahorn and Gary face to face in the lab and Mr. Pickahorn is telling Gary he knows that he and Scottie have been up to something fishy and he intends to find out. Then all of a sudden, Gerry swoops in from a window swinging on a wire holding a wrench. Mr. Pickahorn finally completely sees Gerry and his eyes widen in surprise. But before he can say anything, Gerry knocks him out with the wrench. Meanwhile, the police outside are going crazy because Gary snuck inside the lab. Scottie's family has evacuated the house. Gary's parents and the neighbors around are all standing close by as the firefighters try to calm them down. Back in the lab, Gary and Gerry embrace and Gary confesses he'll never get rid of Gerry because he loves him too much. Then, the gas begins to get intense and fire starts to flame everywhere. Gary and Gerry try to escape out the window. Once the fire is seen from outside the house, the firefighters make way for the house. Gerry is able to escape out the window and Gary and Mr. Pickahorn are rescued by the firefighers.

Mr. Pickahorn is taken to the hospital after having believed that he passed out. Gary's parents hug and kiss Gary and everyone is happy he's okay. Later that day, when everyone is calming down and the fire has been put out, Gary and Scottie sneak off to the side where no one can see them. There, they meet Gerry and they discuss that they'll need to think of a new way to keep Gerry around without people knowing he's Gary's clone. But little do the three know that Sal is standing by in the bushes watching and she is more vengeful than ever because Gary has kept this major secret from her.

Note(s): This is the season finale and is an hour long episode.
Season 3
Season 3 of Gary and Gerry was announced in December 2014 with a 22 episode order. The season is set to premiere on January 10, 2015.
Series
#
Season
#
Title
Written by
Directed by
Original air date
Prod.
code

U.S. Ratings (in Millions)

53
1
"How to Put Out a Fire"
Jessie1010
Tom Lowkin
January 10, 2015
301

2.3

After the incident with the fire, Gary and Gerry begin contemplate ways to expose Gerry's identity. Pretend he's his cousin, his long lost brother, actual tell people he's his clone? Scottie tells Gary that the best way to do it will probably to first tell his parents all about Gerry. Gary agrees but he constantly stalls in fear of their response, much to Gerry and Scottie's dismay.
54
2
"Don't Pick a Hospital"
Jessie1010
Tom Lowkin
January 10, 2015
302

2.3

Gary's parents still not knowing about Gerry, the force Gary and Scottie to go visit Mr. Pickahorn in the hospital since they were involved in the cause of him being there. Gary and Scottie fearfully go visit Mr. Pickahorn but to their surprise, he has forgotten almost everything so when he asks what happened, Gary and Scottie have fun feeding him crazy tales about what happened.

Note: At the end of the episode, Gary deems his parents untrustworthy when he sees them siding with Mr. Pickahorn about Gary always being up to something bad so he decides not to tell them anything.

55
3
"Mystery of Cloning and Sal"
Jessie1010
Menny Blue
January 17, 2015
303
2.1
Gary and Scottie decide to do their research paper on "the myth of cloning" at school, hoping they can maybe find out more about how it all works. Meanwhile, at school, Sal gives Gary and Scottie serious attitude and doesn't talk to them but they don't understand why.
56
4
"Demon Horse"
Jessie1010
Kendra Houe
January 17, 2015
304

2.1

Scottie, Gerry, and Gary are invited down to Harvey's uncle's farm to help out with the animals but the four get themselves into some trouble when they tick off a horse and he begins to chase after them all throughout the farm. The four must now work together to trap the horse before it hurts them.
57
5
"Crimes at the Crime Scene"
Jessie1010
Menny Blue
January 24, 2015
305

2.5

Scottie, Gary, and Gerry are finally allowed to visit the science lab as it's been cleared out and inspected. Scottie is crushed when he sees that everything has burned down and the majority of his work has been lost. But when Gary seems to care more about what's going on in his own life than the lab, he feels hurt and the two get into a fight.
58
6
"Treehouse Time"
Jessie1010
Tom Lowkin
January 24, 2015
306
2.5
Gerry comes up with the idea of Scottie, Gary, and him building a treehouse on the big tree in Scottie's backyard and to use it as a substitute for the lab until it's fixed. Scottie and Gary like the idea so Scottie and Gerry decide to start planning it out. Gary passes the house off as being easy to make so he begins to start it without looking at any instructions but he soon realizes it was a mistake when the treehouse building goes in the completely wrong direction.
59
7
"Ballet-tine"
Jessie1010
Tom Lowkin
February 14, 2015
307

1.86

After Gary successfully makes an arts and crafts Valentine card for art class, kids at school begin paying him to make Valentine cards for them to give to their significant others. Meanwhile, Gerry begins taking online ballet lessons.
60
8
"Crush My Dreams, I Crush Your Secrets"
Jessie1010
Tom Lowkin
February 14, 2015
308

1.86

Harvey is about to head back to Texas to be with his family again but before he goes, he really wants to tell the girl he has a crush on his feelings. Gary, Gerry, and Scottie set up a special meeting in the new treehouse lab for Harvey and Yessica (his crush) to talk but when Harvey becomes a nervous wreck, Scottie must swoop in to help. This leads Yessica to think Scottie likes her and she ends up feeling the same way. This makes Harvey very angry at Socttie and even Gary and Gerry, thus putting their secret (which Harvey knows) in jeopardy.
61
9
"I Know Your Secret"
Jessie1010
Tom Lowkin
February 28, 2015
309
2.21

Gary begins recieving very mysterious letters in his locker from a person, letters that claim to "know his secret." Gary is very confused not only about who this person is, but what secret do they know? Gerry and Scottie quickly jump to conclusion thinking they know about Gerry. The three have three top suspects who the person could be: 1) Mr. Sanks, the janitor they got fired who has returned temporarily to fill in for another janitor, 2) Margia, the peppy cheerleader who Gary got on the wrong side of on the bus, and 3) Mr. Pickahorn, their biggest suspect. The three investigate each suspect but after a while of investigating all the information gather points them away from being the mystery messenger.

Note(s): At the end of the episode, Gary realizes that the notes were actually meant for the locker next to him and it was all a misunderstanding. But it is then shown/revealed to the audience that the notes actually were for Gary and were from Sal who ended up feeling bad about the notes so she set it up to make it look like it was a mistake. But still, after Sal watches Gary and Scottie have a laugh of relief over the "misunderstanding," she mutters to herself "This isn't over Dugan."

62
10
"Working at the Caf"
Jessie1010
Tom Lowkin
February 28, 2015
310
2.21

To make up for his various detentions, Gary gets a student job in the school cafeteria which is the most embarrassing thing to do in school, which is why no one does it. Meanwhile, Sal continues to ignore Gary so he sends Gerry and Scottie to spy on her while he does the clean up shift in the cafeteria after school. But, Gerry and Scottie end up learning more about Pepper rather than Sal, something very embarrassing at that.

63
11
"Gerry in Wonderland"
Jessie1010
Colline Black
March 14, 2015
311

1.4

When Gerry accidentally drinks an illegal energy drink, he ends up having crazy hallucinations and needs Gary's help to figure out how to stop them. Meanwhile, after taking class field trip to a Roman museum, Scottie takes a huge interest in Roman culture and decides to dedicated himself to reviving the Roman culture, wearing togas and only speaking in Latin.

Note: This episode will air by itself.

64
12
"Moving Too Slow"
Jessie1010
Henry Geager
April 25, 2015
312
2.10

Gary and Scottie hear a rumor that Mr. Pickahorn, who has been in physical theropy rehab, will be moving out of Boom La Dome after he's released. After learning the rumor, they, not wanting to celebrate too early, sneak into Mr. Pickahorn's rehabilitation center to learn if he really plans on moving away. If he is, things could be so much easier for Gary and Scottie. Meanwhile, Gerry begins to feel upset that Gary and Scottie don't even seem to care about bringing him into the real world anymore, all they're doing is still trying to cover up the secret.

Note(s): At the end of the episode, it all clicks in Mr. Pickahorn's head and he remembers what he saw before he was knocked out, sparking a whole new motivation and excitement in him and a twist in the plot.

65
13
"Fed Up, Fess Up"
Jessie1010
Tom Lowkin
April 25, 2015
313

2.10

Gary has officially gotten fed up with Sal's awful attitude towards him so he and Scottie think up a plan to trap her somewhere and hold her hostage until she explains to them what's going on. But, when the plan fails, Gary ends up sending Gerry to her anime club meeting to more reasonably learn why she's so upset. When Sal begins to talk to 'Gary,' she immediately realizes it's Gerry and decides to have some fun playing around with him while talking to him.

Note(s): At the end of the episode, Sal accidentally reveals to Gerry that she knows all about him but forces him not to tell Gary and Scottie or she'll expose them.

66
14
"Lightsaber Tag: Episode 1"
Jessie1010
Tom Lowkin
May 4, 2015
319

TBA

The big Montana Star Wars fan convention is coming up and Gary and Scottie are extremely excited to go. Gerry will even be able to go since he can dress up as a character. In honor of the big convention, Scottie creates his very own lightsaber in the treehouse lab and surprisingly, it turns out to be a success. With the success of the saber, Scottie decides to bring it with him to the convention. But at the convention, when other fans discover the special saber, they steal it from Scottie. Ultimately, Gary, Gerry, and Scottie soon find themselves fighting to retrieve the saber back from the group of fans while playing a game of Star Wars laser tag

Note(s): This is a special thirty minute Stars Wars themed episode in honor of the the unofficial Star Wars day, May 4, and will air at 7:30, right before the premiere of Wiki Channel's new series, Emma & Johnny in the 21st Century.

67
15
"Home, Bitter Home"
Jessie1010
Tom Lowkin
May 23, 2015
315

TBA

Mr. Pickahorn returns home, more excited than ever to expose Gary. He begins to do some investigating to find out where this mysterious clone of Gary came from. Meanwhile, Gerry tries to convince Gary that they have to act fast, Mr. Pickahorn is released and he could know anything. Gary however still is sure that Mr. Pickahorn forgot everything and all he wants to do is focus back on his video game life.

Note: This episode will air by itself.

68
16
"The Haunted: Part 1"
Jessie1010
Tom Lowkin
October 17, 2015
316

TBA

It's Halloween and Gerry is excited to go trick or treating with Gary and Scottie dressed up as a zombie. Gary is going to dress up as a pirate and Scottie as a bear-hyena hybrid. But, when the three are lured to a mysterious haunted house, they are chased around by a creepy adult goblin and can't find their way out. Unbeknowest to the three, the zombie is Mr. Pickahorn and they are in his haunted house. His plan is to capture at least one of them so he can further his investigation.

Note: At the end of the episode, Gerry realizes they are trapped in Mr. Pickahorn's haunted house and the zombie must be him but Gary doesn't believe him.

69
17
"The Haunted: Part 2"
Jessie1010
Tom Lowkin
October 17, 2015
317

TBA

Gerry departs away from Gary and Scottie to find out more about the house, much to Gary and Scottie's dismay. While Gerry does investigating, Gary and Scottie catch on to patterns of the goblin and are able to find their way out of the house. Gary decides to leave Gerry to let him find his own way out since he didn't stick with them. While the two go on their way, Gerry is left in the house with Pickahorn and when Pickahorn finds him, it's a battle of life or death for Gerry as he tries to escape his clutches.

Note: At the end of the episode, Gerry is rescued by Sal from the house.

70
18
"TBA"
Jessie1010
Tom Lowkin
2015
318

TBA

Gerry returns to Gary and Scottie with a new discovery about Mr. Pickahorn's plan against them but after the big fiasco at the haunted house, Gary is furious at Gerry for not listening to him. This makes Gerry mad at Gary because he doesn't ever listen to him. A fight breaks out between the two and Gerry then runs off, without having told him anything about his discovery. He goes to none other than Sal and the two have a sit down talk about their problems with Gary as well as about Mr. Pickahorn. Meanwhile, Mr. Pickahorn watches surveliance footage from the haunted house chase and looks for more details about Gary and Gerry.

Note: In this episode, Sal learns everything about Gary and Gerry, even that her sister once had a clone. Gerry and Sal even become friends in this episode.

71
19
"TBA"
Jessie1010
Tom Lowkin
2015
319

TBA

72
20
"TBA"
Jessie1010
Tom Lowkin
2015
320

TBA

73
21
"TBA"
Jessie1010
Tom Lowkin
2015
321

TBA

74
22
"TBA"
Jessie1010
Tom Lowkin
2015
322

TBA
Trivia and Rumors
It is rumored that in season 2, Sally and Gary's romance will build.
It is rumored that Sally will find out about Gerry.
It is rumored that Mr. Pickahorn will find out about Gerry.
It is rumored that another duplicate of a character will appear in season 2.
References
Community content is available under
CC-BY-SA
unless otherwise noted.