Juliana and the Babysitting Adventures has ended its run.
Juliana and the Babysitting Adventures



"Juliana and the Babysitting Adventures" Logo.

Genre:
Teen sitcom

Children sitcom

Created by:
Fiolet4eva

NYCgleek

Starring:
Fiolet4eva
Theme Music Composer
NYCgleek
Opening Theme:
"Adventure Awaits" performed by Fiolet4Eva
Country of origin:
United States
Original language(s):
English
No. of seasons:
1
No. of episodes:
21
Production
Executive producer(s):
Fiolet4eva

NYCgleek

Camera setup:
Videotape (filmized); Multi-camera
Running time:
24 minutes, 46 minutes for specials
Production company(s):
Wiki Channel Productions

Crazy Kids Entertainment

Production Location(s):
Wiki Center Studios.

Hollywood, California

Show Location(s):
San Francisco, California
Broadcast
Original channel:
Wiki Channel
Picture format:
480i (SDTV)

1080i (HDTV)

Audio format:
Stereo
Original run:
September 6, 2013 - March 5, 2014
Juliana and the Babysitting Adventures is a former half hour Wiki Channel Original comedy series. The series starred Fiolet4Eva as Juliana Jennings, who is also starring in "Pete Around the Bush". On December 8th 2013, the Wiki Channel announced that they would not be renewing the series for a second season. Fiolet4Eva will reprise her role on "Pete Around the Bush" respectively in 2014.
Overview
The series follows 12 year old middle schooler Juliana Jennings. When her parents are often busy with work, she is left in the care of her 16 year old popular sister Kaylee. Though the two get along well, Juliana often feels like she doesn't need babysitting (which leaves her and Kaylee to get in arguments a lot) and sneaks out of the house to hang out with her best friend sarcastic best friend Max and is sometimes followed by her 8 year old neighbor Walker. However, one day she sneaks outside to play with Max and Walker, she finds that Walker's pet cat has ran away. She then leaves a note for Kaylee, who is to busy talking on the phone to her blonde best friend Faith, and decides to go after the cat. Kaylee (scared that she might get in trouble) goes after her with help from Faith. Juliana then goes on a series of ups and downs trying to find the cat, with Kaylee trying to find her. Now, they must all get home before their parents get off from work, but they usually find away to do so. Juliana nevers questions that she might get in trouble with her parents, Kaylee on the other hand knows they will both get in trouble and is usually the one who goes out to find her. The series has been called a  "wild goose chase" inside of a comedy.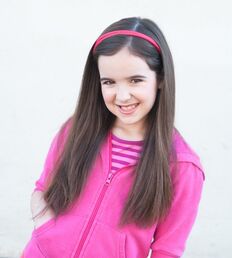 Main Cast
Fiolet4eva as Juliana Jennings- Juliana is a very confident young girl. At only age 12 she is already considered to be quite fearless. Sweet, charming, and smart, Juliana already knows a lot and is very street smart. She is always prepared to do the right thing, even if that means getting herself in trouble. She is best friends with Max, who has known her since first grade. Juliana is also considered to be very brave. She is an excellent tree climber (as seen in the pilot when she tries to retrieve Walker's cat) and yet very responsible, she often watches over her younger neighbor Walker. Juliana has a crush on Aiden, a guy on her school's lacrosse team. When she was younger she also use to take gymnastics. Her and her sister have a very  unique relationship. Though they may not always see eye to eye, they do have each other's backs when needed. Juliana is also into taking classic polariod photos and often takes photos of her crazy adventures and puts them in her room. She has a tree with a tree house outside her window, she often hangs out in the tree house with Max, and Walker. She sometimes hangs out with one of her female friends like Kelly as well.

Tyler Weston as Max Gomez - Max is Juliana's best friend in the series, in fact he has been since they were in 3rd grade. He can be a bit clumsy at times, but usually plays it off cool. He is often sarcastic and often goes back in forth with Walker when they tease each other. He secretly has a crush on Juliana and gets sort of jealous when he sees her crushing over Aiden Knight, who happens to be of the cool kids at their school. Max often looks out for Juliana and Walker and at the end of the day do anything to help them. Max likes to play video games and often hangs out in Juliana's treehouse, even if she's not there.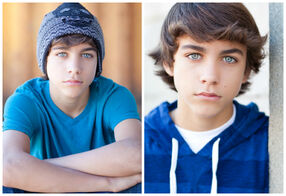 Ryan Diggs as Walker Watson - Walker is Juliana's 8 year old next door neighbor who often hangs out with her and Max when they go on their crazy adventures. Juliana often looks after Max a if he was her little brother. He and Max have a love hate relationship, they really do consider each other to be good friends, but make jokes about each other every once in a while (kind of like how brothers would). Walker is a adventerous, spirited and often full of enegery. He can also be incredibly witty and clever at times.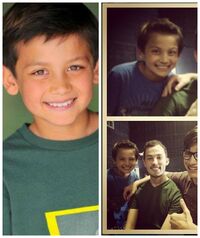 TBA as Kaylee Jennings - Kaylee is Juliana's popular, older high school sister. She is smart, manipulative and totally stylish. She gets attention from everyone at school and hates when her parents make her babysit Juliana. She doesn't like doing so, in fact she often invites over her best friend Faith and doesn't pay much attention to Juliana, that is until she disappears and Kaylee has to find her. Kaylee knows that if she doesn't take care of her sister, she'll get in trouble with mom and dad. Though she fights with Juliana often at the end of the day she truly does love her as a sister and even stands up for her from time to time.
TBA as Faith Woods - Faith is Kaylee's blonde, ditsy, popular, and crazy best friend. She is very similar to Kaylee, except not as smart. Faith can be a bit random and goofy at times, but she does mean well. She often hangs out with Kaylee instead of helping her babysit Juliana. Though she is popular like Faith, she doesn't have a mean bone in her body. Despite her ditziness, she can be a fun-loving and awesome friend.
Recurring Characters
To see the list of Recurring Characters from Juliana and the Babysitting Adventures, click here.
Series Overview
Episodes
Season 1
"Juliana and the Babysitting Adventures" was picked up for a complete first season for a total of 21 episodes. 
Series
#
Season
#
Title
Written by
Directed by
Original air date
Prod.
code

U.S. Ratings (in Millions)

1
1
"Adventures in Cat Chasing"
Fiolet4eva and NYCgleek
Anne May Johnson
September 6, 2013
101
5.1

When Juliana and Kaylee's parents go out of town at the last minute, they put Kaylee in charge. Feeling old enough and confident to not need a babysitter Juliana sneaks out the house to hang out with her friend Max, who is helping Juliana's neighbor Walker find his missing cat. The three end up going all over town getting into crazy shenanigans leaving older sister Kaylee to find them (with help from her best friend Faith of course). Now it's up to Juliana and the gang to find Walker's cat, Kaylee and Faith to find them, and all of them to find their way home before their parents come home and they all get in trouble.

Note: This is the pilot episode.

Guest Star: Nicole Martin as Kelly Davis.

2
2
"Babysitting or Babyfitting?"
NYCgleek
Cardinal Ryan
TBA
102
4.3

Juliana and Kaylee agree to stay home and watch a child for their neighbors child, only to find out the child is a total diva and tries on their parent's clothes. When their clothes get ruined they go to an expensive dry cleaners downtown, but the kid gets lost in the process.

Note: Kaylee is seen on the phone with Faith, but she is not physically seen in the episode.

Absent: Faith Woods 

Guest Star:

3
3
"Downtown Drama"
NYCgleek
Danny Zuko
September 20, 2013
103
2.0

Juliana gets permission for her and Max to go downtown in order to get a special comic book from a vintage comic book collecters shop, only catch is that she has to bring Kaylee who accidenly ruins a collecters item that sends the hole store in a live action role play. Now Juliana, Max and Kaylee must gear up in fun customes and Toys in order to escape from the store with the comic book they need. Faith tries to get downtown by riding her bike but gets lost while doing so.

Note: In this episode their is a small ad on the back of a magazine in the comic book shop that says "Fashion Fearless" with a picture of Valencia as Kitty from "Kitty Couture".

Absent: TBA as Walker.

Guest Star:

4
4
"Trouble With Jealousy"
Fiolet4eva
Shelley Jensen
September 27, 2013
104
3.3

Kaylee has trouble when her rival starts to date her crush, Mark. Also, Juliana starts hanging out with Kelly a bit more often and Max starts to get jealous.

Note: 

Absent: 

Guest Star: TBA as Mark and TBA as Alyssa.

5
5
"His Name Is Aiden"
Fiolet4eva and NYCgleek
Maxwell Senton
October 4, 2013
105
5.1

When Juliana tries to become a cheerleader with her friend Kelly (who is already on the cheerleading team) in order to get more attention from Aiden, captain of the school's lacrosse team, much to Max's dismay. She ends up embarrassing herself a little bit more than she more than she thought. Kaylee helps Walker with an art project after she volunteers to help and kind of takes over.

Note: 

Absent: TBA as Fatih Woods.

Guest Star: TBA as Aiden.

6
6
"Dance Disasters"
Fiolet4eva
Jake Farrow
October 18, 2013
106
1.9

Kaylee & Faith's highschool is having a dance and they struggle to find the perfect dates. Meanwhile, Juliana finally gets the courage to talk to Aiden and Max tries his best (with the help of Walker) to keep them away from eachother.

Note: 

Absent:

Guest Star: TBA as Mark, TBA as Alyssa

7
7
"Juliana and the Halloween Adventures (Part 1)"
NYCgleek
NYCgleek
October 25, 2013
107
4.9

When Kaylee is told by her parents to take Juliana and her friends (Max and Walker) babysitting she takes them to a haunted house next door to an old lady known as "Crazy Cathie". While in the haunted house they hear scary noises next door and are convinced that she is hiding a dirty secret. The four of them end up sneaking inside the house to try and figure out what has happened, but now has no way out.

Note: This is the halloween themed episode.

Absent: 

Guest Star: 

8
8
"Juliana and the Halloween Adventures (Part 2)"
NYCgleek and Fiolet4eva
Shelley Jensen
October 25, 2013
108
5.1

The kids manage to escape the house, but one of them ends up trapped inside. The kids must now get back inside to get that person out. 

Note: This is the second half of the halloween episode.

Absent:

Guest Star: Nicole Martin as Kelly Davis.

9
9
"Kaylee and the babysitting Adventures"
NYCgleek
Garrett Howies
November 8, 2013
109
4.4

Kaylee has a dream that she is the younger sister and see's things how Juliana usually does.

Note: 

Absent:

10
10
"Live a Little, Lie a lot"
NYCgleek
Danny Zuko
November 15, 2013
110
2.3

Juliana covers for a lie Walker told and it begins to form an even bigger lie and escalates out of control. Kaylee and Faith become cheerleaders.

Note: 

Absent:

11
11
"Max-A-Million"
NYCgleek and Fiolet4eva
NYCgleek
November 22, 2013
111
2.1

Max comes up with a million dollar idea.

Note: 

Absent:

12
12
"Juliana and the Aiden Adventures"
NYCgleek
Cardinal Ryan
November 29, 2013
112
4.3

Aiden invites Juliana and Max to a party. Juliana gets nervous infront of Aiden, and Max gets jealous.

Note: 

Absent:

13
13
"Juliana and the Holiday Adventures"
NYCgleek
Niki Ried
December 13, 2013
113
2.2

Juliana, Kaylee, Faith, Max, Walker, and Aiden find themselves locked in the mall on a snowy day during a crazy holiday sale.

Note: 

Absent:

14
14
"Juliana and Max and the Babysitting Adventures"
Nutter Butter
Danny Zuko
January 10, 2014
114
3.1

After Max "accidentally" ruins Juliana's chances with Aiden (again), Kaylee and Faith realize that he has a crush on Juliana.

Note: 

Absent:

15
15
"Fake-a-Date"
Fiolet4eva and Nutter Butter
Nutter Butter
January 17, 2014
115
4.2

When Aiden starts to flirt with Juliana, Max convinces Kelly to fake-date him so that he can make Juliana jealous- unfotunately, this backfires because Juliana is exciting that they're getting along. Meanwhile, Kaylee is studying for a test that's worth half her grade, but is unable to finish because Faith is practicing for her music class.

Note: 

Absent:

Guest Star: Nicole Martin as Kelly Davis.

16
16
"Juliana and the Devil-Sitting"
Fiolet4Eva
NYCgleek
January 24, 2014
116
3.0

Juliana gets Max, Walker, and Kelly to help her babysit a set of really misbehaving triplets or are messy. Things go wrong when one of the triplets leaves the house and Max follows him around the City, and the other two begin breaking stuff and creating a huge mess. W

Note:

Absent:

Guest Star: Nicole Martin as Kelly Davis.

17
17
"Fake Snow"
NYCgleek
Cardinal Ryan
January 31, 2014
117
1.9

The girls create a fake winter wonderland to raise money for their school, things go wrong when the snow machine they built goes haywire and them and their class get trapped in the bio dome.

Note: 

Absent:

Guest Star: Nicole Martin as Kelly Davis.

18
18
"Faith Could Do Better"
NYCgleek
Cardinal Ryan
February 7, 2014 
118
2.0

Faith catches her boyfriend cheating on her with another girl and gets help from Juliana to play a prank on him that'll make him regret what he did.

Note: 

Absent:

19
19
"Juliana and the Lemonade Adventures"
NYCgleek
Cardinal Ryan
February 21, 2014
119
2.5

Walker starts a lemonade stand but gets competition from the new girl across the street.

Note: 

Absent:

20
20
"Juliana and the Mystery Adventures"
NYCgleek
Cardinal Ryan
February 28, 2014
120

Juliana gets curious when she discovers Kelly and Aiden secretly hanging out and wants to get to the bottom of it.

Note: This episode is the first episode that officially starting airing on the Wiki Channel's Wednesday night blocks.

Absent:

Guest Star: Nicole Martin as Kelly Davis.

21
21
"Future Me?"
NYCgleek
Cardinal Ryan
March 5, 2014
121

When Juliana gets an offer to atten a private school, she has a crazy dream about her future and meets her future self. She also starts to realize that Max may have a crush on her.

Note: This is the second and last episode to air on the Wiki Channel's Wednesday night block and serves as the series finale. All of the main cast were present

Guest Star(s): Crystal Diane as Future Juliana. Nicole Martin as Kelly Davis.
I

nternational Release
Community content is available under
CC-BY-SA
unless otherwise noted.