"Letting Go"
is the debut album by Wiki Records recording artist,
Olivia Staton
. The album is influenced by country and soft pop. It features her already released singles,
Messing With My Head
and
Loosing You
. The album is set to release on March 12th, 2015
Background
Edit
Staton was signed to Wiki Records in August of 2014, but the only music hey talked about at that moment was her single, Messing With My Head. This song, along with most of the other sings on her album, were written or co-written by her. She sang a preview of the song at Anthem Rock Hill in Texas as a teaser. She also sang in many other venues in Arizona and Texas to promote the single.
The next single, which only known to the record label and herself that it was going to be on an album, was Loosing You. She sang the song in a live performance in a q&a with young stars in Burbank, New York, and when asked if she was going to release an album, she said, "Oh, you just wait." This announcement was announced as the first unofficial teaser for the album. Production began on the album in December of 2014.
On December 28, 2014, Staton's manager chitted out, "The rumors are true. Olivia is coming out with an album, and that's all I want to say on the matter."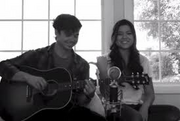 When her new pilot,
Nerd Girls
, was being filmed, a hiatus was in order, but never put in action. On this, Staton's manager said: "
The real reason that Olivia did not want to go through with the hiatus was because she wanted her music out there for her fans to hear. She has not released any music, and she knew she needed to put this out there soon, but also at the right time.
It was later announced that she recorded 10 songs for the album. When asked about the production for the album, she said: "It wasn't an extremely long journey, which I'm not sure how I feel about. However, I think that it was some of the most fun couple months of my life and I cannot wait for you to hear it, it's got a little bit of everything."
The album is set to release March 12th, 2015.
Tracklisting
Edit
Bonus Track: Really Don't Care
This is the first album released by Olivia Staton
Most of the songs were written/co-written by Olivia
Community content is available under
CC-BY-SA
unless otherwise noted.