Life with Twins



"Life with Twins" Logo.

Genre:
Family sitcom
Created by:
NYCgleek
Starring:
Tristan Conti,

Theme Music Composer
Jessie1010
NYCgleek
Opening Theme:
"Ordinary Day" performed by Tristan Conti
Country of origin:
United States
Original language(s):
English
No. of seasons:
1
Production
Executive producer(s):
NYCgleek

Jessie1010

Camera setup:
Videotape (filmized); Multi-camera
Running time:
24 minutes, 46 minutes for specials
Production company(s):
Wiki Channel Productions
Production Location(s):
Wiki Center Studios.

Hollywood, California

Show Location(s):
Seattle, Washington
Broadcast
Original channel:
Wiki Channel
Picture format:
480i (SDTV)

1080i (HDTV)

Audio format:
Stereo
Original run:
November 1, 2013
Life with Twins is an upcoming Wiki Channel Original family comedy series that first premiered on the Wiki Channel November 1, 2013. The series first aired on Fridays for a part of the first season. The series was moved to an 8:30 timeslot on Sundays which started April 2014. The series was officially renewed for a second season May 21, 2014 by the Wiki Channel. On Friday, February 6, 2015 the Wiki Channel officially renewed the series for a third season. It was announced shortly after that show star, Tristan Conti would not be returning to the series and season 3 would now feature show star, Abby Williams respectively.
Overview
Life with Twins follows the story of the Clark family of Denver, Colorodo. The series mainly follows the Clark family, a family that just got a little bigger with new twins on board. The story follows them as they go through the challenges and adventures of everyday life. Brody Clark, a high school freshman lives his older sister Naomi, his fraternal twin sister Taylor, his father (a succesful lawyer) Charles Clark, his mother (a confident nurse) Karen Clark and his two newly twin brothers. Joining them on the crazy adventures is Brody's best friend Rayford and cranky next door neighbor Mr.Steven. They also have a dog named Max. NYCgleek told today magazine "I think we are a great place with our original programming right now and I know we weren't accepting shows at the time and seeing as we make shows that relate to today's kids, teens, families and their situations, I felt we just needed a show about a normal family. I feel like life with twins does that and since Tristan Conti is starring in the series, there is no doubt in my mind that it will be a hit."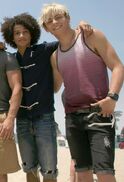 Main Cast
Recurring Characters
To see the list of Recurring Characters from Life with Twins, click here.
Series Overview
Season
Episodes

Originally aired (U.S. dates)

Season premiere
Season finale
1
25
November 1, 2013
June 29, 2014
2
20
August 10, 2014
April 12, 2015
3
27
TBA
2015
TBA
Episodes
Season 1
Life with Twins was picked up for a complete first season for a total of 13 episodes. Wiki Channel then ordered an additional 12 episodes bringing the series up to 25 episodes for a complete first season. 
Series
#
Season
#
Title
Written by
Directed by
Original air date
Prod.
code

U.S. Ratings (in Millions)

1
1
"Twin Trouble"
NYCgleek
Reginold Ryan
November 1, 2013
101
3.0

When the Clark family gets ready for back to school, Brody is left babysitting his twin baby brothers. Realizing this might bit of work, he calls his best friend Rayfordover to help. This becomes a bigger problem when he loses the twins in the house and has trouble keeping both of them in the same place at the same time. Meanwhile, Naomi gets a part in a school play and askes father Charles for some help, which ends up being a bad idea. Taylor and Karen get lost when driving to one of her karate matches.

Note: This is the pilot episode. The pilot starts with the whole family together in their living room, which is now messy and junky and everyone appears to have ripped or messed up clothing, they then flash back through the day telling everyone's story of what happen and why they all appear the way that they do.

2
2
"'The Dog Days Aren't Over with Twins"
NYCgleek
Cardinal Ryan
November 8, 2013
102
2.7

When Brody accidently loses his baseball in Mr.Stevenson's lawn. He goes over to get it only to discover Mr.Stevenson's angry pet dog. He now tries his best get the ball back from his lawn without angering his dog. Charles and Karen try to get Nick and Alex into a good daycare, but start to have second thoughts when they see how advance the other babies are. Naomi and Taylor think of ways they can make over their room.

3
3
"Time Capsule with Twins"
Jessie1010 and NYCgleek
Danny Zuko
November 15, 2013
103
5.5

The Clark family decides to leave a time capsule, things go wrong when they discover the one they dug up has a key that the parents put in it when Brody and Taylor were babies, the twins now try to figure out what the key goes too and find something to put in the new time capsule. Rayford tries to become a model for a local magazine.

4
4
"Father Dearest with Twins"
NYCgleek
Shelley Jensen
November 22, 2013
104
4.3

The kids try to plan a suprise party for their father. This goes wrong when the cake explodes at the party. Taylor has a volleyball game at school, but can't go because she has to help the party.

5
5
"Nick and Alex Break a Leg with Twins"
Jessie1010
Maxwell Senton
November 29, 2013
105
3.3

While he's stuck home with the twins, Brody sees a casting call for twin baby boys for a movie shooting in Denver. To make some extra cash, Brody, Taylor, and Rayford secretly take the twins to the casting call and the twins get the part! But the three soon find themselves in trouble when they sign a bad contract that they can't get out of. Meanwhile, Naomi takes Charles and Karen on a 5 day spa vacation but things don't go as planned.

Note: The title references to the crazy stunts Nick and Alex must do due to their contract.

6
6
"Snowstorm with Twins"
NYCgleek
Jake Farrow
December 6, 2013
106
4.5

The family and Rayford are trapped in a terrible snow storm when the go to snow boarding trip in Coloroda. The same snowstorm knocks out the power, while baby twins become a handful the family tries to find a way to keep the new baby twins calm and enjoy themselves in the snow.

7
7
"Best Friends For Never with Twins"
Jessie1010
NYCgleek
December 15, 2013
107
2.9

Brody and Rayford get in a serious fight over a girl that may cost them both their friendship. Turns out the girl was just playing them.

Guest Star(s): Terri-Ava Jetso as Penelope. 

8
8
"The Sisterhood of the Pranks"
NYCgleek
Shelley Jensen
January 3, 2013
108
3.3

When Brady and Rayford constantly keep pranking Taylor and Naomi, Taylor and Naomi come up with the ultimate prank to finally get back at them for their years of pranks.

9
9
"Love with Twins"
Nutter Butter
David Israel
February 14, 2014
109
4.6

Taylor's crush is coming over to study with her, so she tries to convince her family to leave her alone. However, Brody and Naomi think that they can help Taylor impress him, but might end up ruining everything.

Note: This episode airs on Valentines Day night as part of the BEE My Valentine Week premiere of NOT Another Happily Ever After. It aired before the movie, leading up to it.

10
10
"Livin' Large With Twins"
Jessie1010
NYCgleek
February 21, 2014
110
3.0

Rayford invites Brody and Taylor to a special sophisticated party his parents are hosting where all of their rich friends and collegues will be. But, when Brody and Taylor are stuck babysitting the twins, they decide to bring them to the party, not wanting to miss the chance to go to a rich party. But, trouble ensues when the twins cause trouble. Meanwhile, Naomi is scrambling to find the twins not knowing that they're at the party.

11
11
"Rockin' Out With Twins"
Nutter Butter
Ryder Lee
February 28, 2014
111
1.7

Naomi is booked for a performance at one of the richest kids in school's birthday party, but gets stuck babysitting the twins. Meanwhile Brody begins dating a girl named Vicky who has really bad breathe and tries to break up with her without hurting or feelings..... or his nose.

Guest Star(s): TBA as Vicky.

12
12
"Dad's on Ice with Twins"
Jessie1010
NYCgleek
March 2, 2014
112
2.9

When the family is cleaning out the attic they tend to find a scrap book of their dad on ice skates, sprkling tights and doing tricks and everything on ice and he even won gold medals and trophies, after making fun of him and making jokes. The dad tries to get Brody, Taylor, and Karen to join in on the fun. Karen says she has to take Naomi to the doctor's for a shot, and she's terrified and takes the twins with her. Meanwhile the dad tries to bond with twins Brody and Taylor to spend some family time on the ice. Brody gets a little embarrassed when having to wear tights. Brody calls Ray to help with and give support and to help hide him from the kids at school who skate, though he keeps laughing instead at first. 

13
13
"Mama Who Bore Me with Twins"
Jessie1010 and NYCgleek
Danny Zuko
March 9, 2014
113
3.3

The family sits down together on family night and recounts the days each of the five kids were born.

14
14
"Peforming Farts with Twins"
NYCgleek
Mark Taverns
March 16, 2014
114
4.3

Charles signs the family up for a performing arts class. Meanwhile, Alex is sick so he can't go. Brody volunteers to stay home with him so he can get out of the class but taking care of a sick baby turns out to be a lot more work than he expected.

15
15
"A Full Year with Twins"
Jessie1010
Danny Zuko
March 30, 2014
115
3.7

On the twins birthday, Karen decides to have a birthday party for the twins. Brody starts to feel very emotional and plays with the kids and is happy he has two younger brothers. He gives them both presents that are things he use to love.

16
16
"Breaking the Wheel"
Jessie1010
NYCgleek
April 6, 2014
116
4.2

When Rayford starts hanging out with the new girl, Sadie, Brody suspects they are dating and begins to feel like a third wheel. As result, he tries to break the two up but Taylor and Naomi think this is wrong so they try to backfire every attempt he makes at ending their relationship. Meanwhile, Charles starts to worry about Nick and Alex when they refuse to try walking.




Note: This is the first episode to begin airing on the new Sunday night block, rather than it's original Friday time slot.

This marks Sadie's first appearance.

Guest Star: Lilly Marsh as Sadie

17
17
"Guilty Pressure with Twins"
Jessie1010
Shelly Jensen
April 13, 2013
117
5.1

Taylor develops a guilty feeling in her stomach after she accidentally starts a rumor that Rayford's afro is fake. Meanwhile, Karen gets jealous of Charles when he cooks a meal for her that tastes better than anything she's ever cooked for him.

Guest Star: Lilly Marsh as Sadie

18
18
"No Bars and a Missing Phone with Twins"
NYCgleek
Jessie1010
April 27, 2014
118
4.3

Karen is tired of all the electronic uses in the house and decids to cut back, little does she know the kids make a bet 30 bucks each to see who can last the longest and things start to get a little crazy. Meanwhile, Charles teaches Ray about the law business and he lets it gets to his head and gets a little carried away when it comes to solving the case of who broke Naomi's cell phone. It is revealed to be the twins at the end of the episode.

19
19
"Everybody Loves Sadie with Twins"
Jessie1010
Jessie1010
May 4, 2014
119
2.2

Brody wants to become closer friends with Sadie since she's a close friend of Rayford's. Even though she doesn't like her very much, Taylor wants to get to know Sadie as well to see what makes her a friend of Rayford's. Since they both want time with her, Brody and Taylor find themselves fighting for Sadie's attention throughout the episode, and Sadie is revealed to be very good with the twins who also love her. Meanwhile, Rayford allows Naomi to use his hair to practice her hairstyling skills.

Guest Star: Lilly Marsh as Sadie

20
20
"My Dad the Tutor with Twins"
Heatherblast9
Danny King
May 18, 2014
120
3.5

When Brody fails another (whatever subject) test, it's Charles's job to tutor him. Mom is jealous of Taylor always bonding with her dad, and tries to get some girl time with Taylor. Naomi has to deal with the ongoing affections of Kenny, a guy at their school.

21
21
"Got a Secret with Twins"
Heatherblast9
Teala Hart
May 25, 2014
121
4.0

Naomi gains a crush on a guy named Jonas, who turns out to be Kenny's best friend. Brody finds out that Taylor is keeping a secret from him, and tries to find out what it is. Meanwhile, Ray seeks out attention from the Clark parents, since his parents are always so busy.

22
22
"Sooo Superficial with Twins"
Heatherblast9
Teala Hart
June 1, 2014
122
2.2

Naomi tries to prove to Jonas she isn't superficial and shallow by going out with Kenny, all while keeping it a from the rest of the school. Taylor, Sadie, and Ray try to (potty train, teach to talk, babysit) Nick and Alex. Karen and Charles get into a fight about who's boss over the house and family.

23
23
"Super Babies (with Twins)"
Heatherblast9
Marty Tian
June 8, 2014
123
3.6

During nap time, Nick and Alex both have a dream about their family as superheroes. Brody has super speed, Taylor is a karate master, Naomi has the power of invisibility, Ray has an electric hair power, Karen has mommy powers, and Charles is a performing super strength hero who is over dramatic with his defeats. The twins drool acid have stink bombs, and break things in the city.

24
24
"Buddies and Bucks with Twins"
Heatherblast9
Teala Hart
June 22, 2014
124
2.7

When Ray starts to hang out more with the rich kids, Brody stops hanging out with Ray. Meanwhile, Taylor and Sadie realize they have a lot in common. Back at the house, Karen and Charles try to spend more time with the twins, various things keep distracting them and keeping them from staying home with Nick and Alex.

Guest Star: Lilly Marsh as Sadie

25
25
"Traveling with Twins"
NYCgleek
Jessie1010
June 29, 2014
125
4.4

Brody, Taylor, and Rayford get packing to go on a school trip to Vancouver. The only problem is Brody doesn't think he can go when he realizes his school rival will be attending. Rayford tries to figure out a way to bring all of his favorite clothes. Naomi, Charles, Karen, and the baby twins go to amusement park to help cure Naomi fear of rollercoasters.

Note: This is the season finale for season one.

Absent:

Guest Star:
Season 2
The series was officially renewed for a second season on May 21, 2014 by the Wiki Channel. It has been confirmed that Dakota Roberts would be absent for the first few episodes of the season due to filming the Wiki Channel Original Movie, "Too Little Too Late," and reshoots for another film, "James Colon."
Series
#
Season
#
Title
Written by
Directed by
Original air date
Prod.
code

U.S. Ratings (in Millions)

26
1
"Party of the Summer with Twins"
NYCgleek
David Deluise
August 10, 2014
201
4.7

Before Ray heads off to vacation with is family, him and Brody get invited to what appears to be the biggest party of the summer hosted by Seniors of their high school. Things go wrong when Karen needs him to babysit the twins while her and Charles have a romantic vacation. Brody, Taylor, Naomi and Ray all sneak out to the party and make a detailed schedule of who comes back to watch the twins, but when Brody drops the list in the sink they get confused and end up losing the kids at the party. Later, the twins appear at the resturant that Karen is at with Charles and she begins to think that she's going crazy.

Note: This is the season 2 premiere and a part of Summer So Hot, weekend.

27
2
"Growing Up with Twins

"

Mark Taverns
August 17, 2014
202
2.4

With Ray on Summer vacation with his family in Europe. Brody decides to start a lemonade stand with his new little buddy he is mentoring for a "Big Buddy, Little Buddy" program. Things go wrong when his little buddy is being bullied and Brody decides to stand up to him and teach him how to stand up for hisself, with help from Sadie who helps watch the twins,who while he is doing this and gets some help from Karen. Taylor and Naomi agree to go on a father-daughter camping day with Charles where he slowly realizes his daughters are growing up and are not as young as they use to be. 

Absent: Dakota Roberts as Rayford Davenport

28
3
"Baby Showers with Twins

"

Heatherblast9
Mark Taverns
September 14, 2014
203
3.4

When the kids' favorite Aunt, Aunt Katheryn, is four months pregnant, Karen wants to throw a baby shower for her. Naomi and Taylor both want to pitch in because they know what it was like when Karen was pregnant but Brody and Charles want to try helping out too so they can prove to the girls that guys can handle these things. Karen allows both parties to help out. With the girls and guys getting so competitive and Karen busy planning, no one is keeping watch of the twins and when they ruin the cake, ruin the gifts, and mess with the setting the day of the shower, the family has to find a way to save the baby shower.

Absent: Dakota Roberts as Rayford Davenport

29
4
"BDF: Best Dad Forever

"

NYCgleek and Heatherblast9
Cory Cockrhan
September 21, 2014
204
4.3

With Ray in Europe, Charles decides him and Brody haven't hung out enough and in effort to get two know his sun more he starts to hang out with him. He soon begins dressing younger and talking like him. When Brody gets a bad grade on his test Karen is mad but the dad overlooks it and tells her to chill because they are friends and Karen starts to worry Brody is trying to pull a fast one on Charles. Naomi and Taylor try to get a walk in closet and hide it from their parents.

Absent: Dakota Roberts as Rayford Davenport

30
5
"Ray's Back

"

NYCgleek
Mark Taverns
September 28, 2014
205
2.1

When Ray returns from his trip, he notices that Brody and Taylor have a new friend that is trying to replace him. Ray tries to warn Brody but Brody believes that his new friend Winston is the coolest and a honest guy. Ray now tries to prove to Brody and Taylor that Winston is no good and trying to replace him. Things go wrong when Brody is suppose to break dance at a school talent show with Ray and Winston locks him in the janitors closet. Taylor interns at her dad's job and isn't the best employee and her dad wants to tell her without hurting her feelings. Meanwhile tries to take Ray's mind off of everything. Sadie keeps telling Ray he shouldn't worry about the future and they should enjoy their time together, when at the end he realizes Sadie's family is moving out of town and they try to enjoy their time together hat they still have.

Note: Dakota Roberts returns from filming his movie. 

Guest Star: Dennis Krist as Winston.  Lilly Marsh as Sadie.

31
6
"Standing Up with Twins

"

Jessie1010
Shelley Jensen
October 11, 2014
206
3.0

Taylor decides to start working with an anti-bullying organization for her communtiy service hours and after she reads some of the stories that some kids went through, she realizes how bad bullying can be. This opens up Taylor's eyes to society and she sees that bullying needs to be addressed more at her school so she enlists the help of Brody, Ray, and Naomi to help her get a bullying support club passed by the Board of Ed. Karen and Charles try to figure out a way to get the twins to stop fighting over their toys.

Note: This episode airs at a special night of time as being a part of Wiki Channel's Stand Up Week.

32
7
"Halloween with Twins

"

NYCgleek
Mark Taverns
October 19, 2014 
207
2.4

When Brody and Taylor try to get permission to go to a haunted house for college students, that Naomi is going too, Karen and Charles say no. and make them trick-or-treat with the twins instead. Ray's oarents however give him permission to go to the party. Things go wrong when they take turns watching the twins and accidenlty lose Alex. Now they musttry to find them on the scariest night of the year before returning home. Alex ends up being at their cranky old neighbor, Mr. Stevenson's house.

Note: This is the Halloween themed episode.

33
8
"Turkey Fighting with Twins

"

Austin9393 and NYCgleek
Phil Lewis
November 16, 2015
208
3.1

Karen buys a turkey and begins to prepare it before Thanksgiving dinner, but when Brody and Naomi get into a fight over who's sitting where at the dinner table, they end up hitting the turkey and it ends up flying outside the window. They then try to find the turkey before  it goes down the driveway ad into the street, but their mom comes home so they can't look for it. Meanwhile Ray and Taylor try to act in a play to perform in front of preschoolers about Pilgrims and Indiands. But when Taylor's Indian costume is ruining by Ray's Pilgrim fake sword they end up fighting on stage and the play gets off track in a hilarious way. Towards the end the mom finds the turkey with the twins and cooks it, but will Brody and Naomi be able to stop the family from eating it?

Note(s): This is a Thanksgiving themed episode.

34
9
"Bros Before Babysitting with Twins

"

NYCgleek
NYCgleek
November 30, 2014
209
3.4

Karen wants to have an all girl's day with Taylor and Naomi and struggles to leave Brody by himself with both of the twins. Sure he can babysit one kid or even two with help from one of his sisters, but two by himself, that worries Karen. In order to prove that he can take care of both the twins by himself he promises to keep them in good care, but when Ray offers him tickets to see DRAKE perform live. He sneaks and brings the twins with him, but when he loses Nick backstage. Him, Ray and Alex try to sneak back again without getting caught to only find Nick in Drake's personal dressing room.

Absent: Charles Clark

Guest Star(s): Drake as himself. 

35
10
"New Years with Twins

"

NYCgleek
Recky Million
December 14, 2014
210
1.5

The Clark family celebrate new years and look back on some of the hectic and crazy situations they've run into in the last year. Karen tells the crazy story of the night the twins were born.

36
11
"Basketball and Best Friends with Twins"
NYCgleek
Kevin Copleman
January 11, 2015
211
2.5

Brody and Ray want to join the basketball team, and Brody is an excellent player and the co-captain Jared Meyer (guest star Reggie Jackson). But when Jared wants Brody on the team and not Ray because he's not good. Jared tells Brody he made the team, and Brody asks "awesome! when do we star, ray and I are so excited -" and Jared cuts him off saying "-Ray, nah, nah, Brody, Ray's not on the team, we just need you." Brody lies to Ray about being on team. He finds it hard to juggle practice and hanging out with him. At the end of the episode Ray forgives Brody and is cool with him being on the basketball team.

Note(s): Brody joins the basketball team.

Guest Star(s): Reggie Jackson as Jared. 

37
12
"Snitches Get Stitches with Twins

"

NYCgleek
David Deluise
January 18, 2015
212
3.4

Taylor is asked by the principle to help a new boy, Lilly (guest star Allison Felds) out around the school, who has been home schooled his whole life, but when the new kid gets into the wrong crowd and begins stealing and vandelizing school property, she gets help from Brody and Ray in order to get him caught by the principle without actually telling on him to avoid getting ridiculed by their peers. Naomi tries to teach the twins how to ride their tricycles with help from Karen and Charles.

Guest Star(s):  Allison Felds as Lucas.

38
13
"Open Mic Night with Twins

"

NYCgleek
Marla Wiscosh
January 25, 2015
213
3.0

Naomi takes an interest in music, and gets help from some of the kids in her school music group and band to write a song. She is trying to go on stage and perform on an open mic night at a super cool cafe downtown, but when her family finds a flyer last minute and comes down to support her, she fears they'll embarrass her and gets nervous because she never really performs in front of them. Now she Brody and Taylor try to convince her that she can do it. Meanwhile, Brody meets a new cheerleader who tells Brody that he isn't her type. Now enjoying the chase, Brody falls for her a bit and tries to impress her. Taylor tells him that the girl is on her volleyball team as well and her name is Lisa.

Note(s): This episode features music.

Guest Star(s): Karli James as Lisa.

Song(s) Featured: "Hurricane" by Ashley Kettle.

39
14
"Romance in the Air with Twins

"

NYCgleek
Shelley Jensen
February 15, 2015
214
2.8

Brody gets ready for his first basketball game when his teammate Kegan see's Brody's sister Taylor in the stands with Ray and develops a serious crush. Brody tells Taylor he doesn't want her dating one of his friends. Jared becomes nervous that with Brody fighting his sister Taylor and Kegan going out on dates with Taylor, that the two of them are not focused and ready for the first home game. Naomi is set to sing the national anthem at the game. Ray tells Brody he should happy for his sister to have found a guy that's as cool Kegan (because Brody, Ray, Kegan all hang out sometimes). During the half time of the game, Brody gives a speech to the audience about being happy and asks to shine a light on Taylor and asks Kegan to go up and the two of them hug and Brody apologizes to both of them. Naomi then says on stage and says "Okay, I'm happy by brother and sis made up, but I HAVE A SONG TO SING!" the audience gets quite and she says "thank you" and smiles all cute, as if she didn't just yell.

Note(s): Taylor and Kegan begin dating.

Guest Star(s): Reggie Jackson as Jared. Oliver West as Kegan.

Song(s) Featured: Naomi sings the national anthem.

40
15
"Sibling Rivalry with Adults and Twins

"

NYCgleek
Mark Tawain
February 22, 2015
215
3.1

Charles passes up his family reunion due to something his twin brother did and Brody invites over fun Uncle Preston, however Charles is still mad at him for the last time he came over and nearly destroyed the house. Brody now tries to rekindle their brotherly friendship bond, however this goes wrong when Charles talks about how his brother got all the lead parts in plays back in college and how his brother dropped out and left him their alone. Brody gets help from mom Karen to try to rekindle their friendship by getting them both parts in the local community theatre but things get ugly when the two of them try to show each other up. By the end of the episode they both get along fine. Meanwhile, Taylor and Ray try to get the twins involved in some baby modeling as a quick way to get some cash, Ray is only helping to show off his photoing skills. Naomi is busy applying for colleges the whole episode and when she sees them, she simply says "I don't even wanna know."

Note(s): Charles and Uncle Preston are on good terms by the end of the episode.

Guest Star(s): Ray Moore as Uncle Preston.

41-42
16-17
"Bikers with Twins

"

Meg DeLoatch
Jessie1010 and NYCgleek
March 8, 2015
216-217
3.9

The Clark family is going on vacation to a beautiful private beach paradise in Florida where it'll just be the family by themselves spending quality time together, much to the kids' dismay. And things get a whole lot worse when Brody and Taylor get in a fight over what they want to watch on TV – Brody wanting to watch an action flick and Taylor wanting to watch a comedy musical. The fight escalates so harshly that Brody eventually says some regretful words to Taylor and the two run off into separate rooms. But, after Brody falls asleep, he wakes in an environment completely different than what he was in and finds himself in the middle of a musical turf war between two rivaling biker gangs, the Roaches and the Cruisers, with Nick being the leader of the Roahces and Alex the leader of the Cruisers. Brody immediately fits in with the Roaches but he soon surprisingly finds out that Taylor is a member of the Cruisers. The two are forced to battle it out with the two gangs. Being a part of these rival gangs, the two begin to learn that their sibling hood is way more important than they think. Aside from the turf war, Brody meets a cute biker chick who he immediately is smitten to and Taylor falls in love with a boy from the Roaches who looks a lot like Ray from back home. Meanwhile, Naomi gets embarrassed when Charles and Karen crash her surfing lesson with a cute surfer.

Note: This is the first one hour long special of Life with Twins. This is also a musical episode and the first time an original song and big musical number is featured in the show.

Guest Stars: Julia Harkens as .

Song(s) Featured: "Cruisin' For a Brusin"

43
18
"Driving the Car with Twins

"

Shelley Jensen
NYCgleek
March 15, 2015
218
2.2

Brody and Taylor get their drivers license. But with Mom, Dad, and Naomi having their own cars. They tend to fight over who gets to drive Mom's car when she agrees to let them borrow it sometimes when she's not using it. When Ray wants to go to the mall with Brody to check out the new long boards, but Taylor promises to go to the movies with Kegan. They end up agreeing to all drive together since they are all going to the mall and the two end up fighting over the car and end up losing it in a giant parking lot when they get to the mall. 

Guest Star(s): Oliver West as Kegan.

44
19
"The Real Champion with Twins

"

NYCgleek
NYCgleek
April 5, 2015
219
2.8

Things get a little hetic when Brody's basketball champion ship game and Taylor's final volleyball game of the season wind up on the same day, due to budget cuts and a messed up schedule. Now the twins try to bribe the family into to coming to going to their games instead of each others. Naomi's only going because her parents are making her. Meanwhile, Naomi gets accepted into North Seattle University (A fictional school). After the game Brody gets offered a scholarship in full to play for ball for a boarding school in Los Angeles from a talent scout.

Note(s): Naomi gets accepted into Seattle University. Brody is offered a full scholarship to a boarding school in Los Angeles.

Guest Star(s): Reggie Jackson as Jared. Oliver West as Kegan.

45
20
"Growing Up with Twins

"

NYCgleek
Mark Tawiian
April 12, 2015
220
4.1

Naomi gets big news that she gets accepted into North Seattle University, in the news of it all Brody, who is still deciding on whether or not he should attend boarding school keeps asking to borrow her car when Mom and Dad needs theirs so that he can to go to the convention center with Ray for a chance to meet Russell Wilson (the quarter back of the Seattle Seahawks), but when she tells him no because she has to start buying stuff for college next year at the mall with Ciara (guest star Iyana Martin), they get into a huge fight and call each other selfish. Meanwhile, Charles is upset that his baby girl (Naomi) is all grown up. Taylor, secretly hides the fact that she'll miss her sister, and tries to redo her soon to be new room with more of her stuff since Naomi will be gone next school year. Karen tries to keep the family together meanwhile buying new beds for the Nick and Alex's room. At the end of the episode Ray tells Brody he should apologize to Naomi, and Charles gives he a life lesson telling him, that they should enjoy the time they have together now, because once they grow up they won't get it back and he doesn't want Brody and Naomi to end up like him and his brother. Naomi sings at another open mic night later in the episode and is kind of not feeling it because Brody isn't there, but after his dad's talk, Brody feels and shows up, they make up and Naomi sings her song. Later that night. Brody decides on whether he should attend Boarding school in Los Angeles.

Note(s): This is the season two finale. 

Guest Star(s): Iyana Martin as Ciara.

Song(s) Featured: "Hang in There Baby" by Ashley Kettle.
Season 3
On Friday, February 6, 2015 the Wiki Channel officially renewed the series for a third season. It was announced shortly after that show star, Tristan Conti would not be returning to the series and season 3 would now feature Brody's twin sister Taylor who is played by show star Abby Williams respectively.
Series
#
Season
#
Title
Written by
Directed by
Original air date
Prod.
code

U.S. Ratings (in Millions)

46
1
"Fresh Start with Twins"
Phil Lewis
TBA
301

With Brody in boarding school in Los Angeles and Naomi in college, Taylor tries to adjust to the quiet life style at home with just her and the twins. She doesn't get woken up by aruging and breakfast is never running low and she's just isn't use to it, but doesn't want to admit she misses them and Ray tries to help her by hanging out with her. Naomi and Ciara move into their new dorms at Seattle U. They're both looking too meet new people at the dorm's floor longue, but when the longue is boaring and the people there are all too shy or quiet to speak to new people, the girls try to come up with a schemes in order to get the dorm crowd going for the school year. They try a bunch of ideas until Ciara comes up with a pep rally idea and Naomi sings. Meanwhile, Charles and Karen try to take the twins to preschool, but it appears to be harder for them than it actually is for Nick and Alex.

Note(s): This is the season 3 premiere. This is also the first episode without former lead Tristan Conti though the opening theme has not changed. It is revealed that Jared (Reggie Jackson) is also in boarding school with Brody.

Guest Star(s): Iyana Martin as Ciara.

Song(s) Featured: "Undateable" by Ashley Kettle.

47
2
"Gone Bro Gone with Twins"
NYCgleek
Pixie Whisper
TBA
302

Ray begins to miss having his best bro around, so Taylor tries to hang out with him more and help him out. Meanwhile, Naomi agrees to babysit the twins while Karen supervises Charles in making sure the new nursery gets set up.

Note(s): Taylor and Ray share a moment, but quickly ends with Karen walks in with snacks.

48
3
"Coming of Age with Twins"
NYCgleek
Shelley Jensen
TBA
303

Taylor and Ray are helping prepare for an upcoming school dance. Taylor and Kegan decide to go to the dance, Taylor feels bad when Ray's date isn't able to show up and promises to go with Ray, but has trouble explaining it to Kegan, so tries to be at the dance with both of them without the two of them finding out. Meanwhile, Naomi helps her mom redocarate the kitchen, which turns into more trouble than it's worth.

Note(s): Ray begins to develop feelings for Taylor.

Guest Star(s): Oliver West as Kegan.

49
4
"Momma Mia with Twins"
NYCgleek
Amira Mirlan
TBA
Karen wants help from Taylor to enter a mother daughter cooking competition, but realizes mom isn't doing as much as for fun as she is to win and beat her arch rival Kimberly, Taylor wants to have fun with her mom while trying to win. Meanwhile, Naomi agrees to babysit the twins at her dorm for a couple of hours in order to impress a guy who loves little kids and wants to become a vet. Ciara tries to help her hide the fact that she has kids in their dorm from their RA. Things get worse when Taylor confuses the twins.
50
5
"TBA"
NYCgleek
Mario Santos
TBA
"TBA"
NYCgleek
Adam Zenn
TBA
"TBA"
NYCgleek
D.B. Woodside
TBA




Note(s):

Guest Star(s):
International Release
Contracts
Life with Twins Season 3 Contract
---
Original number of episodes: 27
Season extension amount: N/A
Total episodes: 27
Specials: N/A
If the series creator goes inactive Jessie1010 will take over.
If the back up users go inactive, the show will end where ever it left off, with the first 3 seasons available on Netflix.
Filming Dates: N/A
Notes:


Threads
:
1
Community content is available under
CC-BY-SA
unless otherwise noted.