Lilly & Abby



Members

Years Active

2008-present

Affiliations

Label
Lilly & Abby
is an upcoming American pop duo. The band consist of Wiki Channel stars, Lilly Marsh and Abby Williams. Each of them play a equal role in the duo. They are currently signed to Wiki Records.
Lilly Marsh : best known for her role as Marianne Birchwood in James in Hollywood. She plays guitar and vocals. She focuses on the songwriting elements, but both usually write songs together.
Abby Williams : best known for her role as Taylor Clark in Life With Twins. She plays keyboard and does vocals. She focus on the performance elements.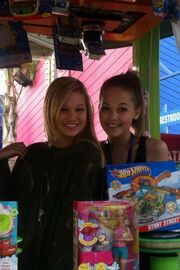 After joining a performing arts school, Lilly, at age 5, choose the guitars as her instrument of choice to learn, while Abby took piano lessons around the same age. They didnt meet each other intill 2008 while shooting a commerical, When they met, they instantly clicked and basically became best friends overnight. They alsa connected musically and were always singing & jamming with each other. They soon decided to form a duo group. 
After about a couple months with different names, they finally settled on just being called Lilly & Abby. While they continued their acting careers, they got signed to a upcoming label, CountDown Records. They released their EP, You'll Never Know in 2011, which did pretty good worldwide. 
In 2013, Abby was casted for the Wiki Channel series, Life With Twins . She was the co-lead along with Tristan Conti . Wiki Records heard about Lilly & Abby and asked them to come for an audition. Lilly & Abby were stuck with a choice, either turn down the audition of the lifetime and take the safe path with CountDown Records, or dropped their contract and take the chance of a lifetime. After taking some advice from their families and Abby's tv twin, Tristan Conti  who was in a similar situation with Blonde . They went for the audition.
Wiki Records
loved them and decided to sign them right then and there. Shortly after, Lilly landed the role as the older sister in Wiki Channel's James in Hollywood. 
Since then they have released a single called Had Me @ Hello that they performed on James in Hollywood for BEE My Valentine Week.
On June 4, they released their single, Call It Whatever which Abby mainly lead the vocals on.  They also sang a song for the Stand Up Ep, which both its the song itself and the music video premiered on Wiki Channel during Stand Up Week. After the success of their first two singles off Wiki Records they released their debut album. Hearts & Harmonies , which Lilly explains is the style they want to put it out for people. The two are currently still working on music together while tending to their individual acting projects on Wiki Channel.
Community content is available under
CC-BY-SA
unless otherwise noted.