Maxi Annison-Caren Felix (born December 1, 2005) known professionally as Maxi Anne is an American singer and dancer currently signed to Wiki Records.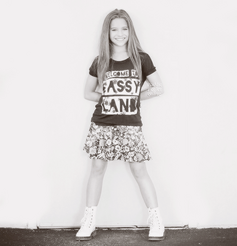 Early Life
Edit
Maxi Anne was born in San Diego, California to Clara and Rick Felix. Maxi took an interest in singing when she was only 5 years old. She loved listening to teen pop music and loved the stars on Disney Channel. She told her parents about her love for the craft and they soon started sending her to voice lessons. Maxi soon told her parents she wanted to be a superstar when she was 6 so they got her an agent and coach to help her with her talent. Maxi began taking singing, dancing, and acting lessons.
2013-present: Kidz Bop Junior, signing to Wiki Records
Edit
When Maxi Anne was 7 years old, she landed a job with the new Kidz Bop Junior franchise, Kidz Bop for young kids 3-7 years old, where she sung a few songs for the album and was in a few music videos. Kidz Bop Junior was discontinued however directly after the first album's release.
After taking lessons and looking for jobs, Maxi Anne was to land a meeting with Wiki Records in early 2015. Wiki Records absolutely loved Maxi's vibrant personality and sass. Most of all, they loved her for her personality. While Maxi's singing will need some work for her to become a serious singer, they believe that if they give her the right autotune, some fun songs, and fun promotion, she'll appeal to a wide range of young girls as well as catch the attention of an older audience for her cuteness and unstoppable performance skills.
Personal Life
Edit
Maxi Anne has a nine month old younger brother and absolutely loves playing with him. Some of Maxi's musical inspirations are Sienna Forbes and Chesney Ramirez.
Community content is available under
CC-BY-SA
unless otherwise noted.