This is an adopted actor.
Melody Charme

Biographical information

Full Name

Melody Kasira Charme

Nickname(s)

Mel

Gender

Female

Birthday

October 24,1995

Age

20

Hometown

Carson City, Nevada

Nationality

American

Professional Information

Occupation(s)

Actress

Alias

Melanie Charm
Melrose Charme

Manager

Years Active

1996-Present

Fan Group Name

Melody's

Affiliations

Wiki Channel Credentials

Shows

Movies

TBA

Roles

Sarah

Signature
    Melody Kasira Charme (born October 24, 1995) is the twin sister of Harmony Charme. She is best known for her role as Sabrina, the twin sister of Serena in Serena & Sabrina. Her sister, Harmony played the role of Serena. Melody is also known for her role as Sarah Steinerg in the supernatural series, Mystic from 2010 to 2014.
Biography
Edit
Early Life
Edit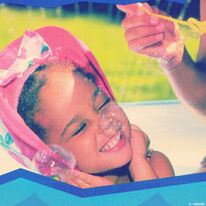 Melody was born the youngest of the twins. She has an older sister Harmony Charme who is her twin. She unlike her twin tends to have curly hair, her usually brown but sometimes black. The twins were born to Adele and Elphiram Charme in Carson City, Nevada on October 24.1995. Melody described herself as a quiet child in her childhood and described Harmony as the noiser one.
Melody and Harmony are twin identical sisters born on October 24th, 1995 in Carson City, Nevada. They both started acting at a young age due to their parent's financial problems. They first starred in kid clothing commercials and then made guest appearances on Kid Tv shows like, The Fun-Fun Zone, The Wild Cats. They are best known for their television series, Serena & Sabrina starring Melody as Sabrina Logan and Harmony as Serena Logan. Serena and Sabrina was very popular among children ages 8 to 12. Finally it came to an end in 2008 which had put them out of work but just for a couple months.In 2010 she got the role as Sarah Steinberg in Mystic, a vampire lost in the human world who is in danger. In Episode,D is for Doppelgängers, Melody's Twin Harmony guest stars as the evil doppelgänger of Sarah. And in "Evil Sarah is back?" She returns once again as evil Sarah.Melody also guest starred in Saffron her sister's tv show. Melody played Meadow Willer, the celeb look a like of her sister's Character, Dracy Crabgrass. In early 2011 to mid 2012 she was cast into the series How to Rule as Nia Thompson a minion of The Queen Bee, Laurie Tyden. In the series after Laurie loses her cool, Nia & Raylee ditch her and still remain popular while Laurie continues to hang out with the geeks and is deemed no more popular.
Personal Life
Edit
Melody is friends with actor, Fansis Lanson and likes to spend her time doing charity for the people who have less than her.Melody often says "It's better to give then to get". She says she gets along very well with her sister and the two share an apartment.She is currently attending a private university and is a sophomore. Both Melody and Harmony have thought about becoming singers and have great voices but they are not sure if they should become an artist.
Filmography
Edit
| Year | TV Show/Movie | Role |
| --- | --- | --- |
| 1996 | Little Rockabye | Baby Clementine |
| 1996-2001 | Meet the Middletons | Mireya Middleton |
| 2001 | Get Up & Go | Sophie |
| 2001  | Fatally | Callista |
| 2002 | Blackmailed | Gabby Winson |
| 2003 | Pocket Full of Posies | Posy Damines |
| 2003-2008 | Serena & Sabrina | Sabrina Logan/(sometimes)Serena Logan |
| 2004 | Bimbi | Bimbi |
| 2010 | People These Days | Amaris Caverly |
| 2010-2014 | Mystic | Sarah Steinberg |
| 2011 | Nothing But Hatred | Samantha Foster |
| 2011-2013 | How to Rule | Nia Thompson |
| 2012 | Saffron | Meadow Wills |
| 2014 | Dramatically Average | Sarah |
Community content is available under
CC-BY-SA
unless otherwise noted.