Nerd Girls no longer airs on Wiki Channel.
Nerd Girls



Teaser logo

Genre:
Comedy
Created by:
Jessie1010
Starring:
Olivia Staton
Opening Theme:
TBA
Country of origin:
United States
Original language(s):
English
No. of seasons:
TBA
No. of episodes:
TBA
Production
Executive producer(s):
Jesse1010
Camera setup:
Multi-camera
Running time:
22 minutes
Production company(s):
Wiki Company
Production Location(s):
Los Angeles, California
Show Location(s):
Rumson, New Jersey
Broadcast
Original channel:
Wiki Channel
Picture format:
480i (SDTV)


1080i (HDTV)

Audio format:
Stereo
Original run:
TBA
Nerd Girls is a brand new half hour Wiki Channel buddy-comedy pilot that will follow two personality identical, super smart best friends. The pilot was ordered by Wiki Channel on January 2, 2015, created by Jessie1010 and was announced to star Wiki Channel rising star, Olivia Staton.[1] The pilot filmed in late January/early February 2015 and was picked up in late March. The series began production in April 2015 for a summer release on Wiki Channel. In May 2015, Wiki Channel announced that the series would premiere on Wiki Channel June 15, 2015 at 8:30 pm/7:30 pm central.[2] In the July 2016, after one successful season airing on Wiki Channel, creator Jessie1010 announced that Nerd Girls would be moving to a new channel for the rest of its run.
Nerd Girls centers around Kelsey and Kristie, two quirky best friends, both extremely smart and a bit on the nerdy side. The two have always been super close and are nearly exactly the same, clicking like magnets. Ever since elementary school however, Kelsey and Kristie were the geeks of the school, always made fun of for their wits. Now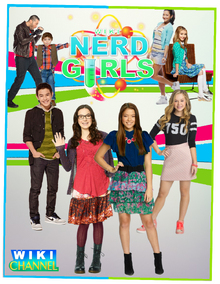 entering high school, Kelsey and Kristie are ready for a change after being accepted into Lennford Academy, a high school for the cream of the crop intelligence- much like Kelsey and Kristie themselves. Kelsey and Kristie are very excited to finally go to a school where they will be accepted and where they can fit in. However, Lennford doesn't turn out to be as smooth a sail as they thought it'd be. The two find themselves facing the challenges of the difficult curriculum, competitive students, and being separated from each other- something that completely goes against their lifestyle as Kelsey and Kristie. But even though Lennford is more strenuous and demanding than their old school, the girls know they can take on the challenge if they stick together. Whether they're experimenting in the science lab or tripping in the halls, Kelsey and Kristie are learning something new every step of the way, making the best of this next chapter of their lives together. With big opportunities ahead of them, crazy situations to get into, and their very strange personalities, this quirky pair of best friends is in for a bumpy ride. The series is created by Jessie1010, creator of hit Wiki Channel shows such as G.I. Jennings and High School Story.
Olivia Staton and Veronica Rodriquez as Kristie Kim and Kelsey McQueen - Kelsey and Kristie are two funny, quirky, witty, energetic, and extremely smart best friends. They consider themselves one and the same and have always clicked like magnets ever since they met in the first grade. For years they have done everything together. When they can't be together or do something together, they use their think a like brains to decide what the other would do. The two share a love for school, learning, thinking, and innovation. For the majority of their life, Kelsey and Kristie have been labeled as nerdy but they however see it as a good thing. Kelsey and Kristie like to embrace it and are proud to be called nerds. Kelsey and Kristie start their new journey at Lennford with excitement and open arms.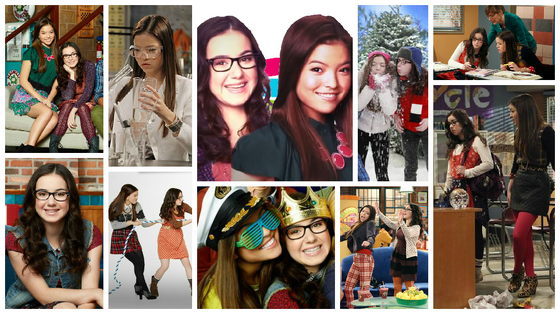 However, in a dog eat dog competitive world, Kelsey and Kristie see that there are challenges ahead that will test their friendship. But, they know that if they stick together, they'll be able to take on anything! While the two click like magnets, they do have some differences. Kelsey is the awkward and clumsy one who can be a bit spontaneous when it comes to organization. Kelsey also tends to stress a lot and thinks a whole lot before she does. Kristie on the other hand is the more carefree one of the two. She is extremely positive, is also a bit of a perfectionist which sometimes backfires, and secretly she loves fashion. These two best friends are complete nerds but they have a lot of confidence as well as wits and when they're together, nothing can stand in their way.
Brienna Holt as Mandy - Mandy is the fashionista of Lennford. She is one of the only girls in the school who actually cares about fashion and looking pretty. Mandy is also super sweet, very smart, and very fashionable. She also cares for her friends, whether it's helping them out of a situation or fixing a major fashion mishap, Mandy is always there to help them up. She welcomes Kelsey and Kristie to Lennford with open arms. She is also best friends with Blake.

Riley Sun as Blake - Blake is a very good looking boy who attends Lennford with Kristie and Kelsey. But despite his amazing looks, Blake is secretly not very confident in himself. He is internally shy and tries not to show it but tries to put on a confident front. Blake also good friends with Mandy and his parents are good friends with Kristie's parents. When they were young kids, they had a very competitive relationship and they continue their competition when they meet again at Lennford.

Alexis Thomson as Drew - Drew is one of the smartest girls at Lennyford who is very competitive. She is a bit tense and neurotic because she's so worried about people topping her scores but she also is a good manipulator. She has forever disliked Mandy and now she is very skeptical of Kristie and Kelsey to make sure they don't top her scores. Drew is a year younger than most kids in her class because she skipped a grade in elementary school but she doesn't let her age define her as a student and let's people know that.
Sloane Belicion as Shay Kim - Shay is Kristie's protective older sister. Shay is very mature and sometimes feels that Kristie acts too childish. But she overall loves her sister and would do anything for her. Shay has been attending Lennford ever since middle school and expected that somewhere along the way, her sister would join her. She tries to give her her space at school but still keeps an eye out for her and Kelsey. Every morning, Shay drives Kelsey and Kristie to school with her.

Axel Day as Nat McQueen - Nat is Kelsey's little brother. Nat normally doesn't say much at all. He is extremely quiet but his actions speak much louder and, having a very curious mind, he is always getting into something behind the scenes. He is pretty close to his sister and with her constantly busy with school nowadays, he struggles to find something to do. Nat starts off as a main character in the beginning of season 1, from episode 1 to episode 10, and then is made a recurring character for the remainder of the series.

Zoran Korach as Finns - Finns is Kelsey and Kristie's crazy young adult friend. Finns is good friends with Kelsey and her family and that's how they know him. Finns is super zanny and childish but always gives fantastic advice. They go to him when they need help.

Tamar Singh as Syed "Sunny" - Syed, known as Sunny, is a student at Lennford Prep, casually very smart and popular but doesn't flaunt it. Sunny is very social, a friend to all. He tends to gossip often which annoys a lot of people. Sunny is a friend bouncer- he bounces to different friend groups. One day he'll hang out with Mandy and Blake and then the next day you'll see him making friends with Drew. This causes many people not to exactly trust Sunny because he knows almost everyone in the school and they don't want him telling their business. Sunny is known to be a gossip and spread things around school, since school is so easy for him, it's how he entertains himself. Kelsey and Kristie, while they find him to be a nice guy to be friends with, make sure to steer clear of telling him too much.

Elaina London as Johanna - Johanna is a student at Lennford Prep and is a good friend of Shay. Johanna is a very frantic girl and tends to stress a lot, even over the smallest of things. Shay is a lot calmer than Johanna so the two kind of balance each other out, even though Johanna can get on Shay's nerves with her constant worrying. Johanna is seen in the pilot episode of the series and appears in various episodes after.

Season
Episodes
Originally aired (U.S. dates)
Season premiere
Season finale
1
TBA
June 15, 2015

TBA
Series
#
Season
#
Title
Written by
Directed by
Original air date
Prod.
code

U.S. Ratings (in Millions)

1
1
"The Nerd Girls"
Jessie1010
Shelley Jensen
June 15, 2015
101
5.5

Quirky, energetic, extremely smart, and very close best friends Kelsey and Kristie arrive at their brand new school Lennford Prep, an elite middle and high school for cream of the crop students. Excited to take on the new educational thrills coming their way, nerd girls Kelsey and Kristie embrace their new environment with open arms. The two meet very welcoming students such as Mandy and Blake and even one ultra competitive student, Drew. However, only on the first day, Kelsey and Kristie find struggles adjusting to the school such as the fast paced classes, strict teachers, and most of all, the fact that the two have almost no classes together. Just when Kelsey and Kristie think that their entire year will be spent separated, they end the day with a class they'll share together, Geometry Honors. In class finally together, Kelsey and Kristie are able to work their brains like they usually do and exhibit an impressive performance. Right before class ends, Kelsey is told to present a problem on the board. But, unlike how Kelsey has presented previous math problems in her life, their teacher Mr. G. does not allow her to present with Kristie. Without Kristie by her side, nervous and caught off guard, Kelsey freezes up and fails to do the problem, embarrassing herself in front of the entire class. After the incident, Kelsey no longer wants to go to Lennford. But the next morning, Kristie gives Kelsey a virgorous pep talk, concluding that even though they may not be able to do as much things together at Lennford as they could at their other school, they can't quit and they have to believe that all of the thinking they've done together all their lives was worth something. Plus, working together is never a bad thing at all, in fact, great things can come out of it. With that, Kelsey and Kristie decide to give Lennford another shot, this time with more confidence and a plan to show everyone that two heads are better than one.

Note(s): This is the premiere episode.

Recurring Cast: Zoran Korach as Finns, Elaina London as Johanna

2
2
"On the LennNet"
Jessie1010
Shelly Jensen
June 22, 2015
102
5.0

Kelsey and Kristie are having trouble in some of their classes being apart from each other so they each find themselves going to another friend to talk to who is in those classes, Mandy for Kelsey and Blake for Kristie. Mandy shows Kelsey ways she can handle class without Kristie and Blake shows Kristie ways she can handle class without Kelsey (also while rehashing awkward moments they had in the past). However, when Mandy and Blake introduce Kelsey and Kristie to the school's social networking site for students and faculty, The LennNet, the two become addicted to talking to each other through the network. Meanwhile, Shay overhears Drew talking bad about the girls and begins keeping a close eye on her to make sure she doesn't mess with her sister. And Nat, having nothing better to do at home, begins watching a drama series online with Finns.

Recurring Cast: Zoran Korach as Finns, Elaina London as Johanna

3
3
"Kristie See Kristie Do"
Jessie1010
Phil Lewis
June 29, 2015
103
4.2

Kristie's history teacher, Mrs. Pacifini, seems to absolutely hate her and gives her such a hard time. However, she seems to adore Mandy. To gain Mrs. Pacifini's liking, Kristie tries to do exactly everything Mandy does. Meanwhile, when Kelsey learns that Drew read the same summer reading book that she read and then gives a better presentation in class than what Kelsey had put together, Kelsey fakes a sickness and goes to the nurse so she'll have time to go home and put together a better presentation. But when she doesn't have time after school to do much to it, the next day she ends up scrambling to fix it at any chance she gets, panicking about it.

Guest Star: Katherine Von Till as Mrs. Pacifini

Absent: Axel Day as Nat McQueen

4
4
"Problems in Permanent Marker"
Jessie1010
Matthew Jacobs
July 6, 2015
104
4.5

When Kelsey and Kristie are having some trouble with a topic in their Geometry class, Mr. G. offers them time after school to spend in his room working on problems on the board. Since Mr. G. will be in a meeting, Kelsey and Kristie will be by themselves and Mr. G. tells them he'll just give them a key to the room to lock up when they're done. Kelsey and Kristie take up on the offer, ecstatic that Mr. G. trusts them so much to stay in the room alone. Kelsey and Kristie stay after that day and, not wanting to break his trust, are very careful to keep everything as neat as possible. The girls do a bunch of practice problems on the board and everything turns out really well. But, just as the two are ready to wrap up, they realize that the entire time they were writing on the board in permanent marker instead of dry erase. Now, Kelsey and Kristie must figure out a way to clear the board before Mr. G. returns and sees the big mess. Meanwhile, Shay and Johanna work on a Physics project that involves them driving.

Absent: Alexis Thomson as Drew, Axel Day as Nat

Recurring Cast: Elaina London as Johanna, Zoran Korach as Finns

5
5
"Lunch Class"
Jessie1010
Adam Weissman
August 3, 2015
105
3.7

With Kelsey and Kristie constantly using lunchtime to do schoolwork together, Mandy notices that they're not even noticing the social hub that's around them. From there, Mandy decides to show the girls how to use lunchtime as social hour rather than a school hour. But, the more social the girls become, the more they get in on the school gossip and pretty soon, the two meet the school's biggest gossiper Syed, also known as Sunny, who they end up liking a lot. Kelsey and Kristie are warned to be careful what they say to him but by then it's too late and pretty soon Kelsey and Kristie begin hearing their names in untrue stories at lunchtime.

Recurring Cast: Tamar Singh as Syed "Sunny," Elaina London as Johanna

Absent: Axel Day as Nat

6
6
"The Kelsey and Kristie Crowd"
Jessie1010
Chris Poulos
August 3, 2015
106
4.0

Kelsey and Kristie plan their Friday afternoon after school to not do any schoolwork and to just hang out in Kelsey's room while watching their favorite anime show, Sartu Zartinian. But, their plans are disrupted by Nat who is in an energetic mood after having a great day at school and just wants to play with the girls. Kelsey and Kristie try to get Nat to calm down but they can't seem to and when he invites Finns over, things get even crazier. Meanwhile, Mandy and Blake start a campaign on LennNet for a famous motivational speaker to come to their school and speak but their plans are disrupted when Drew speaks badly about the campaign on her profile and turns people against it.

Recurring Cast: Zoran Korach as Finns

7
7
"Dinner Not for Those Two"
Jessie1010
Victor Gonzalez
August 3, 2015
107
3.6

With Blake and Kristie going to school together, Blake's family decides to invite Kristie's family over to their house for dinner. Kristie decides that she's going to bring Kelsey along with her to do the dinner. But, the day of the dinner at lunch, Blake and Kristie get into a heated argument over enviromental issues and end up refusing to talk to each other. As result, at the dinner, Kelsey finds herself split between her two friends with Kristie trying to keep her to herself, away from Blake, and Blake trying to do the same. Meanwhile, Shay tries hard to butter up to Blake's dad to get an internship at his job.

Absent: Brienna Holt as Mandy

8
8
"Faith, Trust, and Paper Dust"
Jessie1010
Shelly Jensen
August 10, 2015
108
3.5

Kelsey has been doing very well in her and Kristie's Biology Honors class and her teacher Ms. Norgan absolutely adores her. One day after class, she approaches her with an offer for a one week internship for over winter break. Kelsey is so excited, but she tells her she unfortunately won't be able to take the offer since she'll be working at a winter camp at her church during that time. However, Mrs. Norgan only laughs, telling Kelsey that a true scientist doesn't believe in God and that she needs to put facts over "myths" if she wants to succeed. Now, Kelsey is conflicted about what Mrs. Norgan said, is it true that should she needs to abandon her beliefs or can you be into science while still having faith? Meanwhile, when Blake is given Drew's History paper to peer edit for homework and Drew is given Kristie's, Kristie tries to get him to judge her harshly since she's sure Drew will do that to her, but Blake gives Kristie a hard time with it and jokes with her about how great Drew's paper really is. When enough becomes enough, Kristie decides to steal the paper from Blake and peer edit it herself.

9
9
"#NerdProblems"
Jessie1010
Shelly Jensen
August 17, 2015
109
3.2

After putting together their accounts to make and use one conjoined account, Kelsey and Kristie try to get more followers on LennNet. When Kelsey posts a funny post using the hashtag #NerdProblems, the hashtag quickly goes viral and everyone on LennNet is using it, quickly bringing Kelsey and Kristie more followers. But when kids start using the hashtag to share inappropriate remarks against Lennford, Kelsey and Kristie are held responsible and for the first time are sent to the principal's office. Meanwhile, Shay asks her parents to let her go to a concert for once but the only way she can do so is if she brings her Physics grade up from a C to an A+.

Recurring Cast: Elaina London as Johanna

Absent: Axel Day as Nat

10
10
"Where's My A Plus?"
Jessie1010
Bruce Leddy
August 24, 2015
110
3.4

Kelsey and Kristie are so happy to see that they've been given the same History project from their two different teachers because now they can work on it together. After school they work on it together and hand it in the next day. But, when Kristie gets a lower grade than Kelsey on the project, and they basically did the same thing, Kristie still feels like Mrs. Pacifini is picking on her so, after getting some advice from Finns and with the help and support of Kelsey, Mandy, and Shay, she anonymously reports her to the office. Meanwhile, Nat gets a hold of Kelsey's phone while she's at school and starts texting weird things to Blake.


Note(s): At the end of the episode, Kristie learns that Mrs. Pacifini only wants to push Kristie and that's why she's so hard on her.

After this episode, Axel Day, who plays Nat, is demoted to the recurring cast from the main cast.

Recurring Cast: Zoran Korach as Finns, Katherine Von Till as Mrs. Pacifini

11
11
"Look Who's At the Top"
Jessie1010
Eric Dean Seaton
September 14, 2015
111
3.7

Progress reports release and a list on The LennNet of the top 20 students of the class so far shows that Drew had been bumped down as the top student by none other than Mandy. Kelsey, Kristie, and Blake are so happy for her but when Drew claims that something must be wrong and asks for them to check again, the four friends suspect that Drew is going to rig the list and try to stop her at all costs. Meanwhile, students who didn't make the top 20 are able to privately check their ranking on their profile. Out of the 120 students in their class, when Blake finds out he's ranked 93, he begins to feel really insecure about himself and his inconfidence begins to show. Kelsey notices and comforts him.


Note(s): At the end of the episode, it is revealed that Mandy isn't really ranked the top student and it was a mistake. Sunny is ranked the top student however, Mandy was ranked #2 and Drew fell all the way to #12.

Recurring Cast: Tamar Singh as Sunny

12
12
"Kelsey and Kristie's New Partners"
Jessie1010
Rick Nyholm
October 3, 2015
112
3.1

When Kelsey and Kristie's seats are moved in Biology class, they must go from sitting next to each other to sitting next to other people, giving them new lab partners. But the two struggle with adjusting to their very different new partners. Meanwhile, Mandy, Blake, Drew, and Sunny are enlisted to fix Lennford's computer software when the LennNet crashes. Shay starts her internship at Blake's dad's job and immediately enjoys when she meets her cute co-intern.

Recurring Cast: Tamar Singh as Sunny

Guest Stars: TBA as Deeka, TBA as Anthony, TBA as Aries

13
13
"Drew's Got the Beat...?"
Jessie1010
Eric Dean Seaton

November 23, 2015

113
3.83

Because Drew is such a strange person, there has been an ancient rumor going around throughout Kelsey and Kristie's freshman class that Drew doesn't like music at all. Kelsey and Kristie however believe everyone likes music and don't believe that Drew is an emotionless robot like everyone says she is. To prove their colleagues wrong, they decide to do an experiment, playing music for Drew throughout the day and trying to get her to show enthusiasm towards it. However, the two have trouble getting Drew to budge. Meanwhile, Shay is told by her guidance counselor that if she wants to get into a good college she'll have to join some clubs but Shay has trouble finding the right fit for her.

Note(s): This is a special episode part of November's Got the Beat!.

Special Guest Stars: Large Cluster as themselves

Songs Featured: "Salute" performed in the episode by Large Cluster

Recurring Cast: Elaina London as Johanna

14
14
"Santa Claus On Trial"
Jessie1010
Eric Dean Seaton
December 13, 2015
114
3.61

Kristie's English class is tasked by their teacher to justify whether the actions of Santa Claus, him sneaking into people's house and spying on them, are good or bad and then write an essay about it. The next day in class, they will have an open debate on the subject. Kristie chooses to write for the side supporting Santa Claus. The night before the debate, Kristie is over at Kelsey's house with Mandy and Blake writing her essay. Blake who is in her class is writing his essay, too. But when Blake who is writing against Santa Claus gets into an argument with Kristie on the subject, it's not long before all four of them get into a heated debate themselves, Kelsey and Kristie supporting Santa Claus and Mandy and Blake against him. Pretty soon, the four have all busted out their school laptops and look up information to support their claims, having an organized Christmas debate right in Kelsey's living room.

Recurring Cast: Tamar Singh as Sunny, Zoran Korach as Finns, Axel Day as Nat

15
15
"It's a Girl Party!"
Jessie1010
Shannon Flynn
February 1, 2016
115
3.6

Drew's relationship with Kelsey and Kristie isn't getting any better and when their fighting goes a bit too far, Kristie comes up with the idea to host a sleepover with Kelsey and invite Drew so they can bond. The two host the sleepover at Kristie's house and both Drew and Mandy come. The night starts off awkward and with a lot of tension. But when Mandy starts doing Kristie's nails, the four girls begin to bond over girly things and they end up dancing half the night away to bubblegum girly pop music. The music reminds them of their childhood and puts the four girls in a joyous, childlike, girly state of mind. But, just as things are going well, drama ensues when Kelsey accuses Drew of using her pink strawberry jam lipgloss without asking and Mandy refuses to let Kristie use her glitter sparkle hair barrettes. Meanwhile, Shay gets very confused when she notices her sister and her three friends are now acting like 5 year old girls.

Note(s): This episode is a part of Girl Party Weekend.

Song Featured: It's a Girl Party by Maxi Anne

Recurring Cast: Zoran Korach as Finns, Axel Day as Nat

16
16
"MagicNotes & Magic Style"
Jessie1010
Phil Lewis
February 8, 2016
116
3.3

Kelsey has a load of work on her, so much that she forgets to read three chapters of a book for her English class. Sunny suggests to her the website MagicNotes that gives summaries of chapters of books, saying she can use it and say she read it. Kelsey doesn't think it's right to use but ends up using it anyway. The website works great for Kelsey and she's able to perfectly discuss the book in class that day. However, Kelsey feels guilt for not actually reading the book and must face her truth. Meanwhile, Mandy helps Kristie with her clothing style and the two begin to grow a bond over fashion. Nat and Finns try to teach themselves chess and enlist assistance from Blake.

Recurring Cast: Zoran Korach as Finns, Axel Day as Nat

17
17
"Spelling Girls"
Jessie1010
Adam Weisman
February 15, 2016
117
3.0

Mandy begins to act strange around everyone, very agitated and upset. Kristie and Kelsey are very confused by her recent strange ways but they soon learn from Blake that Mandy is acting that way because when she was little, she was so close to winning the town's Little Alecs Spelling Bee but lost and every time of year when the spelling bee comes back around, she gets upset. In order to help Mandy shake her post traumatic stress from the bee, Kelsey and Kristie put together a spelling bee at Lennford and have Mandy take part, telling her it's her one chance to redeem herself. However, the girls' plan is put to the test when Drew, a phenomenal speller, enters the competition, just to make Mandy fail. Meanwhile, Blake receives heat from his parents when his grades continue to slip.

Recurring Cast: Tamar Singh as Sunny, Elaina London as Johanna

18
18
"Sartu Doesn't Go With Pashmina"
Jessie1010
Shelley Jensen
March 7, 2016
122
2.9

The movie of Kelsey and Kristie's favorite anime show Sartu Zartinian is finally up online for international fans to watch and Kelsey is very excited. She asks Kristie to come over the next day and watch it with her. But Kelsey's excited spirit is soon crushed when Kristie confesses that she never really was all that big a fan of Sartu and she was planning on going to Mandy's house to style some new fashion looks. Kelsey tells Kristie it's okay but deep down she is hurting. She instead watches it with Blake. While at their two different plans, Kelsey and Kristie both feel bad about the situation and wonder about their relationship that they always thought was oh-so-perfect.

Recurring Cast: Zoran Korach as Finns, Axel Day as Nat

Absent: Alexis Thomson as Drew

19
19
"War of the Study Groups"
Jessie1010
Victor Gonzalez
March 21, 2016
121
3.1

Kelsey and Kristie put together a study group after school in the Lennford library including Mandy, Blake, Sunny, and many other students. Their group, which they name "Study Fresh," is advertised all over the LennNet. Comfy chairs are provided, snacks, and soothing classical music. But when Drew finds this out, she puts together her own study group on the opposite side of the library and trying to outdo Kelsey and Kristie. When Kelsey and Kristie notice, they try to outdo Drew and they soon find themselves going back and forth trying to have a better study group. However, the more they try to outdo each other, the less people are interested in the groups and the less people participate.




Note: In this episode, Kelsey and Kristie finally confront Drew and ask her why she always feels the need to be better than everybody else. Drew tells them that she believes in order to be the best at anything you have to be the best at everything. She begins to talk about something that she learned in her childhood but then she stops herself and tells them it's none of their business.

Recurring Cast: Tamar Singh as Sunny

Absent: Sloane Belicion as Shay

20
20
"Finns Goes to School"
Jessie1010
Bruce Leddy
April 4, 2016
118
3.4

When Kristie and Kelsey learn that Finns never finished high school, they work it out with their school principal to be able to get Finns basic tutoring at Lennford so he can fulfill his credits and get his diploma. For the next few weeks, Finns will be riding with Kelsey and Kristie to school and back home. However, the three of them face issues when Finns has trouble fitting in and Kelsey and Kristie are made fun of for taking care of an adult. Meanwhile, Nat has trouble finding something to do after school with Finns busy with school.

Recurring Cast: Zoran Korach as Finns, Tamar Singh as Sunny, Axel Day as Nat

21
21
"Failed by the Fax"
Jessie1010
Phil Lewis
April 18, 2016
119
3.2

Mr. G. asks Kelsey and Kristie to help him with a lesson he's teaching at Princeton University over the weekend and the two are thrilled they were chosen to help. But, when last minute handouts for the lesson are faxed to the wrong printer at Princeton University, due to the mistake of Kristie, just an hour before they need to present, they find themselves on a wild goose frenzy trying to find the right printer on the campus before Mr. G. begins. Shay looks at a digital map from her laptop and guides them on where to go over the phone. Meanwhile, Blake and Mandy take the place of Kelsey and Kristie and switch off between babysitting Nat and tutoring Finns.

Recurring Cast: TBA as Mr. G., Zoran Korach as Finns, Axel Day as Nat

Absent: Alexis Thomson as Drew

22
22
"Hashtag Lol"
Jessie1010
Shannon Flynn
May 9, 2016
120
3.5

A video of Kelsey and Kristie tripping over each other in the hallway goes viral on the LennNet and the two become the talk of the school. While Kelsey is embarrassed, Kristie likes the exposure because it brings attention to her fashionable new style. Meanwhile, Finns starts a new clique at Lennford.

Recurring Cast: Zoran Korach as Finns

23
23
"The Sister Menders"
Jessie1010
Adam Weissman
May 16, 2016
123
3.6

Shay and Kristie get into a major fight after Shay goes a little overboard trying to protect Kristie and accidentally embarrasses her. Shay doesn't feel bad at all and thinks that Kristie needs to be protected while Kristie doesn't think she needs the protection her sister gives her. With a busy day ahead and too much to do, Shay and Kristie's parents hire Kelsey and Blake to mend the fight by the end of the weekend and make them happy sisters again. Meanwhile, Mandy agrees to be Finns's dance partner for a street dance contest where she unexpectedly finds Drew competing as well.

Recurring Cast: Zoran Korach as Finns, Axel Day as Nat

24
24
"The Cheat Sheets: An Hour Long Event"
Jessie1010
Eric Dean Seaton
May 23, 2016
124
3.9

Finals for the year are zooming right around the corner and everyone is cramming for them. Kelsey, Kristie, Mandy, and Blake are having study sessions for the big tests to make sure they do the best they can. To help them study for their Geometry final, Blake obtains elite study guides from online for them to use. The study guides work great and the four use them. The following week they begin to take their finals and everything begins on a pretty successful path- that is until, the day before their last exam, the Geometry exam, Principal Loid announces that the school's computer system has detected a hacker who retrieved the Geometry final and photocopied it. Lennford has a zero tolerance policy for cheating and anyone caught doing it gets kicked out of the school. Until the hacker is found, the Geometry exam is postponed. All of the students are buzzing over who they think could have done it and are eager to turn them in so they can get their final over with and begin summer break. When Sunny finds out about the study guides Blake found, he tells Principal Loid. To everyone's surprise, the guides turn out to be the exact test. Blake swears he didn't hack the system and simply found it online. Nevertheless, he is expelled and the math exam is put back in place. Knowing Blake has to be innocent, Kelsey, Kristie, Mandy, Shay, Nat, and Finns band together to clear his name and get him back into Lennford all while Kelsey, Kristie, and Mandy simultaneously re-study for the Geometry exam.

Note: This is an hour long episode and the season finale.

Recurring Cast: Zoran Korach as Finns, Axel Day as Nat, Tamar Singh as Sunny
Nerd Girls was first pitched to Wiki Channel by Jessie1010 in April of 2014 as The Nerd Girls. Jessie1010 loved the idea of two quirky girls leading a show, as opposed to the usual perfect girl with a perfect life. He also loved the idea of having a show that centered around the academic part of school and its hardships. The channel loved the idea and embraced it with open arms. The title of the show was soon changed to Nerd Girls.
Kelsey and Kristie were the first characters written for the show. Their friends were originally written as Mandy and Alex. Alex's name was soon changed to Blake. A twin for Mandy named Brandi was also considered but did not make it to the pilot. Shay, Kristie's sister, was then added and to add more boys to the cast, Nat, Kelsey's brother, was written in. Lastly, Finns, the cooky next door neighbor of Kelsey and friend to the girls, was added to add variety to girls' lives.[3]
Jessie1010 really wanted the cast to be something special and he knew about Wiki Channel actress Olivia Staton, known for the hit movie Too Little Too Late and What's Up With...?. He wanted her to be apart of the show. Ahead of casting offered her the role of Kristie which she excepted. She also was given the position of an executive producer so she could have creative involvement. The show was finally picked up to a pilot in January 2015.[4] Veronica Rodriquez was cast to play Kelsey amongst a group of other talented actors cast to play the other characters (including Alexis Thomson from James in Hollywood). The pilot was filmed in February and picked up to a series in March for a summer 2015 premiere.
The series began promotion in May 2015. Wiki Channel used the hashtag #NerdGirlsBeLike to promote the show, including it in online memes posted by the channel and promos. The memes would include funny captions to pictures from the show and the promo videos included clips from the show, showing what a "nerd girl" would say. On May 29, Wiki Channel held a special programming events titled "Meet Volivia" which introduced Staton and Rodriquez as the stars of Nerd Girls. The night included special airings of both of the girls' Wiki Channel movies, the two talking about the show and themselves, and special clips from Nerd Girls. The show then premiered on June 15, 2015 to 5.5 million viewers after the premiere of Temple Run.[5]
In the July 2016, after one successful season airing on Wiki Channel, creator Jessie1010 announced that Nerd Girls would be moving to a new channel for the rest of its run, following up with a deal he got with another company. Reruns of the show are set to air for the rest of the summer of 2016 and then the show will be pulled from Wiki Channel's lineup completely.
Nerd Girls Season 1 Contract
---
Original number of episodes: 14
Season extension amount: 10
Total episodes: 24
Specials: 1
If the series creator goes inactive Silly1! will take over.
If the back up users go inactive, the show will be ended where it left off.
Filming Dates: April 13 to May 22 filming first 7 episodes. June 1 to July 10 filming next 7 episodes.
August 3 to September 4 filming 5 episodes, September 14 to October 9 filming 5 episodes.
Notes: N/A


Threads
:
1
2
Community content is available under
CC-BY-SA
unless otherwise noted.