!
The manager of this actor is inactive.
Rayelle

Biographical information

Full Name

Rayelle Raquel Landcaster

Gender

Female

Birthday

09/01/95

Age

18

Hometown

Miami, Florida

Nationality

American

Professional Information

Occupation(s)

Model, Actress, Singer, Dancer

Manager

Years Active

2002-present

Affiliations

Wiki Records


Official Website

 

Wiki Channel Credentials

Shows

Movies

Roles

Myra Jade
Skylar Venice
Layla Brandon

Signature
   Rayelle Raquel Landcaster (born September 1, 1995) known publicly as Rayelle, is an American actress, singer, model, and dancer. She has modeled for DKNY, Vogue, and is Wiki Records recording artist as of 2014. She broke out as Skylar Venice in the hit wiki channel original musical film, "East Meets West", and currently is best known for her role as Myra Jade in the Wiki Channel original action-comedy, "Ackerman Agent". Rayelle also plays fashionable-gammer, Layla Brandon in the WCOM, "Pretty Geeky". 
Rayelle Landcaster was born Septmeber 1, 1995 to her parents Richard Landcaster who is african-american and brazlian decent, while her mother, Lisa Landcaster, who is caucasion. 
2002-2005 Early Beginnings: Children's Place modeling, Commerical Debuts.
At the age of 7, Rayelle began modeling for Children's place until 2004. She also did commercials for toys such as Barbie, Monopoly, and My Little Pony. In 2005 Landcaster began modeling for children's clothing stores nationwide.
2007-2011 Acting Breakthrough: Recurring Roles, DKNY.
In 2008, Rayelle began acting in recurring roles on ABC Family, and Disney Channel shows. She later began modeling for DKNY in 2010. She was the youngest model to walk for their showcase in 2011.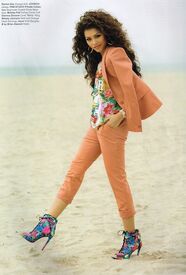 2012-present Wiki Channel Fame: "Teens" Cancellation, New Music.
In 2012 Landcaster auditioned for the lead role of  Nicole Ryan in the Wiki Channel original series "Teens". The series was highly promoted as being a version of the hit sitcom "FRIENDS" for a younger generation. The series was later apart of the Wiki V.I.P. collection. Her character Nicole Ryan was one of the first 6 featured dolls to be released as a part of the collection. 

The series shot their first pilot in summer of 2013. On December 19th the pilot was picked up and was sent to Wiki Channel, and on January 10th, 2014 it was announced that Wiki Channel decided not to continue with the series. Due to wiki not picking up the series, the Nicole Ryan doll was shelved.
In early 2014 she was signed to Wiki Records.
It was reported that in early 2014, she recorded a comedy-action pilot for the Wiki Channel. The pilot was later picked up and titled "Ackerman Agent", in which she plays a lead role character Myra Jade, a train spy who transfers to a new school in order to work with a new spy. The show first premiered in October on the 25th after the movie, ZAYN.
Landcaster, later became a break out star in the Wiki Channel musical, "East Meets West" which starred Chesney Ramirez, in which Raylle played Skylar Venice. She also played Layla Brandon in another Wiki film titled, "Pretty Geeky" which aired the following year.
Rayelle released her first single titled, "Replay" on October 5th, 2014 through Wiki Records .
| Show | Role | Notes | Year |
| --- | --- | --- | --- |
| Ackerman Agent | Myra Jade | Lead Role, WCOS | 2014-present |
List of singles, with selected chart positions and certifications
Title
Year
Peak chart positions
Album
US
POR

[4]

"Pom Poms "
2014
—
22
East Meets West: Soundtrack
"Replay"
2014
10

—

TBA
"—" denotes releases that did not chart or were not released in that territory.
Community content is available under
CC-BY-SA
unless otherwise noted.