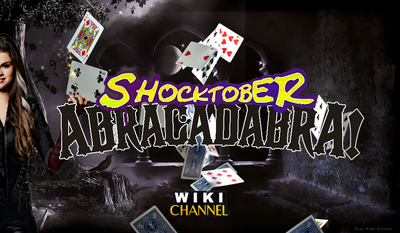 Shocktober: Abracadabra!
is a month long programming event on
Wiki Channel
, taking place for the entire month of October 2015 for the Halloween season. The event is the successor of 2014's "Shocktober" event, this time being a more hyped version with the addition of a magic theme, based off the Halloween Wiki Channel Original Movie,
Sleight of Hand
. The event is hosted by the mysterious character from the movie Mikayla Mon De (played by
Sienna Forbes
) who will introduce airings and do bits in between. The month features Halloween episodes of Wiki Channel shows, a series premiere, new music, a special Halloween segment, and finally the premiere of
Sleight of Hand
.
Shoctober is back all month long for the month of October and this year, Wiki Channel is adding a little magic touch! Throughout the entire month catch new Halloween themed episodes of your favorite Wiki Channel shows! You even can look out for some spooky short Halloween segments where you can learn how to be a magician yourself! There's a show premiere, new music, and the premiere of the wickedest movie of the year, Sleight of Hand! And to top it all off, all month long will be hosted by your favorite wit-, um magician, Mikayla Mon De from Sleight of Hand! Dare to keep your TV sets on Wiki Channel because this is a month you don't want to miss. Who knows, maybe a bunny will hop out of your screen.
Premieres of Wiki Channel Halloween episodes.
Sleight of Hand movie premiere
"Alakazap...?" a comedic short series featuring Wiki Channel stars performing and teaching magic tricks.
Premiere of NCFA Academy
Sleight of Hand: Just Say the Magic Word, a thirty minute behind the scenes feature of Sleight of Hand
Community content is available under
CC-BY-SA
unless otherwise noted.