!
The manager of this actor is inactive.
Spencer Raye Jackson

Biographical information

Full Name

Spencer Raye Jackson

Nickname(s)

Spencer-Raye, Spence, RJ

Gender

Female

Birthday

02/09/99

Age

15

Hometown

Boston, Massachusetts

Nationality

American

Professional Information

Occupation(s)

Singer, Actress

Manager

Years Active

2007-present

Affiliations

Wiki Channel Music Group
Wiki Records

Official Website

 

Wiki Channel Credentials

Shows

Roles

Miranda Johson

Signature
   Spencer Raye Jackson (born February 9, 1999) also known publicly as Spencer-Raye, is an American actress, and singer. She's best known for her role as Miranda Johnson in the Wiki Channel original series, Miss Good Girl.
Early Life
Edit
Spencer Raye Jackson was born on February 9th, 1999 in the city of Boston, Massachusettess, to former rock and roll band member Artie Jackson (from the 1960's band VAMP) and his wife Laura.
2007-2009 Early Beginnings: Broadway, America's Got TalentEdit
At the age of 8 Jackson was casted in the broadway musical "13" as young Josephina in 2007. She did a 3 month produciton of the showcase and later went on to perform in America's Got Talent in 2008. She finished in the top 10 before the season ended in 2009.
2011-2012 Performing Live: VAMP Reunion TourEdit
When Spencer was 12 she began touring with her father for his band's special one year reunion tour. She was the opening act for 14 of his 33 shows. She later in 2012 began opening for opening acts such as Fifth Harmony, Mindless Behavior, and Emblem3.
2013-2014 Acting Debut: Wiki Channel, Miss Good Girl, and Future MusicEdit
During the summer of 2013 Spencer Raye Jackson audition for the role of Miranda in the new wiki channel original series "Miss Good Girl", a new series which was created by Ausllyrock209 and developed by NYCgleek. She originally auditioned for the part of Peyton, but later was called back to read for Miranda. Jackson auditioned against 100 other hopeful girls for the part and won the role.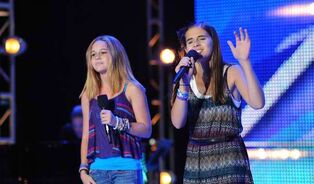 The show first aired in 2014. Early 2014, Spencer announced she would be working on new original music with a new sort of rock, alternative sound revealing that she would be working with some amazing producers from the Wiki Channel.
Spencer Raye Jackson and co-star Jessica Willows at the 2013 Wiki Upfront event.
Jackson's first single, "Ain't It Fun" was released Friday, July th 2014 through Sinco and Wiki Records.
2015- present Rise to Fame: Season 2 of "MGG" and Debut album.Edit
In early 2015, Jackson's debut album, 'Tragically Beautiful' was officially released through Wiki Records, along with the hit single, Fire N Gold.
It was also this year her series, "Miss Good Girl" began airing it's second season.
Filmography
Edit
| Show | Role | Notes | Year |
| --- | --- | --- | --- |
| America's Got Talent | Herself | Top 10 | 2008-2009 |
| Miss Good Girl | Miranda Johsnon | Lead Role, WCOS | 2014-present |
Discography
Edit
Community content is available under
CC-BY-SA
unless otherwise noted.