Style is the debut album released by Wiki Records recording artist Sapphire Bannister. The album features 12 songs, and the deluxe version includes three more. Sapphire says, "There is a lot of meaning behind each of the songs, and I really think all my fans out there will enjoy the album. I worked really hard putting it together, day and night." The album is set to release April 16, 2016.
Background
Edit
Bannister signed to Wiki Records in October 2015. She released her first single, Bad Blood, that month. She later released two other songs, Wildest Dreams and Blank Space that year. At that time, Bannister had already recorded a some songs for the album. Two months after the release of her second single, Bannister's manager pitched the album to Wiki Records, since most of the songs had been recorded and finalized. The album was approved, and production for the album officially finished in February 2016. The album received the release date of April 16, 2016.
Bannister said in an interview with Clevver News, "Most of the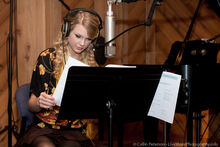 songs in the album come from my diary, which include events from personal and past experiences I've been through growing up and being a teenager. I put a lot of thought and hard work into each and every song on the album, and I really hope that everyone out there loves it." Bannister also mentioned having collaborated with big name songwriters like Max Martin and Shellback on some songs.
Track listing
Edit
Deluxe Edition Edit
Community content is available under
CC-BY-SA
unless otherwise noted.