Summer So Hot Weekend
is a Wiki Channel summer event taking place in August 2014. As part of the weekend, new episodes of each Wiki Channel series will air all weekend along with the season premieres of three show:
Luke & Lauren
,
Kitty Couture
, and
Life with Twins
. The weekend will also feature a series preview of Wiki Channel's newest upcoming comedy,
G.I. Jennings
. Additionally, a new summer theme movie will air each night after the episode premieres and summer music videos, from artists including
Crystal Diane
,
Tristan Conti
, and new Wiki Records singer
Jazlyn Mitchell
, will air. The theme song for weekend will be sung by Wiki Records artist,
Sienna Forbes
, titled, "Summer's Not Hot."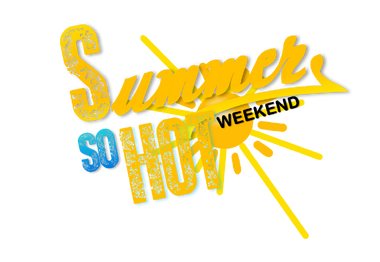 Celebrate your so hot summer with Wiki Channel! All weekend we have BRAND NEW episodes of Wiki Channel shows and NEW SEASON premieres of THREE shows! Along with this awesomeness comes MUSIC VIDEO premieres and MOVIE premieres! And even more exciting, we're giving you a series preview of a brand NEW Wiki Channel show, coming to you soon! So please, come join us! The summer's not hot without you!
Friday, August 8
Edit
8:00 - Miss Good Girl, "Mr. Good Guy" NEW EPISODE!

Joey discovers Miranda is Miss Good Girl.

8:30 - Luke & Lauren, "TBA" SEASON 2 PREMIERE!
9:00 - Shark Tale, MOVIE EVENT!

When a son of a gangster shark boss is accidently killed while on the hunt, his would-be prey and his vegetarian brother both decide to use the incident to their own advantage.
Saturday, August 9
Edit
Sunday, August 10
Edit
The theme song for this weekend is "Summer's So Hot" sung by Wiki Records', Sienna Forbes! Additionally, we'll be featuring music videos from NOT Another Happily Ever After stars, Crystal Diane & Tristan Conti, with their new duet, Good Time! Lastly we're introducing you to a new Wiki Records singer, Jazlyn Mitchell, and she'll be debuting her new single, Summer Forever!
Community content is available under
CC-BY-SA
unless otherwise noted.