Production
Executive producer(s):
Silly1!
Camera setup:
Single-camera
Running time:
22- 23 minutes
Production company(s):
Wiki Channel Productions

Production Location(s):
Los Angeles, California
Broadcast
Original channel:
Wiki Channel
Original run:
March 29, 2015 - present
The Family Plan is a family oriented pilot for Wiki Channel. The show was picked up in late November. It aired a series preview on March 27, 2015, and the pilot aired on March 29, 2015.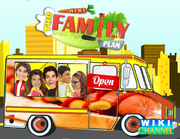 The Acosta and Williams families have always been enemies. The two das both run rival food trucks and travel across the country, with their kids. All though the parents can't stand each other, the kids actually like each other, and have secret friendships and relationships. Each episode will focus on the kids and parents getting in and out of trouble making money, and keeping secrets.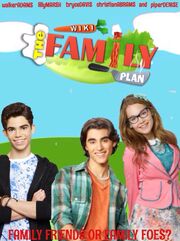 About the show, Silly1! said: "Were bringing a whole new twist on your typical family show. We decided to explore, and a lot of people don't love in a home, and they travel around in tv. We decided to incorporate this into family business, and this is how this series came to be. We also have Wiki Channel regulars, Lilly and Bryce, and I think it will be an interesting twist to see them as completely different characters."
Characters
Edit
Series Overview
Edit
Series
#
Season
#
Title
Written by
Directed by
Original air date
Prod.
code

U.S. Ratings (in Millions)

1
1
"Episode 1"
Silly1!
Silly1!
March 29, 2015
101
4.98
The Country-Cross annual cook-off is currently in attendance, and the Acosta family is trying to beat the Williams family, and try to break their record. Andrew has been noticing that Liana has been unenthusiastic about beating the Williams. He goes snooping and finds out that Liana is dating Harrison Williams, which is practically betraying the family. Meanwhile, wanting to get evidence on the family, Marcus goes snooping around, and discovers a terrible secret about the William's that disqualifies them from the competition, however, he is caught by Victoria, who will do everything in her power to make sure that Marcus does not leak their secret.
2
2
"Episode 2"
Silly1!
Silly1!
April 12, 2015
102
4.13
When both families arrive in a small town in Mississippi, Andrew meets Amanda, a smart girl who's family owns a local breakfast joint. He is immediately smitten by her, and tries to get her attention in multiple occasions. Liana and Harrison try to escape their families, but come up with no luck.

Guest Cast: Serena Avalon as Amanda

3
3
"Episode 3"
Silly1!
Silly1!
April 26, 2015
103
3.65
Still in Mississippi, Victoria finds out about Amanda and Andrew and decides to use it against him. Harrison and Liana manage to escape their parents, and spend some to together, but then discover that a picture of them holding hands has been put in the newspaper and they try too keep it away from their parents.

Guest Cast: Serena Avalon as Amanda

4
4
"Episode 4"
Silly1!
Silly1!
May 3, 2015
104
3.86
When Liana and Victoria decide they need time away from the boys, they put their differences aside and decide to have a girls day, however when the boys find out, they decide it would be funny to mess with them.
5
5
"Episode 5"
Silly1!
Silly1!
May 10, 2015
105
3.3
The Acosta's start loosing money when everyone keeps going to the Williams truck instead of theirs, but can't figure out why.
6
6
"Episode 6"
Silly1!
Silly1!
May 23, 2015
106
4.41
The Acosta's and Williams' visit a city in Wyoming, where a family who owns a Karaoke café works. There café is in shambles, and although the family doesn't like to ask for help, they're daughter, Charlotte asks the Acosta's to help them with their business. However, when Mr. Williams finds out about this, he does everything in his power to stop this café from grabbing the attention in town.

Guest Cast: Lisha Jane as Charlotte

Note: This episode is a part of Guess Star Weekend, but aired on a different day due to scheduling errors.

7
7
"Episode 7"
Silly1!
Silly1!
June 7th, 2015
107
3.1
When the Williams' head down to West Virginia, Victoria realizes that her old pen pal, Eddie lived there and wants to meet up with him, but he keeps making excuses not to se her. Meanwhile, Andrew and Marcus are having a hard time working the truck without Liana and their dad.

Guest Cast: Carter Spruce as Eddie

Missing: Lilly Marsh as Liana Acosta, Anthony Starke as Martin Acosta

8
8
"Episode 8"
Silly1!
Silly1!
June 22nd, 2015
108
3.79
When The Williams' family's business seems to be doing worse than usual, Mr. Williams' orders Harrison to go steal the family recipe from the Acosta's. However, when Harrison tells Liana about his father's plan, she gives him a fake recipe, which makes their food taste even worse.

Missing: Bryce Davis as Marcus Acosta

9
9
"Episode 9"
Silly1!
Silly1!
July 12th, 2015
109
2.75
Martin takes Liana's phone away, so she inlists her brothers to get of from her dad before he can look in it, but she also struggles when her dad will only let her phone down when they are working. The Williams' family stove breaks, so they have to learn to try to sell food that can't be cooked.
10
10
"Episode 10"
Silly1!
Silly1!
July 19th, 2015
110
3.88
Victoria starts to stop hanging around everyone, and seems to be locked up in her room all day, at the point of where she doesn't even come out for work. In fear for his sister, Harrison asks Liana to have a girl to girl talk with Victoria about whats going on, but she wont even tell Liana.

Missing: Walker Adams as Andrew Acosta and Bryce Davis as Marcus Acosta

11
11
"Episode 11"
Silly1!
Silly1!
August 2nd, 2015
111
3.22
Victoria seems to finally come out of her room, but she seems to only be talking to the Williams' dad. Andrew decides to do some snooping around, and he seems to discover something about Victoria that is bad for her mental health. Marcus doesn't feel as if Liana and Andrew are good older siblings, so he spends the day with Harrison and tends to like him better, sending more time with him. This gets on Liana's nerve, so she tries to do stuff to prove to Marcus that she can be a good older sibling.
12
12
"Episode 12"
Silly1!
Silly1!
August 23rd, 2015
112
4.4
Marcus is given a chance to compete on Mr. Chef Junior, an all boys cooking competition show. However, a girl accidentally gets tied into the mix. Marcus overhears the judges saying that they are planning on eliminating her first to keep the all boys thing in order, but Marcus decides to make his food so bad that they would be forced to eliminate him instead of her.

Guest Cast: Amera Columbia as Jamie

Missing: Piper Denise as Victoria Williams, Christian Abrams as Harrison Williams, and David Chisim as Victor Williams

13
13
"Episode 13"
Silly1!
Silly1!
September 13th, 2015
113
TBA
Andrew starts to become overly stressed on a online school exam, and the rest of his family is noticing that its worsening his work ethic and school performance. Victoria, going through the same exam and similar problems, decides to help him, but trouble arises when they know they are going to have to keep this from both of their parents.
14
14
"Episode 14"
Silly1!
Silly1!
September 20th, 2015
114
TBA
Liana starts to question if a secret relationship is too much for Harrison to handle after she spots him multiple times with another girl.
15
15
"Episode 15"
Silly1!
Silly1!
October 17th, 2015
115
TBA
Andrew decides to start up an online video blog to help promote the business and to kill the extra time that he has. However, he accidentally shows a family recipe in the video, causing many people worldwide to have access to a signature dish that is probably the most famous dish in the Acosta's food truck.
16
16
"Episode 17"
Silly1!
Silly1!
October 30th, 2015
117
TBA
When a magic act shows up in the town that they are currently in, a mysterious magician makes the men go wild and the girls jealous, causing a lack of food business. However, not falling for her trap (because he's too young), Marcus finds a blog written by a mysterious teenager names Danielle who has gone through a similar situation.

Guest Stars: Sienna Forbes as Mikayla Mon De

Note: This episode was for the Shocktober special, and one of the only two aired out of order. This is because of scheduling errors.

17
17
"Episode 16"
Silly1!
Silly1!
November 15th, 2015
116
TBA
When a talent manager comes around, Andrew wants to try his new DJ skills to try to make it big in the food and music industries, or in his words, become the best at two of america's favorite things. However, a singer & songwriter named Matt Lanza also enters the competition, who apparently is one of the best musicians in the area. Feeling like he can't compare himself to this guy, he almosts backs out of the competition, but his family encourage him otherwise.

Performances: Let's Be Birds by Matt Lanza

Guest Stars: Matt Lanza as Himself

Note: This episode was for the November's Got The Beat Special, and is one of the only two aired out of order. This is because of scheduling errors.

18
18
"Episode 18, Part 1"
Silly1!
Silly1!
December 12th, 2015
118
TBA
Everytime Liana would ask about her mom, her dad would immediately find a way to get himself out of the conversation. The only thing she had to that had any trace of her mom was a family recipe. However, when she starts getting a lot of memories from her mom when she was younger, she starts to want to know for herself where her mom is and where she might be hiding. Meanwhile, when Victoria and Andrew find out secret hidden feelings for each other, they know that they must conceal them, for the sake of their siblings relationship.

Note: Liana will find records of her mom online, and contact her. She will never be able to hear her mom, however, she says the name of the food truck. At the end of the episode, you can see a silhouette of someone looking up the next destination of the food truck and making plans to go there.

19
19
"Episode 18, Part 2"
Silly1!
Silly1!
January 3rd, 2016
118
TBA
At their next stop in Dallas, Texas, the kids find out that their mom is there, and coming to see them, however, their father must not find out. The boys' don't really like her all that much, especially because she wasn't there, but Liana will never want to leave her side. A picture of Liana and Harrison kissing gets out to Martin and Victor, and they are enraged. In a heap to protect themselves from getting in further trouble, Liana and Harrison break up, but Harrison doesn't tell Liana his dad kicked him out for betraying trust. After hearing the news about the break up, her mom gives her an extreme offer - come live in Texas, with her.

TBA as Vanessa Kingman/Acosta

Note: In this episode, Harrison is legally and adult, so his dad no longer has to take care of them Victoria and Andrew distance themselves from each other even more in fear of their parents. At the end of the episode, Liana says yes to living with her mom full time and the episode ends with Liana about to break the news to her dad.
Series
#
Season
#
Title
Written by
Directed by
Original air date
Prod.
code

U.S. Ratings (in Millions)

19
1
"Aftermath"
Silly1!
Silly1!
July 6th, 2016
201
TBA
After Harrison got kicked out and Liana left, the Acostas and the Williams are trying to adjust to the drastic change in their normal lives. Harrison, still in Texas, manages to pick up a waiter job at a local restaurant and earn just enough to stay on his feet. Meanwhile, Liana starts to have doubts about her mom after discovering that the main reason that her mom wanted her to live with her was so she could get child support from her father.

Recurring Cast: Anthony Starke as Martin Acosta, David Chisim as Victor Williams, TBA as Victoria Williams

20
2
"Hi, My Name Is"
Silly1!
Silly1!
July 13th, 2016
202
TBA
When Victoria and Andrew start to become even closer to each other because their siblings are gone, they discover that what romantic feelings they had were a need to be close to someone else, not an attraction to one another. Meanwhile, Lianas mom suggests finishing off her senior year at a public school.

Recurring Cast: Anthony Starke as Martin Acosta, David Chisim as Victor Williams, TBA as Victoria Williams

Note: This is the first episode of the second season.

21
3
"SOS"
Silly1!
Silly1!
July 20th, 2016
203
TBA
After her mom starts acting weird and doing things Liana neve thought possible, she reaches her breaking point and calls her dad to come get her. Meanwhile, Harrison is having trouble getting the money to be able to stand on his feet.

Recurring Cast: Anthony Starke as Martin Acosta, TBA as Victoria Williams

Missing Cast: Piper Denise as Victoria Williams

22
4
"Hi, My Name Is"
Silly1!
Silly1!
July 27th, 2016
204
TBA
When Andrew cmes back to Texas to come pick Liana up, he manages to meet up with Harrison, whos doingvery porly, but tries to hide it. Meanwhile, Marcus starts to become the hit of the Acosta family kitchen when he starts to take over cooking for his brother and father.

Recurring Cast: Anthony Starke as Martin Acosta, TBA as Victoria Williams

Missing Cast: Piper Denise as Victoria Williams
Community content is available under
CC-BY-SA
unless otherwise noted.