Production
Executive producer(s):
Austin9393
Running time:
22 minutes
Production company(s):
Wiki Channel
Production Location(s):
Wiki Center Studios
Hollywood, California
Broadcast
Original channel:
Wiki Channel
Picture format:
480i (SDTV)
1080i (HDTV)
Audio format:
Stereo
Original run:
June 10, 2016
"Trails" is a series that follows Courtney Fortune as she receives a car with its own mind. The pilot was ordered by Wiki Channel on February 18, 2014, created by Austin9393. The pilot was publicy announced on July 21, 2015.[1] It was announced on August 8, 2015 that Wiki Channel had picked up the show for a 2016 premiere.[2] The show will premiere after the Wiki Channel Original Movie My Martian Wedding on June 10, 2016. On June 2, 2016 Austin9393 released the official poster of the show.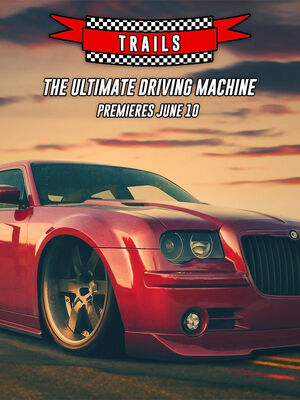 The series follows Trails, a Volkswagen Beetle, and Courtney, the youngest member of the Fortune family. Trails is put in David's, Courtney's father, garage after not being useful. Courtney got Trails after getting her drivers license, but that was before she knew that he was way more than not useful. After getting the car she found an unopened envelope inside Trails that said: "Please take care of him. Whatever your problem, he'll help you find the answer." After once being something that could be destroyed, Trails was way better looking now after he got a heavy makeover. However, when Trails takes Courtney against her will to the garage where her boyfriend Wyatt works as a mechanic, she stumbled across the thought of selling him or not. After a suggestion from her bestfriend, Kelly, Courtney has now decided to start with professional racing. How will Courtney deal with a car that has its own mind and racing?
Main cast
Edit
Season 1
_________________________________________________________________________________________
_________________________________________________________________________________________
_________________________________________________________________________________________
Series overview
Edit
Season 1 of "Trails" was picked up by Wiki Channel.
No.
Ep.
Title
Written by
Original air date
Prod.
code
U.S. viewers (millions)
1
1
"Pilot"
Austin9393
June 10, 2016
101
The show starts with a picture collage of Courtney when she was little showing pics from her childhood (with cars and her grandfather etc.) After that, the camera rolls over Courtney's room where she is sitting in her bed looking at a necklace her grandfather gave her before he passed away. After she has looked on it for a while, she says: "I miss you." Shortly later, her brother jumps in the room and asks Courtney if she is ready for her drivers license test today. She quickly hides the necklace and joins Rae for breakfast downstairs. At the breakfast table, we get introduced to her family which includes her brother Rae, her father Bob, and her mother Teresa. Later, Courtney gets ready for her drivers license test. She doesn't get it the first time, but the second time she does well. When she arrives home, the family stands outside their garage congratulating Courtney with her drivers license. Her father, Bob, is excited to give Courtney a brand new car. When he opens the garage door, he shows Courtney her brand new car. Courtney loves the car and says thanks. She wants to take a test ride and drives to her best friend, Kelly. There she talks with Kelly about normal stuff and then Courtney gets a text message from her boyfriend, Wyatt, which is as follows: "Meet me at Daytona in 15. See you there." She tells Kelly she has to go and drives to Daytona. There we get introduced to her boyfriend, Wyatt, who is a mechanic. He tells Courtney she should take an impromptu (street) race and they invite some people to do the race with them. The next day it's ready for the race. Everything goes as it should, until the end. Right before the finish line, someone comes driving onto the court and gives Trails a big push into the wall and there the screen turns black and the episode ends.

Note: This is the pilot episode.

2
2
"102"
Austin9393
June 24, 2016
102
TBA

Note: This is the first episode to air on it's original time slot.
References
Edit
Community content is available under
CC-BY-SA
unless otherwise noted.