| | |
| --- | --- |
| | Shipping, Rumors, and Music |
Hello Weebly Fans! I've noticed new stuff for the past few days and things that have been happening right now. Also, single releases and new music from your favorite celebs.
---
Julia & Tristan or Crystal & Tristan
---
When will Aiden & Olivia, Michael & Karoline, and Daniel & Liberty happen?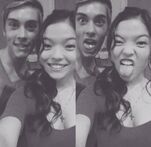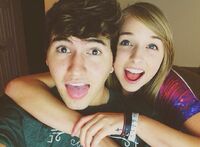 All of us love these adorable celebs together but we all are wondering when will they ever admit they like each other. Rumors are saying they all are secretly dating but do you believe that?
"I think all of them are secretly dating. Some of them are posting pictures of each other and they just don't wanna say anything. They wanna hide the fact that they all like each other. I ship all of these but I think they wanna hide that fact that they are dating so paparazzi's don't go all over them."
Woah! Where did this come from? Who said it? Is it true they are dating but don't wanna admit it? We keep you updated with this.
---
2 Wiki Channel Stars Have New Releases
Chesney Ramirez & Olivia Staton have released new singles. Check out Chesney's new single, Caught Up In You and Olivia's Messing With My Head. Also, buy there new singles and Jasmine Byran's EP on iTunes. I promise you guys you will love it! Here what they said about there single:
Chesney Ramirez: "My new single Caught Up in You is a song that's basically about being so in love that you've become blind to what is really going on around you and you don't even know what to do anymore. It's almost like an out of control obsession. This song is definitely one of my favorite songs on my upcoming album. I helped write a bit of it and it was so much fun! Oh and I have a music video coming out for it soon so look out for it!"
Olivia Staton: "I wrote it with my best friend back in New York, when we wanted to become the New Taylor Swift's. It's basically about the first (and only) boyfriend I've ever had. The song is more Soft Pop, and that's my style."
---
New Music
This month we had tons of great music releases. Now we have these singles left and we want you to choose which you are excited to be released. Are you happy? Vote now!
What single are you most excited for?
---
It was my first Weebley. If it's not that good I understand. Comment below what you thought of it and if I missed anything.
~Panda
Community content is available under
CC-BY-SA
unless otherwise noted.