| | |
| --- | --- |
| | The Pilot is an online reporter that reports information based news regarding entertainment. |

"Kitty Couture" Renewed for Season 3; Valencia gets a new job.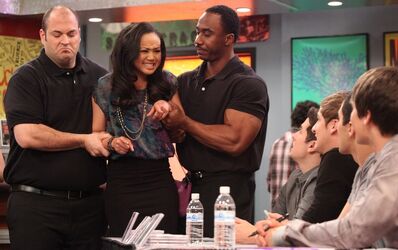 EXCLUSIVE
:
Wiki Channel
's original comedy series will continue to grow stronger, holding a top spot with the network's ratings as Valencia (
Lisha Jane
) takes on a new job in the fashion industry. 
It was announced earlier last week that the hit style comedy was renewed for a third season by Varity and Wiki Channel with production of said season said to begin in March for a late summer/early fall premiere in 2016.
"We want to keep making television that breaks walls" said show creator, NYCgleek. "The fact that we can continue to make a show that both girls and boys love is amazing to me, it really is... We've done episodes about racism, serving the country, young romance, violence and yet it's not scary or hard to watch you know? I think the Lisha [Jane] and the cast do a great job delivering the jokes, playing the characters and making it a hilarious and fun show to watch" the show creator continued. "I didn't think the show would become what it was and it's very overwhelming and unexpected, but I feel truly blessed to be apart of a project this big" said show star Lisha Jane, who has now become somewhat of a house hold name. The show star recently released her debut album 'Heaven' via Wiki Records. The show is currently on it's upcoming it's 28th holiday, New Year's themed episode out of it's large 34 episode season order. Valencia and Tina find themselves trying to complete a bucket list of things before the year ends, when Val gets into some trouble with secruity (as seen above).
Season 3 will have Valencia returning home from a trip, where she finds everything isn't as she left it. The soon to be 18 year old tries to balance life between Kitty Couture, working on her own collection of clothing, all while managing being a senior in high school trying to graduate and get into college. "We want it to still have the fun vibe that it [the show] always had, but we want to keep it relatable. Working a job, while in school and also just trying to be young and have fun is hard at times and the audience I would imagine is growing up with the show as well and maybe can learn something." said NYCgleek. The show will resume production on their 20 episode season 3 order early 2016.
"Kitty Couture" also stars Lydia Robinson, David Creature, LisaRaye McCoy, and Alexander Franks.
Production on season two is expected to start early January 2016 with for a late spring premiere.
Community content is available under
CC-BY-SA
unless otherwise noted.